'Ferdinand': John Cena, Peyton Manning star as bulls against bullying
3 out of 4 stars
Ferdinand – the loveable bull who prefers flowers over fighting – remains as relevant and endearing today as he was when he debuted in Munro Leaf and Robert Lawson's book more than 80 years ago.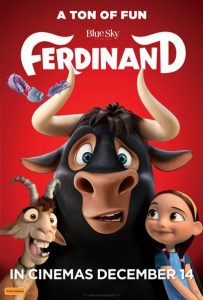 At its core, "Ferdinand" isn't about bulls; it's about bullying. The 108-minute cartoon that stars WWE superstar John Cena as the voice of the title character uses Ferdinand to teach kids about the subject that's become a hot topic throughout the educational and social landscape.
Ferdinand is massive and powerful, but his biggest muscle is his heart. While his fellow bulls pick on him relentlessly before – and after – his father is killed in the bullfighting ring, Ferdinand remains very much a pacifist. He'd rather stick his nose in a flower than in anyone's business.
Director Carlos Saldanha, who was behind the 2009 animated hit "Rio," does a pretty good job bringing the 1936 book to life. He jumps right into the story by showing the torment Ferdinand ensures at Casa del Toros, a bull training camp in rural Spain. One day, Ferdinand's father – the stable's most ferocious bull – is chosen to take on Spain's top matador, El Primero (Miguel Angel Silvestre) in the ring.
And he doesn't come back.
Ferdinand escapes and finds a new home on farm belonging to Juan (singer Juanes), whose daughter Nina (Lily Day) treats Ferdinand as a pet while he grows into a behemoth. For Ferdinand, all is well – until a visit to the city goes awry. He's captured, and shipped back to Casa del Toros. Though Ferdinand has grown to be larger than his childhood tormenters, he's still bullied and refuses to fight – until he has no choice.
If you've read the book, which has been translated in more than 60 languages, you know what happens next.
Ferdinand's second stay at Casa del Toros that elevates the film. He plans his escape with the assistance of Lupe, a hyper calming goat (voiced by Kate McKinnon) his friend Guapo (voiced by Super Bowl champion quarterback Peyton Manning) and a trio of hedgehogs named Uno, Dos and Cuartro (Gina Rodriguez, Daveed Diggs and Gabriel Iglesias) who prefer not to talk of why Tres isn't around.
The movie uses vivid color, much like the book that Disney turned into a seven-minute Oscar award-winning film in 1938. The story moves quickly, which parents will appreciate. But what also makes this film notable is that it doesn't set itself up for a sequel.
Blue Sky Studios, which is owned by Fox, made a name for itself with the "Ice Age" and "Rio" franchises. "Ice Age's four films grossed more than $2.77 billion at the worldwide box office, with Rio's two films collectively taking home about a billion. However, Blue Sky's three most recent films – "Ice Age: Collision Course," (2016) "The Peanuts Movie" (2015) and "Epic" (2013) – each grossed failed to reached box office expectations.
But here's "Ferdinand's" biggest problem: it's opening against "Star Wars: The Last Jedi," which, to be fair, is big enough to bully any film, even one about a bull who isn't looking for a fight.

Jon Gallo is an award-winning journalist and editor with 19 years of experience, including stints as a staff writer at The Washington Post and sports editor at The Baltimore Examiner. He also believes the government should declare federal holidays in honor of the following: the Round of 64 of the NCAA men's basketball tournament; the Friday of the Sweet 16; the Monday after the Super Bowl; and of course, the day after the release of the latest Madden NFL video game.