Dave & Buster's comes to Baltimore
There's a new restaurant in town and I of course had to check it out. It's Dave & Buster's located in the White Marsh Mall. It opened December 4 and this is not there only Maryland. location. You'll find others in Hanover and Silver Spring. The headquarters is in Dallas.
If you've been to their other locations you are aware Dave & Buster's are huge. Not only is there a dining area but there is a large area dedicated to games. And you don't have to be a kid to enjoy playing. I noticed many adults seriously engaged.
I didn't count them, but was informed there are over 225 games.  Okay my favorites were Space Invaders and Deal or No Deal. I wasn't bad. I have winning points to prove it. I was also informed there are over 400 player stations. One of the biggest draws is a game called the Big Bass Wheel.
I did manage to sneak in a dinner. I had the fire grilled salmon with Louisiana spices, sauteed spinach and a rice medley. An excellent choice. My lucky dining companion had the smokehouse BBQ ribs and buffalo wings
You can begin your dining experience with one of their numerous drinks. They are listed as Loco Ritas, Mega Mojitos, Sangrias, Signature Cocktails, Island Punches and Tiki drinks. As best as I can remember, my drink of choice was the Dangerous Waters. For you beer people, there are over two dozen beers.
Signature dishes here include the Caveman Combo ($11.99), Dave's Double Cheeseburger ($12.29), and the Bistro Steak and Shrimp ($19.99). Some of the entrees are listed as the Eat and Play Combo. That's where you get an entree and a card good for $10 or $20 of play credit.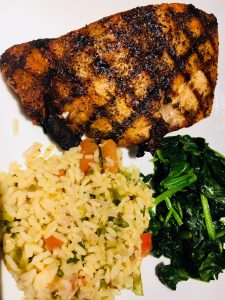 You like to watch TV? They make it easy for you. I counted 35 and I may have missed one or two. They are usually tuned to sports. You can ask them to go to CNN but they'll probably ask you to leave.
During many of the sports games they offer food and drink specials. If they hear you rooting for the Steelers you'll be escorted to the parking lot. The entire dining area has seating for about 500 (not a misprint). I guess that limits your waiting time.
Dave & Buster's is open seven days. There are two private rooms and since this is in a mall, there's plenty of free parking.
When playing you accumulate points. When you think you have enough, they can be redeemed in the store. The highest point total for a prize I saw was 30,000. But there are many for less than 1,000. The gaming area accounts for about 60% of the profit.
I enjoyed my visit. Between dining and playing you can spend a few hours here. So parents bring the kids and kids bring your parents. I noticed lots of staff so the service is good.
Reach them at daveandbusters.com/baltimore or 410-657-9910.

Eddie Applefeld is a Baltimore native and a graduate of Towson University. He has been in the broadcasting profession for over 30 years. Currently he is the Promotions Director of WCBM radio. Before that, he was part of the Rouse & Company show on WQSR, host of a cable TV show called Dining Out and adjunct instructor at Towson.
His past accomplishments include being named a finalist in Baltimore Tourism's Employee of the Year Program and winner of Toastmaster's Speaker of the Year contest. He was also twice a heartthrob for the American Heart Association's gala fund raiser.