Every Music Fan is a VIP at the Ramble Festival
Have you ever been to a concert or a music festival and felt excluded or ripped off because there is an uber-expensive VIP area dividing most fans from the stage? Or have you felt left out at a festival because you couldn't attend the intimate VIP sets because of the cost of the extra tickets? If you said yes to either of these questions, Darlington, MD's Ramble Festival is for you!
In its second year, the Ramble Festival occurred only 45 miles north of Baltimore at Camp Ramblewood on October 6-8, 2023. The rolling green hills of Camp Ramblewood—a former summer camp—are a perfect venue for the largest stage, called the Moon Stage, the grounds boast several buildings, including a large festival hall and a barn that hold the Beer Hall Stage and Ramble Stage, as well as cabins that festival goers can rent for the weekend. Other attendees are welcome to camp on the grassy hills behind the Moon Stage.
This boutique yet affordable camping festival hosted an incredible curated lineup of rock, funk, jam, and bluegrass bands, featuring artists like the Del McCoury Band, the Travelin McCourys, TAUK Moore, the Motet, Neighbor, Dogs in Pile, Perpetual Groove, Kanika Moore, Shadowgrass, and more. The lineup also featured several local favorites, including Caleb Stone, Natalie Brooke, the Dirty Grass Players, and Uncle Kunkle's One Gram Band. Each band's music sounded incredible through an impeccably mixed sound system, and each of the three stages featured a vibrant lighting system that added colorful flair to each act's performance.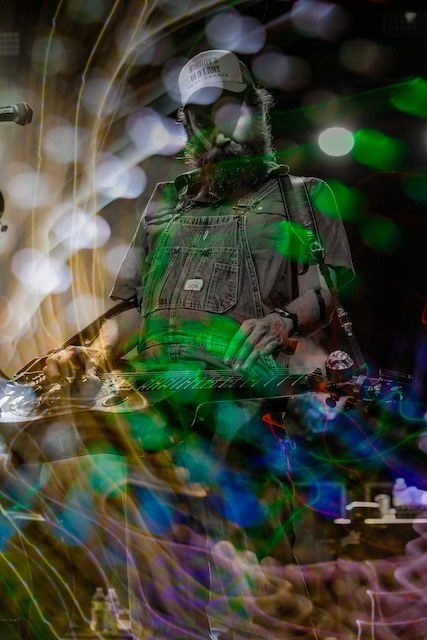 At the Ramble Festival, there are no VIP sections; all fans are free to walk right up to the front rail and get as close as they want to the stage. The immediate areas around the stages are never overly packed, and all fans and staff are welcoming and friendly. There are intimate, not-so-secret "secret sets" where artists play acoustic and stripped-down sets of music, and all Ramble Festival goers are welcome to attend.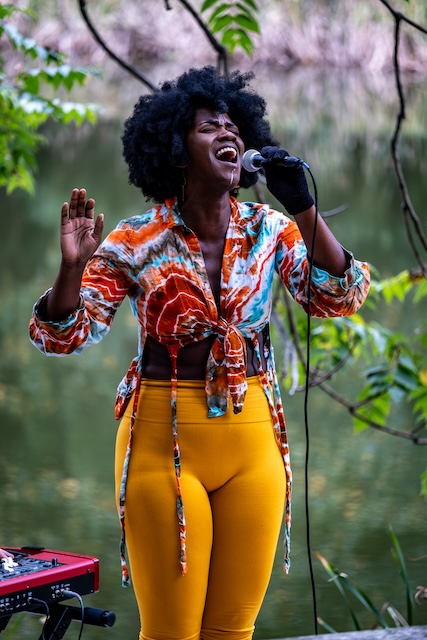 This weekend's secret sets featured a porch-front set by the Magic Beans, an extremely rare acoustic performance by Neighbor in a wooded meadow, and a pond-side set by Kanika Moore. During Moore's set, a fan coordinated a marriage proposal with the festival staff, and then Kanika serenaded them as they danced during a beautiful rendition of Neil Young's "Harvest Moon," adding to the already intimate atmosphere of the Ramble Festival's secret sets. 
Ramble Festival's organizers spared no attention to detail for the weekend. Like at many festivals, the timing for sets overlaps, but at Ramble, many of these overlapping artists played multiple sets, so fans could still see their favorite bands when forced to choose between two sets. All the signage to help attendees find different areas of the festival grounds—three stages, vendors, food trucks, camping areas, etc.—were handmade with fun and psychedelic designs. There were handmade luminaries shaped like mushrooms around the grounds to guide people to different locations around Camp Ramblewood. Each porta-john had hand-installed lights to help people use them at night, and each one also had handmade signs reminding attendees to help keep the site clean for others. 
Each day of the festival had a theme, and attendees were encouraged to dress up to match. Friday was "Light It Up," where Ramblers dressed up in a variety of light-up costumes. Saturday was "Roar It Out," when attendees were encouraged to wear animal costumes and onesies. Sunday was "Mardi Grass"—an out-of-season portmanteau of Mardi Gras and Bluegrass. The majority of Ramblers participated in the daily theme, creating an almost tangible atmosphere that united all festival goers.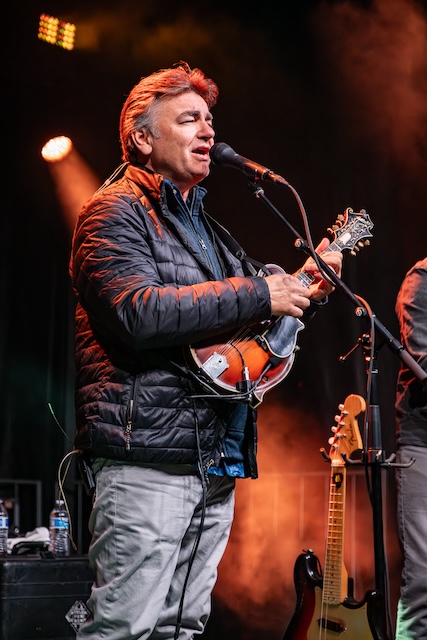 Overall, the 2023 Ramble Festival was a fan-centered gathering filled with spontaneous music, new friends, and an incredible amount of fun. Keep an eye out for their 2024 announcement, because the Ramble Festival has the potential to become one of the region's best annual musical celebrations.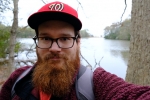 Gary Jared is a DC-based photographer and lifelong fan of live music who loves seeing his favorite bands in as many music venues in the DMV area as possible. His favorite venues are the 9:30 Club and the 8×10. Gary earned two Bachelor's degrees in History and Professional Writing and a Masters in Public Administration from the University of North Carolina Wilmington.