Maryland's Eastern Shore is great for a weekend dining getaway
THE MILL — Whenever friends tell me that they are going over to Maryland's Eastern Shore for the weekend, I send them an exhaustive list of restaurants and things to do.
This weekend I took my own advice while I was there visiting family and visited two of my favorite restaurants, The Bartlett Pear Inn   and Bistro Poplar. (I'll include the list I give to friends at the bottom if you are interested. I'm leaving off places to stay, but feel free to email if you're interested).
Friday night we arrived on the Eastern Shore fairly late. The drive from DC to Easton should be about an hour and a half. You want to leave the city before 3 pm or you are likely to get stuck in massive traffic, which means you'll ask yourself for the duration of the drive: Why did I make such a stupid decision on a Friday night? Despite our best intentions we'd gotten stuck in traffic. We still made it in time to stop by the Mill, unpack and then drive in to Easton in time for our 7 pm dinner reservation.
(A note: The mill is actually the subject of the book that I'm writing. Several years ago my mother stood on the courthouse steps and gave the winning bid for this magnificent old property. Through hard work and imagination, she has turned this five bedroom house on a pond into a blissful retreat complete with well planned gardens outside and a chef's kitchen inside).
But back to our weekend
Bartlett Pear Inn Restaurant of Easton
The Bartlett Pear Inn has been successful since Alice and Jordan Lloyd opened in Fall 2009. We went for a weekend a few weeks after the grand opening and it was perfect. We arrived early on Friday exhausted by life and left Sunday morning calm, well fed and happy.
There is a relaxed elegance to the Bartlett Pear that is seductive. The rooms are well appointed with luxurious fluffy white sheets and towels. Each room is named after a different pear and while I've seen all the rooms, I still prefer the attic room, the Seckel Pear, where we stayed in on our first visit. I loved waking up under the sloped ceiling, the cool wide plank floor boards and that feeling of being removed from everything.
The restaurant has a comfortable ambiance that is hard to compare. They've been so successful that in its first two years of business, Jordan received 29 out of 30 for his food in the Zagat guide. (To put that in perspective, it is unusual for a restaurant to receive numbers within the first year of opening much less receive ratings rivaling those of restaurants like The Inn at Little Washington or Citronelle where Jordan once worked).
Whenever I find out that someone is going down to the Eastern Shore, I recommend they stay here and eat at least one meal — preferably in the garden by the fountain if the weather is nice. Everyone I've ever sent there has had such great things to say about Alice's hospitality. While Jordan clearly runs a tight kitchen, Alice ensures that the front of the house and the inn are run to perfection. Like all great innkeepers, guests feel an instant connection to the Lloyds.
Okay, now that I've spent so much time on the set-up, I'm going to have to quickly recount the food or I'll never get to Bistro Poplar. (I promise next time I'll get the tasting menu and describe every bite. I can't wait).
Our meal for four on Friday was lovely. The beauty of Jordan's food is hard to ignore. His presentations are well thought-out, colorful and picture perfect (my camera acted up all weekend so just know it's me not them).
We started with the Blue Point Oysters ($8 for a small serving, $16 for six oysters). Each came topped with a different sauce: A lemon preserve mignonnette, bacon dashi and celery granita. The oysters were luscious just so plump and perfectly chilled. We accompanied that with an order of Inn French fries ($8), which were thick and piping hot and came with an amazing truffle mayonnaise.
For my dinner, I had the pan seared sea bass ($29). Two of my companions ordered the bolognese ($22) while the last asked for a starter salad of beets to be enlarged as a dinner portion ($18).
I can't ignore the bread, I know I'm being brief but the bread that they serve and will serve again if you like, is just delicious. It comes with soft butter topped with Hawaiian sea salt. Oh the flavor!
For dessert, we went big. We ordered the blueberry panna cotta ($8) and a gorgeous olive oil cake ($8) that was heated on the grill and had the sear marks to prove it. That warm comforting cake came with popcorn, caramel and dulce de leche ice cream. It was my favorite thing of the night.  (It was so good that I asked for the recipe).
With our dinner we drank a bottle of wine.
And we finished off the night with two French presses full of decaf coffee.
Bistro Poplar Restaurant of Cambridge
Now on to Saturday's meal. We drove down to Cambridge where Bistro Poplar is located. For whatever reason, I've always eaten lunch and never dinner at this fabulous little French bistro. It is a 45-minute drive from the Mill and so that probably has a lot to do with it. I understand it is hard to get a table for dinner but I've been lucky enough to never have an issue.
So perhaps that is my first recommendation. Go for Saturday lunch when Natalie Brewer, the head waitress, has a bit more time to spend discussing the menu and wine choices with you.
Also if you are looking for a lower cost meal, this is a great way to taste Ian Campbell's excellent food without going over budget. You can order a bistro burger with gruyere and fries ($12), fish & chips with aioli ($12) or a croque madame with mornay, fried egg and fries ($17).
I'm slightly embarrassed to say that we go all out whenever we come here. It is rare that we eat dinner after dining at Bistro Poplar and this past Saturday was no exception.
I started with the perfectly cooked duck confit that came with tender glazed baby fennel, dill, chicken jus and beurre monté ($13). One of my companions had this as her main dish. As a starter, she ate the mixed baby greens salad tossed with a vermouth vinaigrette and served with two rounds of soft warm goat cheese ($7). I've done this on more than one occasion and felt very well fed afterwards.
Another companion ate the asparagus salad that came with a pea and bacon emulsion, a poached egg and bacon crumble ($9). And finally my mom had the Vietnamese shrimp and ginger salad that came with grilled shrimp, Savoy cabbage, carrots and pickled daikon ($14).
Two of us had just a glass of wine each while our companions enjoyed more than one cocktail. Faced with such pressure, I asked Natalie to recommend a glass of wine for me and she brought over a bottle and poured a bit in my glass. She was more than willing to allow me to taste several different wines before coming to a conclusion but I've noticed that she knows the menu extremely well and routinely recommends the perfect wine. (And let's be honest a wine that goes with duck confit and my main course of roasted salmon that's probably not a normal request but it worked).
So continuing our food journey, the piece of excellently prepared salmon (think crisp exterior crust with tender meat) came with wilted watercress, perfectly cooked pee wee potatoes, and tarragon beurre monté ($23).
My mother who tends to evaluate a chef by his or her ability to roast a chicken ordered up that dish and was pleased to taste roasted chicken with crisp browned skin and tender juicy meat, served with mushrooms and chicken jus ($20). Our other companion had the pan-fried trout à la Meunière that came with wilted spinach ($22). How could you go wrong with that?
We'd seen the cheese plate ($15) and decided to go European style and finish off our meal with cheese instead of dessert. Ian came out with cheeses served with honeycomb, slow roasted walnuts and baked figs. Served on toasted bread, the Cyprus Grove truffle tremor — a goat cheese from California and the petit Basque — a sheep's milk cheese from Basque country — were unforgettable.
Our resolution to just have cheese ended when we started talking about desserts with Natalie. First she brought me a perfectly made caffe latte that came with a yummy poppyseed biscotti made by their excellent pastry chef, Emily Salisbury. (Emily makes new flavors of biscotti often and I had the choice of chocolate as well).
So…we ordered desserts.
We shared the strawberry cream tart ($8) that came with tarragon and crème fraiche and the walnut cake ($9) an amusing take on an old favorite because it is served with cream cheese sauce and carrot sorbet.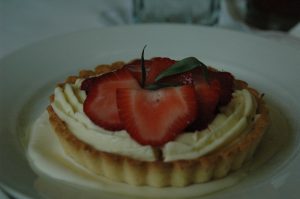 All and all — two exceptional meals in less than 24 hours. We all felt very spoiled and ridiculously full.
I can't recommend these two experiences enough. One of the nice things about the Eastern Shore is that there are some amazing chefs whose food can be enjoyed for far less money than DC restaurants.
And when I say amazing chefs, I'm not exaggerating, Jordan and Ian both have incredible food pedigrees. In addition to Citronelle, Jordan worked at among others, Thomas Keller's Per Se in New York and Christian Delouvrier's La Goulue in Bal Harbour. Meanwhile Ian most recently worked for Thomas Keller in Yountville where he was the sous chef at Bouchon and helped open Ad Hoc.
Each chef has brought his top notch training and exceptional inventiveness back home. The Eastern Shore is the richer for it. And if you can escape over the bridge, it means you can be the richer for it.
Things to Do on Maryland's Eastern Shore:
The towns are nice places to walk around. St. Michaels and Easton appear to have the most shops while Oxford has a wonderful ferry. And there is a great farmer's market in Easton that opened for the season last weekend.
You can find a link to Sarah's last story on Patisserie Poupon in Washington, DC here:

Welcome to Sarah's life of wine, travel, food and child. Sarah Abruzzese is a former Washington D.C., reporter, living in southern California. She's working on launching 7 SUNDAYS CLOTHING (www.7SundaysClothing.com), a UPF 50+ sun protective clothing company for children. Beside working on the clothing line, she spends her days running after a toddler and then if there is time left over, eating well, visiting wine country and exploring the West Coast. Follow her travels on twitter #sabruzzese.