Returning to Georgetown requires a visit to Patisserie Poupon
WASHINGTON — I have my clear cut favorite places to eat whenever I return to a city.
Sure there are newer restaurants always opening but you can't beat the feel and often flavor of old favorites like Georgetown's Patisserie Poupon. 
The little French patisserie, owned by Ruth Poupon and her husband baker-chef Joseph Poupon, has been a neighborhood favorite since it opened more than a decade ago. They also have a location in Baltimore, which is where the main bakery is located.
I can honestly say that the Georgetown Patisserie Poupon got me through college. (When I finally got around to going to college). I studied there nearly daily, drank copious cups of coffee and savored the free croissants they'd sometimes give me at the close of business. (I'm not sure if they were happy about my daily presence but their kindness is something that I will never forget).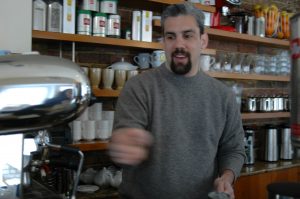 I've met tons of interesting people there over the years. All seem to share a love of food and illy — the brand of Italian coffee they serve. There is nothing more enjoyable to me than an excellent caffe latte or cappuccino consumed in a cozy atmosphere while talking politics, art, music and travel with good friends. The clientele has always been a delightful mix of diplomats, ex-patriots and area residents. And of course there is always the fabulous eccentric who shows up from time to time — or in some cases daily.
Clearly for me it's not just about the food. But let me talk about the food for a little while. They make some of the most on-point croissants and bread that I've had anywhere (including Paris — yeah I know my French friends will sneer at that statement). But these things are just perfection to me. Going beyond the plain croissants ($2.) my favorites are pain au chocolat ($2.25) or pain au raison ($2.25), which arrive flaky and buttery. I eat them by tearing off pieces, admiring the springy air pocketed insides. They'll heat the pain au chocolat if you're in the mood and the warm chocolate just melts on your tongue. They're happy to slice and toast the French bread, which they serve with jam that used to be made by the Poupon's daughter, who was building her college fund. (I'm not sure if it still is as I think she has long since graduated.)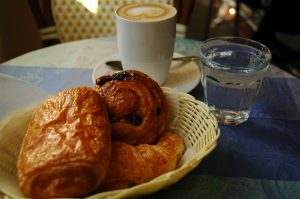 The macarons that are available individually ($.85) or by the pound ($24) remind me of Ladurée in Paris with a gorgeous array of colors and flavors. My favorite is the lemon, which are crisp on the outside but inside has that unforgettable soft smooth flavor of almonds and lemon.
In addition, there is lunch to be ordered with the most expensive menu item priced at $12.95. Every day they have quiche ($5.95), which you can grab for breakfast. My favorite is the bacon but there are mushroom and spinach ones too as well as a bunch of others that I am sure I've tried at some point or other. Luncheon quiches can be ordered with a side salad ($2.) that has the most amazing salad dressing. Ruth once gave me the recipe for it and I'm sad to say I didn't write it down.
Nine times out of ten I order their version of a Salad Niçoise ($11.), which is made with tuna, rice, salad, grilled artichoke hearts, olive tapanade, tomatoes, sundried tomatoes, and Niçoise olives. On the side you get more of that delicious mustardy dressing.
Another favorite is the fabulous smoked salmon salad ($12.95) that arrives on top of mesclun greens, also included is a hard boiled egg and capers. It was here that I was first introduced to the wonders of the caperberry — think giant salty caper — two are served on the side of the plate.
With lunch — just ask — comes a basket of French bread with softened butter, just the way they serve it in Paris.
Oh, and I forgot to mention one of the things for which they are famous — the cakes. There is a startling array and the prices vary depending on size and complexity. My lifetime favorite is the St. Honoré — a round  cake of puff pastry with cream puffs dipped in caramelized sugar ringing the edges interspersed with slightly sweet cream. For me it is a perfect blend of sweetness and crunch.
And as I sit here enjoying a cup of coffee and waiting for my friend to arrive, I realize that I forgot to describe the aroma. It reminds me of the time I was staying five flights above a bakery in Paris. In town for a wedding, a friend and I had just climbed the ancient steps to our fifth floor walk up after a wild night. As we slowly fell asleep around 5 o'clock in the morning, we inhaled the wondrous smell of melting chocolate and baking croissants.
The aroma isn't that strong here but there is that faint whiff of Paris. That coupled with the two handsome well dressed men sitting at the coffee bar speaking French and it's easy to imagine being there.
FIND PATISSERIE POUPON
Georgetown
1645 Wisconsin Ave, NW
Washington, DC 20007
202-342-5510
Baltimore
820 East Baltimore Street
Baltimore, MD 21202
410-332-0390

You can find a link to Sarah's last story here. 

Welcome to Sarah's life of wine, travel, food and child. Sarah Abruzzese is a former Washington D.C., reporter, living in southern California. She's working on launching 7 SUNDAYS CLOTHING (www.7SundaysClothing.com), a UPF 50+ sun protective clothing company for children. Beside working on the clothing line, she spends her days running after a toddler and then if there is time left over, eating well, visiting wine country and exploring the West Coast. Follow her travels on twitter #sabruzzese.