HRD Coffee Shop — Not Your Father's Diner
SAN FRANCISCO: I'm always curious if the restaurants on the Guy Fieri Food Network show, Diners, Drive-Ins and Dives are actually any good. So after a nearby popular lunch spot — HRD Coffee Shop — was featured in a repeat episode, I headed over last Tuesday to see what all the fuss was about.
My first try at the Asian fusion diner was an epic fail on my part. I arrived  shortly before noon and there were already 25 people in line.
After 25 minutes I'd just made it in the door when it struck me that this was a cash only establishment. Luckily there is an ATM, but unlucky me, I'd left my cash card at home. (Just to show you how friendly San Francisco is the guy in front of me offered to spot me. I'd held his place while he checked to see if the lines at the food trucks around the corner were shorter.)
At that point, I figured it was best to just come back later — much later and not the day after it was on Diners, Drive-Ins and Dives. I returned on Thursday (April 5). Again, I arrived shortly before noon and the line was out the door. It seemed like those waiting were mostly locals out on their lunch breaks with a few tourists thrown in.
This time the wait was far shorter and fairly soon I found myself standing in front of the small glass-fronted cooking area. I'd been taking pictures, like several other people in line, and when asked by the guy at the register, who was in fact Gary Lew (a.k.a. @GaryatHRDCoffee), I was honest and said that I was writing a blog post. It definitely improved my service but that said from what I witnessed everyone got excellent service — mine was just a bit better. (I'll get into my blog writer preferential treatment soon.)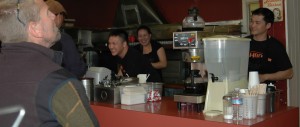 First off, the menu is an amazing Asian fusion with lots of Korean and Chinese flavors like hoisin and kimchee blended into American favorites.  If that doesn't appeal, you can order a standard burger or breakfast burrito.  Perhaps the most amazing thing about the place is that the highest priced item on the menu is $8.25 and in San Francisco just three blocks from AT&T Park that doesn't seem possible.
If you want to get hungry and inspired, definitely watch the Diners, Drive-Ins and Dives episode. The folks at HRD have helpfully added a link on their website.
So many menu items were shown on the show and waiting in line I heard customers talk about the merits of their various favorites like the Sloppy JoJo, which is made of spicy pork, kimchee, grilled onion and bell peppers. That sandwich comes with fries and is available for $7.25. There is also the Mongolian Cheesesteak made of sliced ribeye steak, grilled onions, mayonnaise, spicy hoisin sauce, mozzarella and bell peppers for $7.25. (I had this on my second visit. The steak was tender and there was a lovely muted sweetness from the hoisin sauce). Also a clear favorite— judging by how many of them came out of the tiny kitchen while I was there —  is the Spicy Pork Kimchee Burrito at $7.25 that comes with an interesting mix of cucumber, sprouts, kiwi and sour cream.
I decided to order the Firecracker Shrimp sandwich for the bargain price of — no surprise here —  $7.25. Even before they asked why I was taking pictures, I was told I could substitute some of the amazing looking broccoli for the French fries that ordinarily come with it.
My entree was $8.49. Honestly this might be the first time that I've gotten a main course for under $10 the entire time I've been in this city.
It didn't take long for owner David Yeung to bring me my lunch. (On my second visit, I timed it and it took less than five minutes for me to get my lunch.) I did notice that Yeung checked to make sure my firecracker shrimp sandwich looked okay before he served me my plate but he seemed to do that with all the dishes he delivered. During my visits, his partner Joanna "JoJo" Banks ran the kitchen while he oversaw everything and stepped in where needed. (HRD Coffee Shop has been owned and run by multiple generations of Yeung's family and three years ago Yeung — a 20 year kitchen veteran who trained at the California Culinary Academy — teamed up with Banks, his then sous chef, to bring more Korean flavor to the SoMa neighborhood of San Francisco.)
The shrimp sandwich that came on your standard sub roll was made up of tempura fried shrimp with avocado, strips of cucumber, seasoned sprouts  — that I didn't really see — and this amazing wasab sriracha aioli. Just typing it I want to lick my lips. The sandwich was 100 percent delicious — so balanced, so fresh, so perfect. I was surprised that the crunch from the tempura batter didn't disappear as I ate the sandwich despite the fact that it was slathered in the pleasantly spicy aioli. Meanwhile the julienned cucumbers added such a fresh crispness to the meal. My lips still tingled from the sauce hours later and whenever I think about that aioli I want to go try another dish.
The broccoli that I asked for on a whim after seeing one of the cooks bring out freshly steamed florets was crisp and delicious. From what I saw I think it is usually served with the various rice dishes. This is where I should mention that the service I received was a cut above because I said I was a food blogger. Noticing that the broccoli kept falling off my plate and without my asking Yeung brought me over a fresh bowl of broccoli to make up for the spears that lay on the countertop.
But judging by the number of people, who work nearby and are clearly repeat customers, it seems like he and everyone working there treat customers well.  I overheard one woman telling her friend that she was willing to wait for so long because of the awesome attitude of everyone who works there.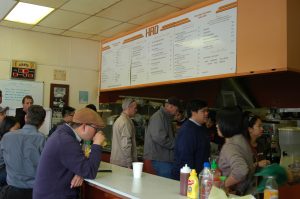 By the time I left just before 1 pm the line was even longer, a whopping 35 people deep. I'm not quite sure how they can move faster in their tiny cook space. At times there were seven people crammed in HRD's diner kitchen cranking out hundreds of orders. To help things, there is a posted sign requesting that during lunch customers order a maximum of three dishes. HRD no longer takes phone in orders.
In all fairness, my lunch was worth every penny and well worth the wait. I can't wait to go back. I also can't wait to try another one of Fieri's (@GuyFieri) recommendations.
Addendum: I tried to go back on Friday afternoon for lunch but the line stretched clear down the block and people told us the wait would be well over 30 minutes. On Monday I tried a different tactic and didn't eat breakfast. I arrived at 11:30 am to find a pleasant surprise. There was no line.
HRD Coffee Shop
521 #A 3rd Street
San Francisco, CA 94107
Phone: 415-543-2355

Follow Them on Twitter: 
In the Neighborhood
Obsessed with Diners, Drive-Ins and Dives?
A fan has organized a website (and it's got an app) for Diners, Drive-Ins and Dives.  There are 10 restaurants listed in San Francisco and about 20 in the Washington/Baltimore region.
*You can find Sarah's Last Blog: The French Laundry here.

Welcome to Sarah's life of wine, travel, food and child. Sarah Abruzzese is a former Washington D.C., reporter, living in southern California. She's working on launching 7 SUNDAYS CLOTHING (www.7SundaysClothing.com), a UPF 50+ sun protective clothing company for children. Beside working on the clothing line, she spends her days running after a toddler and then if there is time left over, eating well, visiting wine country and exploring the West Coast. Follow her travels on twitter #sabruzzese.