French Laundry serves up once in a lifetime meal
Okay, let me be honest. I had absolutely no idea how to auspiciously begin a blog, especially one about wine, travel and food.
Stumped, I spent the last few weeks trying to prepare, and wow, has it been awesome. I've eaten out at some amazing restaurants, enjoyed some very special wines and taken as many pictures as possible without embarrassing my companions.
So lets start with the Michelins.
In the past few weeks, I've been lucky enough to eat at The French Laundry, Cyrus, Manresa, La Toque, Gary Danko, and Bouchon.
In this blog I'm just going to talk about the French Laundry, I'll get into the other individual restaurant experiences later. Suffice it to say the meals have all been truly exceptional. At each restaurant unforgettable food and wine coupled with top notch service (with one exception). And my editor will kill me if I don't mention that in most cases the restaurants have top notch tasting menu prices.
Clearly Thomas Keller's French Laundry deserves its stellar reputation and the three Michelin stars it has earned, which is why I'm starting with it.
(The only other three starred Michelin Guide rated restaurant in the Bay area is The Restaurant at Meadowood — also in Napa Valley. The Restaurant at Meadowood has the added bonus having of still having Chef Christopher Kostow in the kitchen. Hopefully, I will be able to visit while he is cooking. There are Michelin Guides rating restaurants for the USA cities of Chicago, New York and San Francisco. My hometown of Washington, D.C., hasn't made the cut.)
But for now back to the French Laundry.
First it was nearly impossible to get a reservation. The restaurant takes reservations two months in advance — so you need to call two months to the day you want to eat.
I started phoning in October. It was embarrassing. I would call and it would take me hours — two to two and a half— to even get through and then the best I could do was get on the waiting list.
Finally I lucked out in that the restaurant was closed for two weeks in January. On the day they re-opened they had a stack of available reservations. It still took more than 100 phone calls and two and a half hours but I got through. I ended up with a Saturday reservation at 5:30 p.m. I was ecstatic.
Note: There is an easier way to get a reservation (a much easier way) but I'll get to that later.
We arrived promptly for our early evening dinner. (Based on the amount of food that I ate, I highly recommend this time slot. We did not end up bemoaning how full we felt at 2 a.m., which is usually the case with tasting menus.)
The restaurant is elegant yet approachable. We were seated in an alcove off the main dining room that has a beautiful stone wall. There were only three tables in the area, which made it feel very cozy and warm.
We were offered two nine-course tasting menus: A Tasting of Vegetables, which didn't interest us but I must confess it is pretty amazing, and the Chef's Tasting Menu.
Just in case, I've typed the Chef's Tasting Menu of the day at the bottom of this post but for now the menus are posted by The Thomas Keller Restaurant Group here.
We were asked to make choices from within the tasting menu. For instance, the first course could be either "Oysters and Pearls," which was described as a "'Sabayon' of Pearl Tapioca with Island Creek Oysters and White Sturgeon Caviar'" or the "Royal Ossetra Caviar," which was available for a $50 supplement and was described as "'bone marrow custard 'fumé à la minute,' meiwa kumquat and tarragon."
Obviously, the food was exceptional. I won't bore anyone by describing how I felt about each little bite and every extraordinary flavor.
But here are some highlights —OK just the first official two dishes. (There were a couple of perfectly lovely amuse bouches to begin.)
I started with the "Sabayon" of Pearl Tapioca with Island Creek Oysters and White Sturgeon Caviar. It was so smooth and luxurious on the tongue those wonderful meaty oysters, the tang of chives with the final snap of salty caviar. Check out Thomas Keller and chef Cat Cora talking about it on YouTube and it makes me want to enjoy the taste all over again.
I know it sounds simple but the "salad of French Laundry garden heirloom beets" was a delight. The vegetables are grown across the street in the restaurant garden. What set the dish apart was the bright lemon vinaigrette that was cascading across the plate.
Inspired I went home intent on replicating that vinaigrette. Just to show you how long some of these dishes take: Thomas Keller's Ad Hoc cookbook includes a recipe for cured lemons, which I think judging by the sweetness was the treatment given to the sliver of lemon in the dish. That preparation takes a minimum of two weeks or up to a month. Meanwhile the cookbook also includes a recipe for preserving lemons, which takes at least a month and up to six months. The Ad Hoc cookbook talks about a lemon vinaigrette that doesn't call for preserved lemons but I could almost swear that the waiter told us that our vinaigrette was made out of preserved Meyer lemons. I know that has been the treatment at other restaurants. (NOTE: Of course I was wrong, I asked a member of the wait staff when I was taking pictures of the farm and she told me the lemons were likely brined.)
Every dish was delightful and at the end of the evening we were sent away with a bag that included shortbread, pretzel bread — just because we hadn't had any with our meal and our waiter really likes it — and the mignardises, which we couldn't fit in our stomachs.
Now let me dismiss a concern I'd been hearing around Napa.
In talking about our upcoming visit, I'd heard some complaints that the French Laundry doesn't do wine pairings and instead pushes bottles and half bottles on customers.
I didn't find that to be a just criticism. While no wine pairing was posted with the menu, the table next to ours enjoyed a different glass of wine with each course. Our waiter explained to us — fairly I think — that often a glass of wine works well with back to back courses and recommended a couple of half bottles with supplemental glasses thrown in to bridge certain dishes. That struck us as the more economical decision — if anything surrounding a Prix Fix meal with a base price of $270 a person can be described as economical.  (Our meal including wine, taxes and tip was just north of $1,000. Knowing how expensive this would be, we'd made the choice of a multi-restaurant culinary odyssey instead of a vacation this year.)
I definitely felt like the staff took the time to ensure we had an unforgettable night. When I asked questions about how certain dishes were prepared they told me. I'm not sure I'll ever be able to duplicate the dry aged duck, which is hung in the refrigerator for seven days, but I'll definitely try. In addition to being funny and nice, our waiter offered us a tour of the kitchen after our meal. And one of the staff members, who shares my Italian last name, came over to introduce himself.
It felt very personal and judging from the web, our experience has been duplicated thousands of times.
(A quick apology. I'm sorry but I did not take any photographs of the food. Please look on the web for pictures. There are tons. At the request of my dining companion, I didn't take a camera. I know I'm blogging about it but let's be honest, it gets a little annoying and in the room we were in it would have been disruptive to other visitors.)
OK, back to the kitchen tour. It is a pretty amazing little place. When I was growing up my mom had a catering company and from what I saw this kitchen was half of the size of that but the level of organization surpassed the catering kitchen and any other kitchen I've ever seen in every way.
It was a really rewarding experience to watch the workings of a kitchen staff, who appeared completely calm and unruffled by a restaurant packed with people. A humorous aside is that inside the entrance to the kitchen there is a large screen TV showing images of Keller's New York wonder Per Se. Apparently Keller likes to see his restaurants in action. The chefs at Per Se watch the French Laundry at work on a similar screen in their kitchen.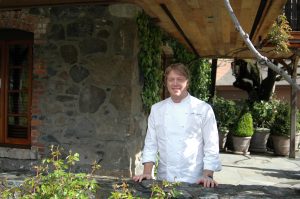 (We didn't get to meet Chef de Cuisine Timothy Hollingsworth — the chef in charge of the restaurant while Keller runs his empire —  that night, but we did run into him when we came back to take photos. He was incredibly nice. We talked dogs. You'd never know he represented the USA in the Bocuse d'Or a.ka. the culinary olympics before he was 30 or that he is a James Beard Foundation award winning chef. And speaking of photos, Hollingsworth takes incredible pictures of the food at the French Laundry — follow him on Twitter @chef_timothy and you will see a steady stream of mouth watering dishes.)
One of the other bonuses of accompanying our waiter to the kitchen is that he mentioned the best way to get a reservation at the French Laundry. Be Tom Hanks. Just kidding, he did say that they try to accommodate notables but more importantly he said one of the easiest ways for the average person to get a reservation is to use American Express's concierge service.
I'll try that trick next time. Please let there be a next time.
The French Laundry Menu:
Chef's Tasting Menu | March 10, 2012
"Oysters and Pearls"
"Sabayon" of Pearl Tapioca with Island Creek Oysters
And White Sturgeon Caviar
Royal Ossetra Caviar
Bone Marrow Custard "Fume a la Minute,"
Meiwa Kumquat and Tarragon
(50.00 supplement)
___________________________
Salad of French Laundry Garden Heirloom Beets
Sunchokes, Miner's Lettuce and Meyer Lemon
Moulard Duck "Foie Gras En Terrine"
Celery Branch, Cara Cara Orange, Juniper Yogurt,
Almond Sable and Red Ribbon Sorrel
(30.00 supplement)
___________________________
Sautéed Fillet of Atlantic Striped Bass
Yukon Gold Potato, Baby Leeks, Smoked Salmon Roe,
"Pommes Maxim's" and Horseradish
Alaskan King Crab "Sandwich"
San Marzano Tomato Marmalade, Parmesan Cornichons,
Romaine Lettuce and Haas Avocado
___________________________
Georges Bank Sea Scallops "Confit"
Fava Beans, Piquillo Peppers, Braised Pine Nuts
And Serrano Ham Vinaigrette
____________________________
Liberty Farm Pekin Duck
Cornbread, Cavolo Nero, Bean Purée and Barrel-Aged Maple
____________________________
Elysian Fields Farm Lamb Rib-Eye
"Ribettes," Mejdool Dates, Cauliflower,
Toasted Cashews and Madras Curry Jus
49 Day Dry-Aged Snake River Farms Beef
King Trumpet Mushrooms, Green Asparagus, Nantes Carrots,
Red Radish and "Sauce Colbert"
(100.00 supplement)
______________________________
Andante Dairy "Partita"
Royal Blenheim Apricot "Membrillo"
Fennel and Saba Vinegar
______________________________
Cream Yogurt Sherbet
Toasted Oats, Pomegranate, Oxalis
And Osmanthus "Nuage"
______________________________
"Marjolaine"
Praline Mousse, "Dacquoise"
And Roasted Banana Sorbet
Meyer Lemon "Parfait"
Oregon Huckleberries, Sicilian Pistachios
And Poppy Seed Ice Cream

Welcome to Sarah's life of wine, travel, food and child. Sarah Abruzzese is a former Washington D.C., reporter, living in southern California. She's working on launching 7 SUNDAYS CLOTHING (www.7SundaysClothing.com), a UPF 50+ sun protective clothing company for children. Beside working on the clothing line, she spends her days running after a toddler and then if there is time left over, eating well, visiting wine country and exploring the West Coast. Follow her travels on twitter #sabruzzese.