The Disco Biscuits performing at the Drive-In in Frederick. (Photo by Chris Swanson.)
The Disco Biscuits @ Showtime at the Drive-In, Frederick, MD The Disco Biscuits (also tDB or the Biscuits), a jam band quartet hailing from Philadelphia, PA, wrapped up a sold-out two night run on Saturday with their unique brand of electronic and trance-inspired grooves fused with guitar-driven jam rock at the Frederick Fairgrounds.
Mid-Atlantic-based promotion company All Good Presents brought the Biscuits back to kick off a second wave of the Showtime at the Drive-in series, a partnership with the Frederick Fairgrounds forged last year to bring socially distant outdoor shows in a throwback drive-in format to concertgoers.
Upcoming bands in the series are set to include Goose, Grace Potter, Moe, Tedeschi Trucks Band, Dark Star Orchestra, and several others. Industrious Biscuits fans who set up designated 8×6 foot spaces beside their cars with lawn chairs and coolers waited for the "jamtronica" band to get started by exploring Showtime's COVID-era approximation of the typical jam band lot scene towards the rear of the makeshift venue.
Six local food and alcohol vendors and a merch tent contributed to a celebratory atmosphere reminiscent of summer 2019. Sunset was still several hours away when the Biscuits kicked off the final show of a two-night run a few minutes after the official 6:30 p.m. start time with "Caterpillar," a Talking Heads-eque trance groove highlighted by Eastern-tinged guitar riffs from guitarist/vocalist Jon Gutwillig and sci-fi synth leads from keyboardist/vocalist Aron Magner. Bassist/vocalist Marc Brownstein and drummer Allen Aucoin gradually increased the tempo, leading a seamless transition into "Great Abyss" before jamming back into "Caterpillar."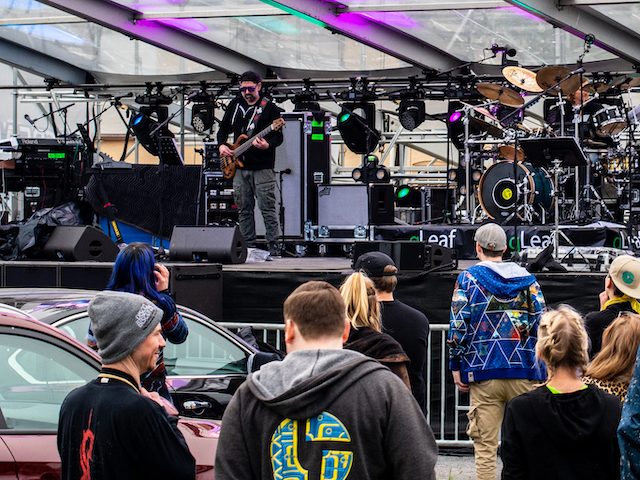 The Disco Biscuits paused only for a few moments before resuming with "4th of July" and "House Dog Party Favor", rounding out a five song, largely instrumental first set. After a short break, a light show materialized as "Strobelights & Martinis" headed off the second set while dusk rolled over the Fairgrounds.
True to the local forecast, rain which had largely restrained itself to a drizzle during the first set picked up into steady spring showers while DB transitioned seamlessly into "We Like to Party" and an inverted rendition of "Confrontation".
By the time the Biscuits transitioned back into "Strobelights & Martinis", fans were dancing wildly, spinning umbrellas, and tossing around beachballs in the dark during a chilly torrential downpour.
The Disco Biscuits did not stop playing a single time during the mindbending set, rounding out with seamless jams into "Tricycle" and "Spraypaint." Due to a strict local noise ordinance mandating quiet nighttime hours, the Biscuits indulged in only a brief walk-off before returning to the stage for a single song encore.
Despite their best time management efforts, the PA system shut down promptly at 10:00 p.m. in the middle of "Hope". The Biscuits never broke stride, finishing the song with sound coming straight from their amplifiers and drum kit, while some emboldened fans surged towards the stage to cheer on the resolute band and cap the evening.
Throughout the entire show, concertgoers were rewarded for their perseverance through less than perfect weather by a band who knew their audience, foregoing excessive vocals in favor of infectiously danceable, electronica-infused jams that invoked hyperspace travel.
A month into the spring of 2021, jam band fans still have plenty of unanswered questions. As a winter bookending the longest year in recent memory surrenders to longer days, warmer evenings, and blooming cherry blossoms, people naturally begin to wonder whether shows they purchased tickets for in 2019 will be rescheduled a second time or canceled outright.
Debates unfold online about whether or not peoples' bands of choice will embark on traditional summer tours, and if so, to what extent capacity and seat availability might be impacted.
Nobody is sure when those questions will be answered, but while public health experts continue working through complex issues related to some return to social normalcy reminiscent of pre-pandemic times, the rest of us continue to find solace in the drive-in concert.
Showtime at the Drive-In has perfected this unique and timely format for live music, and fans chatted about the many upcoming springtime shows while packing up their cars and bidding their neighbors farewell until next time. Tickets can be difficult to come by for this gem of a transient venue, but snag one if you can while society meanders towards the new normal.
Set 1
1. Caterpillar
2. Great Abyss
3. Caterpillar
4. 4th of July
5. House Dog Party Favor
Set 2
6. Strobelights & Martinis
7. We Like to Party
8. Confrontation (inverted)
9. Strobelights & Martinis
10. Tricycle
11. Spraypaint Encore
12. Hope

Alex May has been attending concerts in the DMV for his entire life. He was born and raised in Maryland, attended college and graduate school in Virginia, and lives in DC with his girlfriend and dog. He believes all music sounds best live, and he never misses a Sunday show.