Did Las Vegas D.A. Steve Wolfson and Sheriff Joe Lombardo cover up corruption?
LAS VEGAS — Clark County District Attorney Steve Wolfson and Sheriff Joe Lombardo stopped a further inquiry into allegations of police and prosecutorial corruption that could have been exposed through court testimony in 2018, according to records reviewed by the Baltimore Post-Examiner and interviews with confidential sources.
The story flows like this: The district attorney's office prosecutes a local pimp, who is later convicted after a jury trial. The prosecutor in the case then asks the court to put him in prison for life. Off to prison, he goes. A few years later corruption and misconduct allegations arise involving the police and the prosecutor who put the pimp in prison, and not surprisingly he wants a new trial.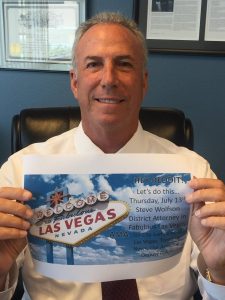 Both the district attorney and the sheriff get nervous about the exposure of corruption in their respective departments and do what government officials often do when instances like this surface and dirty laundry is about to be exposed.
Instead of taking proper measures to shed light on the truth, which they both swore an oath to uphold, the DA and the sheriff do just the opposite and take moves to suppress what could have been some very revealing courtroom testimony, to protect themselves and their departments from further scrutiny and most likely from further corruption being uncovered.
How did it all start?
In January of 2012, the Clark County Board of Commissioners chose Las Vegas attorney Steve Wolfson to serve out the three remaining years on a four-year term that was vacated by former Clark County District Attorney David Roger, who retired earlier that month.
David Roger would later become the chief legal counsel for the LVMPD's Police Protective Association, the union that represents the rank and file members of the LVMPD.
In November of 2012, Clark County District Court Judge Michael Villani sentenced Las Vegas pimp Ocean Fleming to life in prison with the possibility of parole after five years, for first-degree kidnapping, and 22 other counts that a jury in August convicted him of. Fleming's life sentence would begin after he served at least 10 years in prison for the other counts, which included pandering, coercion with force and assault with a deadly weapon.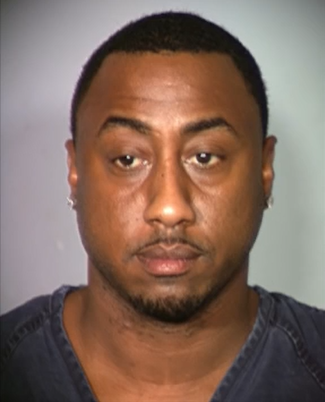 Fleming, to no avail, told the court at that time that the prosecution was "malicious and overaggressive."
Fleming's troubles started after an arrest on September 29, 2011, when the LVMPD arrested him after an incident with a prostitute, April Millard, the day before.
According to court records, Millard fled from Fleming's home and flagged down a neighbor who was backing out of her driveway. Millard jumped into the woman's car and begged for help. Fleming blocked them in the driveway and threatened to throw a rock through the window until the neighbor unlocked the car door at which time Fleming dragged Millard away.
A subsequent police investigation revealed Fleming's sex-trafficking operation.
Fleming told the court that the incident with Millard was a domestic violence dispute, not a kidnapping.
The prosecutors in the case were Wolfson's Assistant District Attorney, Elizabeth Mercer and Chief Deputy District Attorney Noreen DeMonte.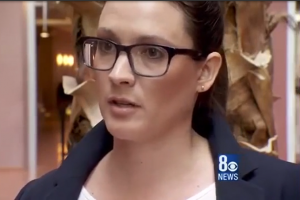 Mercer had asked the judge to sentence Fleming to the strongest possible sentence, life in prison with parole eligibility after 22 years, because according to Mercer, it was necessary for the safety of the community and also as a deterrent to aspiring pimps.
Mercer told the court, "Quite frankly, the defendant just simply deserves it. What he did over the course of several years is absolutely reprehensible."
The judge disagreed with Mercer and said that the "life in prison with parole eligibility after 22 years" was too harsh a sentencing request and imposed a lesser sentence of parole eligibility after five years for the life sentence.
Several months before Fleming's sentencing, in July of 2012, Raymond Christopher "RC" Sharp, a convicted pimp, was sentenced to 13 life sentences in prison for charges that included kidnapping, pandering with force, battery, burglary, and coercion. Elizabeth Mercer was also the prosecutor in Sharp's case and the lead detective Vice Detective Chris Baughman was also was the lead detective in the Fleming investigation.
On July 2, 2011, the LVMPD responded to reports that a half-naked woman was knocking on doors in Sharp's neighborhood. A witness told police that a man then dragged the woman inside by the hair. The woman was later found in Sharp's home. Sharp was a registered sex offender at the time and was in possession of illegal firearms.
So far so good, at least that's what it seemed back in 2012 — police and prosecutors doing what they are getting paid to do, going after bad guys and putting them in prison.
Sometimes though, things aren't always what they seem to be. There was something nefarious in the underbelly of Sin City, it's criminal justice system and it's law enforcement and it was about to be exposed.
FBI raids home and offices of suspected prostitution kingpin
On September 29, 2014, special agents with the FBI's Public Integrity Section executed search warrants and raided the Las Vegas home of millionaire music producer and suspected Las Vegas prostitution kingpin, Jamal "Mally Mall" Rashid, and the office of his escort service, Las Vegas Concierge VS1.
The FBI did not ask the LVMPD to go along on the raids and that should say plenty right there.
The FBI nor the US Attorney's Office in Las Vegas have confirmed that a federal corruption investigation has been ongoing, however, Lombardo told the media in 2017 that his department was cooperating with a federal investigation involving several current and former members of the LVMPD's vice unit.
Lombardo prior to becoming sheriff once commanded the departments vice squad as a captain and then as a deputy chief.
Attorney's for Ocean Fleming file motions for a new trial
In court records filed during 2017 and 2018 in the Nevada Eighth Judicial District and obtained by the Baltimore Post-Examiner, Attorney's for Fleming allege that former LVMPD Detective, Chris Baughman, and other detectives were involved in a criminal conspiracy with Rashid, aka Mally Mall, and that the detectives received monthly cash payments from Rashid and in return, the police targeted rival pimps on behalf of Rashid to eliminate his competition.
Fleming in court filings has alleged that Detective Baughman and another vice detective, Albert Beas were both having sex with Jessica Gruda, a prostitute and primary witness against him and that Baughman, the lead detective in his prosecution was also believed to have been having a romantic/sexual relationship with lead prosecutor, Elizabeth Mercer (and Baughman's current wife) during his prosecution and trial in 2012. Fleming alleges that Baughman was also having a romantic/sexual relationship at the time with his supervisor, Vice Lt. Karen Hughes, now retired from the LVMPD.
Allegations were also raised that Assistant District Attorney Elizabeth Mercer had coached witnesses to enhance their testimony to convict Fleming.
Convicted sex-trafficker Raymond "RC" Sharp is currently appealing his conviction based on allegations of corruption in his original trial.
In 2013 Arman Izadi was charged on multiple felony counts including kidnapping, pandering, and torture. Three years later the charges were dropped after it was discovered that former Detective Chris Baughman was the detective who initiated that case.
Former Detective Chris Baughman was deposed in court in 2017. He pleaded the fifth on all questions relating to the prosecution of Ocean Fleming, including who recommended that he apply to the LVMPD vice unit, and if he had taken bribes from Mally Mall to set up Fleming.
Affidavits provide insight into FBI corruption probe of the LVMPD
Affidavit of April Millard: This Affidavit is being made regarding the false testimony I gave in the State of Nevada v. Ocean Fleming, Case No. C-11-276866-1. 
On October 29, 2016, I signed an affidavit admitting that my testimony in August 2012 against Ocean Fleming was false, that I was coerced by Detective Baughman and District Attorney Liz Mercer.  
As set forth in my October 2016 Affidavit, Ocean Fleming never held me against my will, never dragged me by my hair nor did he beat me with a belt.  Ocean Fleming also did not strangle me or "pistol whip" me.  I was previously interviewed by the F.B.I. and advised the special agents that I lied when I testified at Ocean's trial.  I lied when I testified because Detective Baughman repeatedly threatened to put me in jail if I did not testify as he told me to and because Detective Baughman had me convinced that Ocean was going to hurt me.
Detective Baughman told me that Ocean had put out three "hits" against my life and showed me numerous photographs of body parts of women who had horrible injuries.  Detective Baughman convinced me that Ocean had beat up the women and that Ocean would hurt me as well.  I believed Detective Baughman because he was a police officer and I was a nineteen-year-old working prostitute who was addicted to cocaine.
In 2011, I reluctantly met with Detective Baughman at his insistence in order to get him to stop harassing my mother, Lisa Millard.  His constant phone calls were causing stress to my mother.  I met Detective Baughman at the Applebee's restaurant in Henderson.  After Detective Baughman confirmed that I was April Millard, Detective Baughman told me that I "looked sexy".  I had never met Detective Baughman until that day.  I found his comment inappropriate and disturbing.  Detective Beas and District Attorney Liz Mercer then arrived and the four of us sat at a booth.  Detective Baughman paid for the lemon drop margarita and meal that I ordered.  Detective Baughman brought a large file with him into Applebee's, telling me that it was Metro's file on Ocean Fleming.  Detective Baughman told me that Ocean was going to prison, but that I was the "key" to putting Ocean away for life. 
At no point during that Applebee's meeting did Detective Baughman record the interview or even ask me questions about Ocean. It was at this very first meeting that detective Baughman started pulling numerous photographs of body parts of injured women out of the file, placing them on the table, one by one. Detective Baughman told me that Ocean Fleming had caused the horrific injuries to the women in the photographs and that I would be next.  By the third photograph, I was crying.
As I looked at the photographs and listened to Detective Baughman tell me how dangerous Ocean was and that he would hurt me like Ocean had hurt the women in the photograph's, I became increasingly afraid of Ocean.  I was also pregnant with Ocean's child at that time, suffering from hormonal pregnancy issues and still using cocaine. 
Both Detective Baughman and DA Mercer told me to exaggerate everything that had happened between me and Ocean and that the "worse" that I could make things sound the longer Ocean would be put away and the safer I would be.  Detective Baughman repeatedly told me that my life was in danger if I did not testify against Ocean.  Detective Baughman told me to say that Ocean had pistol-whipped me. Ocean Fleming never pistol-whipped me.  I never told detective Baughman that Ocean pistol whipped me.  Detective Baughman also told me to say that Ocean had beat me with a belt and belt buckle causing welts on my back.  I never had welts on my back from Ocean beating me with a belt buckle.
Detective Baughman and DA Mercer also told me that if I said that Ocean strangled me that they could put him away for a long time.  Ocean never strangled me.  I never told detective Baughman, or DA Mercer that Ocean strangled me.  Detective Baughman neither recorded my statement nor had me fill out a written statement when we met at Applebee's or even the next time we met. 
The next time I saw Detective Baughman was while I was incarcerated in the Clark County Detention Center.  Again, Detective Baughman did not record the interview but continued to tell me what I needed to say, again telling me to make it sound as "worse" as I could so that he could put Ocean away for a longer time. Only during the third meeting with Detective Baughman did he record the interview.  By this time, we had gone over exactly what I was to say when Detective Baughman started the tape recorder. 
The third meeting occurred while I was still incarcerated at the Clark County Detention Center.  I believe that this meeting occurred on November 29, 2011, based upon my reading of the transcript of the recording; however, I do not know the exact date given that I had been in jail for several weeks at that time. 
I lied in that recorded statement as well as during my trial testimony when I said that "I hit a lick" for $50,000.00 and gave the money to Ocean.  I never stole $50,000.00 from a "John". 
From the first day I met Detective Baughman and continuing to after Ocean's conviction, Detective Baughman knew that I continued to work as a prostitute.  In fact, Detective Baughman told me to let me know when I was working at any casino properties and he would give me the heads up on which property Metro's Vice unit was operating a prostitution sting operation so that I could avoid being arrested again for prostitution.
In 2011, I started working and having a romantic/sexual relationship with Jamal Rashid (also known as Mally Mall).   Jamal owned a nation-wide "escort service".  Following Ocean's arrest, Jamal Rashid arranged for me to relocate to New York and later to New Jersey, providing me with an expensive car to drive and a condominium to live in.  Jamal would take a percentage of the money I earned from prostituting for his "escort service" to pay for the car and condo.  Jamal Rashid had me return to Las Vegas from New Jersey in August 2012 in order to testify against Ocean Fleming. 
Jamal and his driver/bodyguard, Don Ramos, picked me up in Jamal's white Maybach at the airport and drove me to Jamal's house on Oquendo where I stayed the night with Jamal.  Jamal kept numerous copies of detective Baughman's books in his bedroom.  The night I stayed there before testifying, Jamal brought put the books and said that he had helped detective Baughman with his books.  Jamal told me to say and do whatever Detective Baughman told me. 
With respect to my testimony at trial and as I stated in my 2016 Affidavit, I ran out of the house and to my neighbor's car because I knew that Ocean had learned that I had been doing drugs for three days and that I might be pregnant with his child.  Ocean Fleming and I had previously talked about how dangerous it was for a baby for its mother to be taking drugs during the pregnancy. Ocean had grown up around babies that were addicted to drugs and had watched the babies going through withdrawals. Ocean did not want his child to be addicted to drugs.  I knew that Ocean was going to be angry with me and I did not want to hear it and I did not want to stop doing drugs.  After I got into Ocean Fleming's car, we drove to the drug store and purchased a pregnancy test.  I was pregnant but later had an abortion in California. 
Affidavit of Don Ramos: From 2005 to 2016 I worked as a driver and bodyguard for Jamal Rashid aka "Mally Mall".  Starting in 2010, I would drive Mally Mall to meet with several Las Vegas Metropolitan Police officers.  Mally Mall told me that he was "going to see a cop" on these occasions. Mally Mall would meet the LVMPD officers at different locations, including but not limited to one of the police officer's home, the Tryst nightclub and parking lots. 
Prior to meeting with the police officers, Mally Mall would instruct me to take out cash from Mally Mall's home or business, VIP Escort Services, or ask me for money that I had on my person.  Mally Mall would then take the cash with him when he met with the police officers and would return from the meetings without the cash.  On some occasions, the police officers would simply climb into the back seat of Mally Mall's Maybach, while I was sitting in the driver's seat, in order to receive the cash payments.
Although the amount Mally Mall paid to the police officers varied, I was aware that at least one monthly payment to the police officers was Ten Thousand Dollars ($10,000.00).  Mally Mall's personal assistant and business manager, Jennifer Paonie, told me that Mally Mall was conspiring with the police officers to set up Ocean Fleming to be arrested.  Following Ocean Fleming's arrest, Jennifer Paonie stated to me: "I told you so".  Upon information and belief, Mally Mall provided information to the police officers about Ocean Fleming for the purpose of setting up Ocean Fleming on criminal charges, including but not limited to providing the names and information about women with whom Ocean Fleming was involved with for the police officers to contact.
I was aware of at least three police officers that Mally Mall met with and gave cash payments: "Jessie", "Black Sarge" and detective Christopher Baughman.  I saw Detective Baughman visit Mally Mall's home on Oquendo Road in Las Vegas numerous times, even bringing his teenage daughter to hang out with the rappers and prostitutes who socialized in the home recording studio. Detective Baughman would leave his daughter in the recording studio while he went into the main house with Mally Mall.  While in the main house, Detective Baughman would engage in sexual relationships with certain prostitutes working for Mally Mall, including but not limited to "Star" and "Savanna".
Mally Mall told me that he helped Detective Baughman with the Baughman books relating to pandering and prostitution and that he helped Baughman get his books published.  Mally Mall kept numerous copies of Detective Baughman's books at the Oquendo house.  The books were stacked on a mirrored serving tray that sat atop a round ottoman in Mally Mall's bedroom.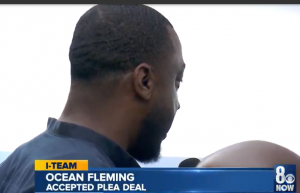 Upon information and belief, Mally Mall sent one of the women Ocean Fleming was involved with, April Millard, to work for Mally Mall's New York and New Jersey escort services after Ocean Fleming was arrested.   Days before Ocean Fleming's trial, Mally Mall sent me to pick up April Millard from the airport and bring her to Mally Mall's home where April Millard spent the night with Mally Mall. The next day, at approximately 4:00 p.m., I drove April Millard to Mally Mall's residence at the Palm's Place.  I later learned that Mally Mall had brought April Millard back to Las Vegas to testify against Ocean Fleming at his trial. 
In 2010, at approximately 8 a.m., LVMPD raided Mally Mall's Oquendo house as well as Mally Malls business, VIP Escort Services.  I was not present at the time of the raid, having left the Oquendo house sometime before 8:00 a.m. Affiant left work that morning because Mally Mall had unexpectedly, unusually and abruptly left the Oquendo house without having me drive him after receiving a phone call.  Mally Mall refused to tell me where he was going after Mally Mall had received a phone call.  Due to Mally Mall's strange behavior and refusal to talk to me, I got mad at Mally Mall and went home. 
Earlier on the morning of that raid of the Oquendo house, I had transported money from Mally Mall's office to the Oquendo house safe, an amount totaling approximately One Hundred Thousand Dollars ($100,000.00).  At the time of the raid, the One Hundred Thousand Dollars ($100,000.0) would have been in the safe at Mally Mall's Oquendo house.  Mally Mall told me that the LVMPD had raided the property and that the money and guns had been confiscated.  LVMPD also confiscated computers from Mally Mall's house during the 2010 raid. Located on the computers were records about Mally Mall's prostitution business, including but not limited to "call sheets" for the prostitutes who worked at VIP Escort Services.  Due to the complex nature of the financial agreements with each of the prostitutes, the computers contained spreadsheets of the different splits.  Upon information and belief, those computers were never returned to Mally Mall.
Affidavit of Jessica Gruda: I was a primary witness in the prosecution of Ocean Fleming.  Prior to and after meeting Ocean Fleming, I worked as a prostitute for several escort services in Las Vegas.  In 2011, I met with two Metro detectives, Christopher Baughman, and Albert Beas.  The detectives arranged for me to meet with them for the first time in their car at the parking lot of an elementary school. At this first meeting, the Detectives did not tape record or otherwise document our discussion. 
Detective Baughman brought with him to this first meeting a very large file with him that he told me was evidence he had against Ocean Fleming, my boyfriend, and pimp.  Detective Baughman pulled photographs from the file of women who had extensive physical injuries.  Detective Baughman told me that Ocean Fleming had hurt all of the women in the photographs and that Ocean would hurt me too.  Given that these were police officers who were telling me that Ocean Fleming had hurt these women and given the photographs of what were significant injuries to the women, I believed Detective Baughman and Beas and became afraid of Ocean Fleming and agreed to provide information to the Detectives.
The Detectives asked me to return home to the house on Tall Rough that I shared with my roommate, nanny, and friend Sarah Davey. Ocean Fleming had helped me rent the Tall Rough house.  The Detectives knew that Ocean did not live in the house with me, that only Sarah, me and my daughter lived in the house.  During the months that I rented the Tall Rough house, Ocean only stayed overnight with me a couple of times.  During the time I knew Ocean, I knew he lived at his mother's house.  I told Detectives Baughman and Beas that Ocean did not live with me and Sarah Davey in the Tall Rough house. 
The Detectives also asked me to resume my relationship with Ocean Fleming and pretend like I did not know about what they told me about Ocean hurting the women in the photographs.  The Detectives wanted me to resume my relationship with Ocean so that I could provide information to them about Ocean.
At the time I met Detectives Baughman and Beas, the Detectives both knew that I was working as a prostitute.  In exchange for helping the Detectives to prosecute Ocean Fleming, Detective Baughman and Beas offered and, on many occasions, did tell me which casino properties to avoid prostituting at because other police officers would be conducting prostitution sweeps.
The Detectives also knew that I was taking methamphetamine during this time period, 2011 and continuing through 2012. From 2011 to 2012, prior to me testifying against Ocean Fleming at trial, I became sexually involved with Detective Al Beas after he expressed interest in me.  I was not romantically nor sexually interested in Detective Beas but treated him as one of my paying customers.  Detective Beas gave me $400.00 in cash at one point and paid for a rental car for me while we were sexually involved.
On two separate occasions, Ocean Fleming and I got into physical fights.  I advised the Detectives of these fights.  Due to the fact that I was taking drugs daily during 2011 and 2012, I did not recall the specific details of the fights.  When I testified against Ocean Fleming, the two fights were merged into one event.  Prior to testifying, I met with the Detectives and DA Liz Mercer, to prepare my testimony for trial.  I never told the Detectives nor the prosecuting DA, Liz Mercer, that Ocean Fleming put his hands around my throat to strangle me. 
DA Mercer told me that Ocean would have had to have his hands around my throat when he dragged me out of Sarah Davey's bedroom.  DA Mercer told me that if I testified that Ocean had put his hands around my throat, strangling me, that she could put him away for a longer time and that I would not have to worry about Ocean ever getting out of prison and to hurt me.  I testified at trial that Ocean strangled me during the 'Fight".  At the time I testified, I had no recollection of Ocean ever strangling me.  After Ocean was arrested in 2011, but prior to me testifying against him in 2012, Detectives Baughman and Beas told me that they had information that while Ocean was in the Clark County Detention Center awaiting trial, that he had a hit out against me to kill me.  The Detectives showed me a handwritten piece of paper with my name and my social security number on it as proof of the "hit" that Ocean had taken out against me.  I believed the Detectives when they told me that they knew Ocean was trying to kill me to prevent me from testifying against him.  The Detectives and DA Mercer told me that I had to testify against Ocean in order to keep myself and my daughter safe.
Affidavit of Sarah Davey: I was the roommate, nanny and best friend of Jessica Gruda at the time that Ocean Fleming was arrested.  Earlier this year [2017] I was questioned by Metro as well as the FBI with respect to the investigation into the improper conduct of detectives Beas and Baughman, including the sexual relationship between Detective Beas and Jessica Gruda prior to Ocean Fleming's trial and conviction.  I submitted to a lie detector test requested by Metro regarding the officers and these events relating to Ocean Fleming's arrest and conviction. 
I was the only other person present at the time of the physical altercation between Jessica Gruda and Ocean Fleming, as it happened in my bedroom and directly in front of me at the Tall Ruff house in which Jessica and I lived at the time.  No Metro officer nor any representative of the District Attorney's Office ever contacted me regarding the events giving rise to the Ocean Fleming prosecution prior to Ocean's arrest or conviction. 
If Metro or the DA's office had interviewed me, I would have told them that at no time during the physical altercation did Ocean Fleming put his hands around Jessica Gruda's throat to strangle her.  I would have also told Metro and the DA's office that Jessica Gruda was heavily addicted to methamphetamine at the time of the events and when she testified and that her use of drugs significantly affected her memory and recollection of events. 
Jessica Gruda told me that Detectives Baughman and Beas and the DA told her what to testify to in order to ensure that Ocean was put away for as long as possible.  The Detectives and the DA told her that if Jessica testified that Ocean put his hands around her throat and was strangling her, that they could put him away for more time. 
As the only eyewitness to the physical altercation between Jessica and Ocean, I know that Ocean did not place his hand around Jessica's throat and was not strangling Jessica.  Jessica told me that she testified as the DA and Detectives requested even though she could not remember the actual details of the physical altercation.  Jessica told me that the Detectives showed her a huge file that the detectives represented was evidence their case against Ocean Fleming, including photographs of women with significant injuries that the Detectives stated that Ocean caused. 
The Detectives also told Jessica that there was a video on YouTube of a woman being injured by Ocean and that Ocean had taken a "hit" against Jessica while he was in jail before his trial.  Jessica and I later searched repeatedly for this YouTube video, but no such video exists.
Sheriff Lombardo hires a private law firm to oppose uncovering more corruption
In 2017 Lombardo hired a private law firm to represent the LVMPD and file motions to halt the taking of depositions.
The attorneys for the LVMPD during court proceedings in 2017 opposed turning over the department's internal files to the court relating to several detectives who were once part of the pimp investigating team (PIT). Attorneys for Fleming wanted the internal files on Detective Warren Gray of the LVMPD's criminal intelligence unit and vice Detective Albert Beas. Gray and Beas are no longer assigned to their respective units.
The LVMPD's attorney fought to not have any of the officers testify in District Court, even those no longer employed by the department. LVMPD attorney, Jackie Nichols admitted in court in October 2017 that Baughman's testimony in court would implicate other officers.
Attorneys representing the police were fighting to prevent testimony from one corrupt cop because they believed his testimony "would" implicate other corrupt police officers.
Why Lombardo wouldn't want to know if other police officers on the LVMPD would be implicated in corruption is mind-boggling, specifically since he had said that his department was cooperating with the FBI corruption probe of the LVMPD.
Exposing other corrupt cops would go a long way during an FBI probe, but instead of exposing corrupt cops, Lombardo's police attorneys were doing the exact opposite. They were taking measures to ensure that would not happen.
And where does the FBI and the U.S. Attorney's Office stand in all of this?
Not so special Special Prosecutor gives Ocean Fleming a sweetheart deal
Based on the allegations of misconduct against ADA Elizabeth Mercer, a special prosecutor was appointed to handle Fleming's appeal for a new trial. That special prosecutor was Adam Gill, who had been the defense attorney for another suspected Las Vegas pimp in 2016, Shane Valentine, reportedly an associate of Jamal Rashid, Fleming's competitor in the sex trafficking industry. Valentine was also suspect in the 2016 unsolved double homicides of Sydney Land and Nehemiah Kauffman.
The Baltimore Post-Examiner learned that Special Prosecutor Adam Gill had a meeting with District Attorney Steve Wolfson and Assistant District Attorney Robert Daskas and had consulted with them prior to approving the plea negotiations for Ocean Fleming, even though the DA's office had to stay off the case because of the allegations against the office. So what was the purpose of having a special prosecutor?
The Baltimore Post-Examiner previously reported that on May 14, 2018, an evidentiary hearing was scheduled so Fleming's attorneys could question witnesses under oath, including police officers, a prosecutor, and prostitutes. The Baltimore Post-Examiner also reported that the defense had added Judge Melanie Andress-Tobiasson's name to their witness list. That came on the heels of Tobiasson's interview with 8NewsNow, which aired on April 13, in which she exposed alleged corruption within the LVMPD and the DA's office.
On the eve of that evidentiary hearing, the Baltimore Post-Examiner was told that the district attorney's office offered a plea deal to Fleming's attorney.
On May 14, 2018, Janiece Marshall, the attorney representing Fleming announced that her client had accepted that plea deal based on re-negotiation of his charges that could lead to Fleming being released from prison.
As part of the plea deal (sounds very familiar with DA's office history of giving sex-traffickers plea deals) 20 criminal counts were dismissed, and Fleming pleaded guilty to just three counts; first-degree kidnapping and two counts of assault with a deadly weapon. Fleming is due to be released from prison sometime in 2020.
When Fleming withdrew his appeal for a new trial in 2018 and accepted the re-negotiated plea deal, that ended what could have been some very compelling testimony concerning police corruption and prosecutorial misconduct.
So it appears that Wolfson followed in the footsteps of Lombardo. To suppress any further damaging testimony that may have been revealed should Fleming have been granted a new trial by the court, they re-negotiated a plea deal with Fleming which ended his motion for a re-trial.
Fleming, who Wolfson's Assistant District Attorney Elizabeth Mercer implored to the court in 2012 that he needed to be incarcerated for life to ensure the safety of the community, that he deserved it and was "absolutely reprehensible," was now miraculously not so much of a threat and should be eligible for parole.
What's going on Wolfson?
If the allegations of police and prosecutorial misconduct and corruption were nothing more than a fantasy, a pack of lies made up to discredit the police and the DA's office in an attempt to get Fleming out of prison — if none of that was true, then why did Wolfson make the deal with Fleming?
Why didn't they allow Fleming's appeal to progress? What were they afraid of?
Based on the totality of the circumstances, the truth of the matter is, one can make a convincing argument that the prosecutor was corrupt, the cops were corrupt and the district attorney and the sheriff both took measures to ensure further corruption would not be exposed in a courtroom.
There is no supreme court of ethics. It's all about whether you can look at yourself in the mirror and see what you like. When a person makes the decision to become a criminal and that's the path in life they choose, then they must accept the consequences of their actions.
When those sworn to uphold the law and justice break the law and their oaths, then they too must be held accountable for their actions. They themselves become criminals with badges.
No matter how bad a criminal may be, it does not justify breaking the law to get those persons convicted, and if it results in criminals being released from prison, then so be it.
The community has no one to blame for that accept corrupt prosecutors and police officers.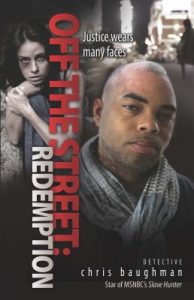 Ocean Fleming speaks from prison says Mally Mall is a police informant
On March 7, 2017, from inside High Desert State Prison at Indian Springs, Nevada Fleming spoke via telephone with filmmaker Michael Maroy of the Too Real For TV podcast.
The following are excerpts from the show:
Maroy: I've been watching on video 8NewsNow Las Vegas what's been going on with the Chris Baughman case, what's your take on a lot of that stuff?
Fleming: Man it's one of those situations, I'm liking it to the Rampart scandal, you know with all those crooked cops back in the day in LA, it's something of that magnitude. What we got here, we got a rogue cop, a real crooked cop. Here's an individual portraying around here with his badge, like he wants his community to look at him like it's lord and savior like he wants to be recognized as somebody like, I want to say like God sent to save.
Maroy: That's exactly what he said, like he's the ultimate good guy.
Fleming: But that's far from the case. What he really is though, he is a, what's the best way to describe it. The character that Denzel Washington was playing in "Training Day," remember the movie "Training Day," that's exactly what this dude is. He's running around here, he's engaged in sexual relationships with prostitutes and at the same time, these are the same prostitutes he sworn to protect and serve though. And he has sexual relationships with them, they falling in love with you, this is the killer though, just take my situation for instance, and I ain't know egotistical individual, to where we start talking about something and I always bring it back to me. Take my situation for instance. You got a cop involved in a sexual relationship with one of the victims, then he's involved in a sexual relationship at the same time with the prosecutor, not to mention at this time, who he's married. You're involved with a prostitute and you're involved with the prosecutor, Liz Mercer, in the case. So, in all actuality you got more females in the courtroom than me, so how can I come up out of the situation. How is it possible that I can come up out of a situation like this? The witness got motive to say whatever she wants to say about me, and the prosecutor got motive to prosecute this case, overzealously, maliciously, and whatever.
Maroy: Let me ask you a question. Does the prosecutor, Liz Mercer, who is his wife, is she clean on the up and up, or is she dirty as he is?
Fleming: This is where it gets tricky. I believe she started on the up and up. But just like he used a badge to manipulate these prostitutes and he used his charm to manipulate her. He's got a keen sense, scoping out, low self-esteem. And she got issues, that he preyed on, and he ended up getting her. Once he did that it's a whole different story now. I got seven females that's willing to testify that they have been coached by Liz Mercer in certain cases, to certain elements of the crime, meaning, like kidnapping or you have a domestic strangulation, she's going to sit there with you for hours, and days maybe even, until you listen. Say he grabbed you and drug you here, he beat you here, say he did this, say he did that. No matter what his attorneys asked you on cross, you stick to the script, so we're going to be able to get him on this and this is how much time we're going to get him. That's what they doing. That's why you see so many individuals get this much time. It's no way in the world I'm supposed to be sitting here with a sixteen to life. I'm on lifers row. This whole block right here is like, I'm talking about we got murderers, we got child molesters, we got rapists. I got more time than anybody on the block and can nobody explain to me how this happened. How am I right here, I ain't killed nobody, I ain't raped nobody, and I ain't molested no kids.
Maroy: I always said it from the jump, Ocean, he ain't supposed to be getting life for the shit that's he's doing, because you got the same charge similar to the guy Arman.
Fleming: Exactly, that's it.
Maroy: And he walked on this one.
Fleming: Exactly, and that shows the maliciousness and how overzealous they was with what they did to me. They called me everything but a child of God. I was born and raised here, and I'm going to die here when it's all said and done. But the fact remains is this. Me and this individual got the same exact charges and I'm speaking as far as Izadi goes. We got the same exact charges, twenty-something, whatever it was, the first-degree kidnapping on them. He ends up with three years' probation. I end up with a sixteen to life. That's another thing that has to be explained, why is this goes like this. Why was I only offered a life sentence deal, and he's offered, I'm talking about?
Maroy: I'm sure Chris Baughman and his whole operation is under investigation. That's giving you a new lighter sentence. They say Raymond Sharp's going back to court so I'm assuming you're going back to court as well.
Fleming: Yeah, without question I am. I ain't holding no punches, I'm throwing everything up in there and they know, they know it's got merit. There's 13 issues, every last one of them got constitutional magnitude and they have to be addressed in a way. This is the thing. Listen, I'm going back to court. It's going to be two options at that point. They are going to have to offer me a deal that everybody can accept, or I promise you, I'm going to blow the roof off the courtroom and by the time I'm done, I don't know if there's going to be anybody in there with a job left, and I'm just being serious about it, with the information I know now. I've been sitting here five years and I've gotten some good investigative work, I came across some good information, so jobs literally in jeopardy though. See if they would allow an evidentiary hearing to go through and me to expose people who they really are in front of the world, and that's what I plan on doing, because that's like they stole my life and at this point, I'm out to get theirs too, you get it.  
Maroy: Let me ask you this? Has the FBI contacted you at any point yet?
Fleming: Yeah, yeah, they came up here. We chopped it, we chopped it. They were coming to see who my lawyer was. At the time I didn't have one, so we chopped it. There wasn't too much they could tell me because I had to get the lawyer first. This is what people need to understand right here is that everything they see on TV, everything they see on 8NewsNow with the George Knapp investigation. What they got to understand is this. Everything the FBI is saying, all this information that's been uncovered about Detective Baughman and Liz Mercer, I was saying this six years ago.  
Maroy: I remember when you was speaking about that a while back because I'm thinking like all this stuff that's going on with you and stuff that's going on with Sharp, all this took place with Chris Baughman? He's got enough power to pull that off on his own or are there any other cops involved?
Fleming: And that's what I'm about to get to right now. This is what people got to realize. It's way bigger than Chris Baughman. It's way bigger than him. Now, he's the head of the snake and we all know what happens when you cut the head off, the body still goes forward, there are still other individuals who have never been mentioned. We got Detective Albert Beas, and his partner. He was also having sexual relations with individuals too, namely one, in my case, Jessica Gruda. He's a dirty cop too.
Maroy: Let me ask you a question?
Fleming: Hold on real quick. Not only Detective Albert Beas though, but you also got Detective Warren Gray from organized crime [LVMPD Criminal Intelligence Unit]. Now, this is how it all, all began. It gets deep right here, what I'm telling you. You got Detective Gray from organized crime and this is where the link comes in. We got this fool running around here, Mally Mall, and we all know who Mally Mall is. Me and him we're like brothers bro. We ate together, we slept together.
Maroy: I was just about to say. I thought that was your man?  
Fleming: Yeah, he is, or he was but you have to understand something. This is how it all went down. Once I got arrested, one of the witnesses against me was April. Once I get arrested, Detective Baughman gets ahold of April. Now he is aligned with Mally Mall, they're friends. Remember on the first one by George Knapp on 11/16/16, they reported that Detective Baughman's daughter calls him 'Uncle J." Now there's no way in the world a detective's daughter would call you "Uncle J," unless you're all close. Now, this is what happened. Detective Baughman got his hands on April. He takes her to Jamal, okay, who then hooks her up at his services. Now, she's working, I'm out of the way, they're sharing her. I'm out of the way, they move her to New York, whatever the case may be, I don't know. This is what I'm saying right here. All that was in play. They fly her back out here, two days before my trial and boom, she testifies. So this is how it goes. We got Mally Mall who met Detective Baughman through Detective Warren Gray who works for Metro's organized crime. Now he's crooked as a motherfucker too. This fool is selling a, I don't want to cuss on your podcast, this individual is selling department secrets for money. And this is how it goes down. Mally Mall, nobody knows this. All these rappers, everybody is still hanging with this fool and nobody knows. I'm going to expose him. He's a rat. Point blank period. The boys a rat. He's a confidential informant for Detective Warren Gray since '08 bro. A lot of people been getting busted around here, it's going to be because of this fool right here, be running his mouth to these people, and that's where the link comes in. And that's how Warren Gray is the one who introduced him to Detective Baughman, he in with them, he's in with the in crowd. This is what I'm telling you right here. I go to jail. Wheelchair Mike go to jail, everybody's going to jail except him. Why is that? There's only one reason why and we all know it. I just told you what it was. He ain't no good, straight up and that's just the way it is. Why do you think the FBI investigation was no longer with Metro's investigation, they separated? Because they figured it out. Somebody's telling this fool, he's always getting away.
Maroy: If cops are having sexual affairs with these chicks that are prostitutes, is that really such a bad thing if they are having sex with prostitutes. That's what they do, what's the big deal, if they are fucking the prostitutes?
Fleming: See this is what it is. It's not bad, I would consider them tricks. I mean if you want to go to work and bust people all day long when you get your check and split it with their prostitutes, I'm not mad at you. I mean she got to eat though. She got to eat, I ain't mad at her for getting her money. This is where it gets tricky at though. This is where it comes overboard and over the line. You use those prostitutes. You make promises to them to, whatever the case may be, and you use those prostitutes to prosecute their dudes. So say, these individuals thought they were in love with him, or he thought he was in love with them, still whatever the case may be. All I'm saying is once you cross that line, you just blurred the whole situation. How do we know she was on the up and up with the whole investigation? You can never be on the up and up you were just trying to get me out of the way now, so you can have her to yourself. You get what I'm trying to say? It doesn't cross the line to me until you use these prostitutes to prosecute these individuals. And what I'm talking about when you use Jessica, or Brittany or April, the women in my case to testify against me, but you can have sex with one, two or maybe all three of them, you out of pocket for that. How can you trust anything they say? I can we trust anything you say? It's emotions involved. And we all know you can't make a decision based off emotions. That's where they go bad.
Maroy: Now, is your case going back before the court now?  
Fleming: Yeah, I got a few court dates coming up and then uh, it's going to be a big one later on at the end of the summer.
Maroy: I see they just had a big one with Raymond Sharp, they brought him back to court.
Fleming: They postponed to May, right? He got a real good attorney. [Jonathan] MacArthur's representing him so. Me and him got two different motions. We're going about the same issues basically, but I got more issues and I'm hitting them in a totally different way. It's complicated, real complicated but it's going to be ugly I believe at the end of the day.
Maroy: Tell me as much as you can about what the feds are saying when they come and see you?
Fleming: This is the thing. They really is talking about how, they know that I said all this six years ago, but nobody believed me. And that's really the biggest behind the whole jam. What they said is, I would never have made these allegations, me being me. I'm from the street, I'm from the three stories by the bridge, you just don't come from there and say anything out of your mouth, no. You won't even make it to sixteen, you won't make it to 18 coming from there unless you're really about what you're talking about. So, when I made these allegations everybody busting to the sod. You know all this time later, they're laying it on the FBI desk, and he taking it to heart, and he looking to hit and boom he blew the roof off of it. Now, I never made the Mally Mall connection as far with Detective Warren Gray and all that. I never made that connection that was too big for me to make.
Maroy: At one point I remember you speaking like vouching for Mally Mall, like that's your partner, you were giving him the voucher, you know what I mean?
Fleming: That's the love I had for him, and that's what hurt the most. I liken that situation to me and Brittany's situation. That's Ocean's mama, and me and Mall's situation, it don't matter what you do, but at the end of the day all that money could be gone, all the cars, all the jewelry, whatever can be gone, all we got is our love to each other. Once we throw that out the window, we can never repair that. That's worse than anything. When you turn your back on somebody, when you stab them in the back, that's the worse thing you can do. So, I'm going to show him just as much love as he showed me. We were like brothers, but once you crossed that line, you working with the police to go against me, that's crazy, how are you going to do that, I don't condone that. I can't condone that. You're a confidential informant for Detective Warren Gray, I can't condone that. That's going against everything I believe.
Maroy: And right now you have absolute proof that he's a confidential informant?
Fleming: Man, I swear to God, on everything I love. There's audio of these fools chopping it, there's pictures of these fools meeting up together. Why would you be meeting with a detective, why would you be chopping it with one. If you are on the up and up. This fool was giving me the run around stories about, I don't know Baughman, I don't know this fool, I just met him here or they pulled me over.
Maroy: Mally Mall told you he didn't know Chris Baughman?
Fleming: Yeah, that's what he was trying to say at first. They just pulled him over and frisked him. No, that don't happen. His daughter don't call you Uncle Jamal if they pulled you over and you don't know him. It don't happen like that. I ain't a fool. You think because I'm in Vegas because I'm a fool. It don't happen like that. It would never happen like that and that's what I'm telling you. He knows I know.
Maroy: Right now is there anyone that you are upset with?
Fleming: No I'm not upset. I'm not holding no malice in my heart or ill will against anybody, on the simple fact if I know. This is what I do know for a fact. We can take Jessica, April, and Brittany, the individuals that stood up on that stand and raised their right hand against me and I guarantee you, every one of them will say that Detective Baughman, in one way or another, coerced them into doing that and Liz Mercer told them what to say, as far as whatever they had to say negative about me. They were coached into saying it. I'm willing to bet you they will say that because that's the truth. These individuals ain't right. You have to understand something. They're talking about Liz Mercer on 8NewsNow, but they failed to mention Noreen DeMonte, who was the second, she prosecuted Raymond Sharp too, right alongside Liz Mercer, she prosecuted me, right alongside Liz Mercer. Her name ain't come up yet and she's crooked too. We got a jury tampering issue. They indicted somebody for tampering with my jury, you know what that means, that means I'm sitting in front of a biased jury.
Maroy: Tell me exactly what that means, what does that mean for people who may not know?
Fleming: The jury, somebody was taking pictures of the jury, like walking up to them with a camera, snapping photos. This individual got indicted for numerous charges for two of the charges were for influencing the jury and intimidating the jury. This is what happened. We got three jurors who had tears in their eyes and was crying. One juror said she was fearing for her life. The bailiff at my trial said he could look at them and they were all frightened.
Maroy: Wait a second, wait a second. That's usually something you would hear from a defendant or mob that's trying to scare the jury. You mean to tell me that the prosecutor was trying to scare the jury like that?
Fleming: No, no, no, no, no. Another individual that wasn't part of the trial did, and he was indicted for it, but the prosecution got wind of this information from the jury and from the bailiff.
Maroy: And who was this individual?
Fleming: It was somebody… this is what I'm telling you right now though. When they got this information from these jurors when they got information from the bailiff in the trial, listen, one of these jurors, three of these jurors got tears in their eyes, they're talking about their scared for their life, they were frightened. They were supposed to bring this to the judges attention, they were supposed to bring this to the defenses attention. Now at this point, there's supposed to be a mistrial at the most if that. I never knew nothing about none of this. They allowed the trial to go on with these jurors after all twelve sat around and talked about it. All twelve jurors sat around and had an internal discussion about the tampering incident, and they allowed this trial to go on with biased jurors. It ain't one case in America where a tampered jury has been allowed to sit and give a verdict. That's essentially what Noreen DeMonte allowed to happen, and ain't nobody mentioned her name yet. That's how you know. They know I know too much, and they are trying to keep me out of the spotlight because they know that I know. So we got not only Liz Mercer and Detective Baughman, we got Albert Beas, we got Detective Warren Gray, we got Noreen DeMonte, and then that's not even the half. The PIT team, which is the pandering investigation team that was comprised of three or four investigators from '08 to 2011, 2012, 2013, whenever they disbanded it right. You got another officer on there by the name of Catherine Hui, who's never been mentioned. She's still working there but I don't know if she's crooked or not, I'm not going to sit here and lie, but this is what I'm going to tell you. About a month ago, they arrested Tyree. He was on the news crying. They showed pictures on there of Angelina all beat up. Okay, he was arrested by an officer named Catherine Hui, who was Detective Christopher Baughman's partner for five years. Now, why isn't she being investigated? If two of your partners are crooked for this long a time, why do they think she ain't. Why isn't Tyree's lawyers questioning her credibility, investigating her, see if she's on the up and up. That's what they got to do. I know this individual Angelina. I know she's got post-traumatic stress disorder. I know she's bi-polar. I know she's bi-polar and got post-traumatic stress disorder. So, what I'm saying is this.
Maroy: All those police officers that you're speaking off, where are they at now, they still on the force still now?
Fleming: Exactly. Albert Beas he's under investigation by Internal Affairs right now. His job is on the line, they know he's crooked. Catherine Hui she's still running around there in Vice. She busted Tyree on a faulty individual with post-traumatic stress disorder and bipolar disorder. They were the main two. They were Detective Baughman's partners. He's out of the system, that's where we standing at right now. There's a lot more coming though, you have to sit back and wait.
Where are the cast of characters now?
Jamal "Mally Mall" Rashid has not been charged with any crime to date.
None of the prosecutors and police officers mentioned in this story have been charged with a crime.
Former Detective Chris Baughman left the LVMPD in 2013 to star in the TV show "Slave Hunters," which was canceled. He tried to get back on the police department but was denied. Sources told the Baltimore Post-Examiner that the reason was that they found out that he had sexual relations with prostitutes. He was seen working for a local strip club after that.
Police sources said the last they heard of retired vice Lt. Karen Hughes was that she was in Brazil.
Elizabeth Mercer is Chief Deputy District Attorney with the Clark County District Attorney's Office.
Detective Albert Beas sources said, was given a 40-hour suspension, the harshest disciplinary action in the LVMPD short of being fired and was assigned to patrol where he remains to this day.
Sources said Detective Warren Gray voluntary transferred out of the Criminal Intelligence Unit and is currently a resident officer in the Logandale/Overton area of Clark County. Police officers who spoke to the Baltimore Post-Examiner said it is a disgrace, resident officers receive a pay bump of 25 percent, which would increase his retirement benefits.
Catherine Hui is still an active member of the LVMPD.
Rashid's former bodyguard/driver said in his affidavit that he was aware that Rashid gave cash payments to Baughman, and two other police officers are known to him as ''Jessie" and "Black Sarge."   LVMPD sources who spoke to the Baltimore Post-Examiner have named the identity of "Black Sarge." He is a former sergeant in the vice unit. The name was given to him by prostitutes, sources said.
The Las Vegas Metropolitan Police Department, The Clark County District Attorney's Office and the Federal Bureau of Investigation were contacted for comment. They did not respond.
The last major FBI investigation into political corruption in Las Vegas was the Bureau's 2004 "Operation G-String." Michael Galardi, a former owner of Las Vegas topless clubs pleaded guilty to federal corruption charges involving fraud and racketeering. He told the FBI that dozens of Las Vegas Metropolitan Police Department officers and prosecutors from the Clark County District Attorney's Office had frequented his establishments and received free drinks, lap dances and sexual favors from strippers over the years. Eleven police officers and 20 prosecutors were named by Galardi. The FBI said at the time that none of the activities rose to the level of a crime. However, the investigation resulted in more than a dozen political corruption convictions.
When the FBI's investigation into public corruption which as of now has been ongoing for well over four years, be concluded, it would be up to the U.S. Attorney's Office for the District of Nevada to pursue criminal charges.
Stay tuned to the Baltimore Post-Examiner on this continuing story, there is much more to come.

Doug authored over 135 articles on the October 1, 2017 Las Vegas Massacre, more than any other single journalist in the country. He investigates stories on corruption, law enforcement and crime. Doug is a US Army Military Police Veteran, former police officer, deputy sheriff and criminal investigator. Doug spent 20 years in the hotel/casino industry as an investigator and then as Director of Security and Surveillance. He also spent a short time with the US Dept. of Homeland Security, Transportation Security Administration. In 1986 Doug was awarded Criminal Investigator of the Year by the Loudoun County Sheriff's Office in Virginia for his undercover work in narcotics enforcement. In 1992 and 1993 Doug testified in court that a sheriff's office official and the county prosecutor withheld exculpatory evidence during the 1988 trial of a man accused of the attempted murder of his wife. Doug's testimony led to a judge's decision to order the release of the man from prison in 1992 and awarded him a new trial, in which he was later acquitted. As a result of Doug breaking the police "blue wall of silence," he was fired by the county sheriff. His story was featured on Inside Edition, Current Affair and CBS News' "Street Stories with Ed Bradley". In 1992 after losing his job, at the request of the Federal Bureau of Investigation, Doug infiltrated a group of men who were plotting the kidnapping of a Dupont fortune heir and his wife. Doug has been a guest on national television and radio programs speaking on the stories he now writes as an investigative journalist.