Delfest: Top 5 reasons you need to go
With May pushing spring into its full glory and Memorial Day weekend fast approaching, my banjo/mando heartbeat is quickening to the thought of getting out to the apogee of bluegrassdom, Delfest.
Now in its 10th edition, the four-day festival at the Allegany County Fairgrounds in Cumberland is a cornucopia of music, party, nature and fun times.  Here's a short list, in no particular order, of why trekking out to Western Maryland for the holiday is in your best interests.
5. The scene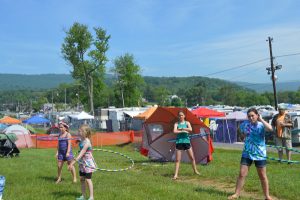 The people, as much as the music, are what make this festival so successful.  From the late night picking circles in the camping areas to a genuine kindness expressed in a friendly elbow bump with a 'Del Yeah!," there are few places where so many gather and the vibe remains so positive.
The weekend is very family friendly and separate family camping areas are set aside for those wanting a quieter place to bed down with the kiddies for the night.
Daily yoga, tubing, kidzone activities, and the Art & Craft Fair are but a few of the ways to spend your time between your favorite acts.
4. Late night shows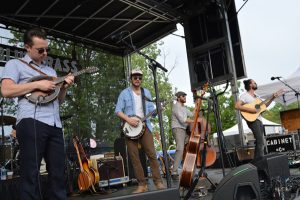 If 14 hours of music is just a warm up for you, be sure to hit the late night shows.  These are a separately ticketed event ($25/night) held in the intimate music hall. The shows feature two bands each night and a multi-day wristband is required to attend.
Thursday: Fruition/Cabinet
Friday: Donna the Buffalo/Steep Canyon Rangers
Saturday: Red Knuckles & the Trailblazers with special guests/Leftover Salmon
Sunday: Billy Strings/The Grateful Ball featuring The Travelin' McCourys with Jeff Austin
3. So. much. music.
In addition to The Del McCoury Band headliners for this year's Delfest include Phish frontman Trey Anastasio with his solo band playing two sets, Gov't Mule, Steep Canyon Rangers, Railroad Earth, The Travelin' McCourys  with guest Dierks Bentley, and Leftover Salmon, who will be performing Neil Young's "Harvest" album.
Delfest runs three stages and pumps out about 14 hours of music daily on Friday, Saturday and Sunday. (about 8 hours on Thursday).  The complete schedule can be found here. http://delfest.com/lineup/daily-schedule/
Several acts from Baltimore's own Charm City Bluegrass Festival will turn up, including Cris Jacobs, Cabinet (of course), Kitchen Dwellers, and Billy Strings, who dropped in on Seldom Scene and hosted the after party. If you hustle up and order your Delfest tickets by midnight on the 15th you can get a $20 discount on 4, 3, and 2 day passes by using the promo code Charmed.
How's that for some Baltimore love?
2. Delfest Academy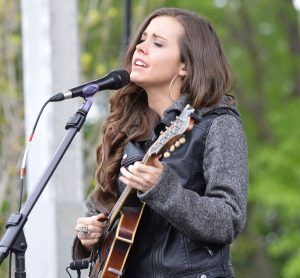 If you're a bluegrass player looking for fun and intensive learning experience, this is for you.  A pre-festival, four day session May 21-24 featuring instruction from members of The Travelin' McCourys, Leigh & Eric Gibson and Mike Barber from the Gibson Brothers, Sierra Hull, Ronnie Bowman and Jay Starling.
1. Del McCoury
The man is a legend, and a super gracious festival host.  He's got a barn full of awards for his huge contribution to the genre and an unmatched egoless accessibility. Not one to stick to being a stage-only presence, last year I personally counted no less than five Del sightings on the festival grounds, chatting with fans and snapping Delfies.
The Del McCoury Band will play two sets on Thursday, the traditional afternoon Soundcheck set, and a headlining show where Del's band will be joined by special guests Dan Auerback of The Black Keys, drummer Jon Fishman of Phish, the Preservation Horns of New Orleans and Ronnie Bowman. There's your reason to skip work and start the weekend early.

Chris Swanson is a live music and sports fanatic and a long-time Maryland resident. He holds tightly to what some consider an unreasonable affection for the Baltimore Orioles and older music venues. Chris has a Communications Degree from the Franciscan University of Steubenville.