Delfest 10: That's a wrap!
Here's a few more things that made Delfest 10 so memorable…..
The Delfest Academy, a pre-festival workshop for player of all skill level, hosts a competition for its participants.
Broken into smaller groups, they work out a song to garner a spot on the Grandstand stage to start off the festival on Thursday afternoon.
This year's winner Live from the Delmore East performed The Allman Brothers Band classic Ramblin' Man, and included Alex Tocco (center, holding fiddle) from Baltimore's own Dirty Grass Players.
Litter is minimal. In an effort to reduce single-use plastic water bottles, several filtered water stations are set up around the venue and concert goers are encouraged to bring there own reusable vessel. Operated by an organization called Klean Kanteen, the water actually tastes better than the bottled stuff I brought with me, something I've never experienced in this type of setting, so I stopped drinking my stuff.
Bringing in quality up and coming, not really bluegrass band's like the Ballroom Thieves. The first time Delfesters – Martin Early (guitar), Calin Peters (cello) and Devin Mauch (drums) – played a loud and thumping acoustic set, mixing harmonies, aggressive rhythms and thumping drum beats into what may be best described as Americana-core.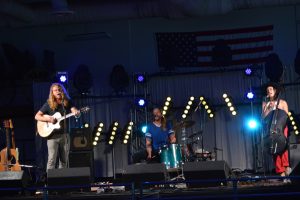 "We're grateful to be included, because this is more of a bluegrass festival, and more traditional folk, and so we're excited that they were able to expand the definition of folk enough to allow us to enter." Early said.
The band's Sunday set on the Potomac stage drew a good sized crowd despite the rain, and fans were treated to several songs from their latest album Deadeye, including a frenetic Blood Run Red and a lyrically beautiful Bees, performed solo acoustic by Early.
There's an Angel at the grandstand field entrance. If you were here, you know exactly who I'm talking about.  While I have found all the staff interaction to be pretty positive, Angel is the cheeriest and certainly most friendly individual I saw at this festival.  Her sweet and friendly greetings as you move on to the field set such a positive tone for the day.
As I walked in early on Sunday morning, she was coming over to her station and a small group in the stands actually stood up and cheered her arrival.
It takes a lot to have a person who you only have such a brief contact with to stick in you mind so strongly, so huge kudos to her and whoever had the wisdom to put in that key location.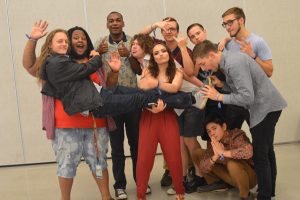 Winner of the best "A funny thing happened on the way to Delfest" story goes to Nashville's Broomestix.  The 10 members of the funk/soul/R&B band, all under 21, got to experience one of those "what else can go wrong" roadtrips that make legendary band history stories which can only be appreciated after the fact.
The whole band gathered in the media room to share their travel tale prior to their music hall set.  We had a 1972 Dodge Travco RV, a really beautiful machine, but it had some, umm inequities.
We were playing in Lexington, (before heading to Delfest) and the morning before that show we're running a bunch of errands, getting everything ready and we had a u-haul trailer attached to the back of the RV, Andrew (Wilson) our drummer was in it, and so was all our gear, and David (Cooper) was trying to get it hooked up and I was right next to him, and somehow it came right off the hitch, and bounced off my foot, and its a really heavy trailer to begin with, and it bounced right off the center of my foot. We were supposed to leave at noon, at one o'clock Conner (Broome) fractures his foot, so we're already an hour late, and he has to go to the hospital to get it checked out, and get a boot put on it, we finally leave a little after 2 p.m. We​ ​barely​ ​got​ ​out​ ​of​ ​Henderson,​ ​which​ ​is​ ​our​ ​hometown,​ ​maybe​ ​two​ ​miles down​ ​the​ ​road,​ ​heading​ ​up​ ​a​ ​hill​ ​and​ ​the​ ​acceleration​ ​just​ ​kept​ ​cutting​ ​out,​ ​and​ ​that​ ​was​ ​a​ ​little frightening,​ ​especially​ ​since​ ​we​ ​had​ ​just​ ​left,​ ​so​ ​we​ ​ended​ ​up​ ​in​ ​a​ ​Kroger​ ​parking​ ​lot. ​It​ ​ended up​ ​being​ ​some​ ​loose​ ​wire,​ ​but​ ​Conner's​ ​dad​ ​came​ ​fixed​ ​it​ ​for​ ​us. We finally get down the road at four something, and we get up to Lexington for the first show, and everything is fine, until the next morning.  We were trying to leave Lexington, and probably got five miles up the interstate, then a bunch of smoke came up out of nowhere, and we smoked out the whole interstate. We were on the side of the road for six hours, raining sideways, then we had to get towed, and there was no one anywhere near us that was willing to tow the RV with the trailer. Conner's family was already on their way to the festival and we had to call them after we had tried so many other crazy things.  They had to take their minivan to a u-haul and get a trailer hitch put on it for the trailer, which was a three of four hour process, and we had to go find a rental car, so by the we time we got back from that it was about 8:30, we had the trailer and everything, we got in (to Delfest) about three in the morning, but we made it!
Despite the trials of the road, down one RV and one working foot, Broomestix took the stage twice for sets on both the Potomac and Music Hall stages.

Chris Swanson is a live music and sports fanatic and a long-time Maryland resident. He holds tightly to what some consider an unreasonable affection for the Baltimore Orioles and older music venues. Chris has a Communications Degree from the Franciscan University of Steubenville.