Daytripping with stops at Gertrude's Chesapeake Kitchen, Ambassador Dining Room, and Miss Shirley's Café
Reports of my being tired have been greatly exaggerated. I'm still kicking, okay, maybe not quite as high. So there's no reason I can't keep up with myself in this latest edition of Eddie's Corner. Once again, it's three restaurants and a stop at a very popular attraction on the eastern shore. So if you're ready, take a deep breath and here we go.
The first stop is Gertrude's Chesapeake Kitchen located on the lower level of the Baltimore Museum of Art. Locally owned by two most affable fellows. One of them is John  Shields, author of at least 4 cookbooks. Closed Monday and Tuesday (as is the BMA), parking on an adjacent lot or on the street, covered outdoor dining year-round, reservations I think are a must almost anytime, in business for 25 years (that's a major wow), live music at the Sunday Brunch, beautiful dining room, and daily specials.
During my visit, two of the specials were the blackened mahi mahi and shrimp scampi. The actual menu goes from soups, small plates, salads, classic entrees, burgers, sandwiches, and sides. There's also a full bar and a private dining area. Oh, Wednesday nights feature wines marked down 50%.
Off the menu, I'm suggesting the crab cakes, crab quiche, grilled pork tenderloin, and salmon blt. In warmer months you can enjoy a stroll in the garden and admiring the statues. Actually, you can do that year-round….410-889-3399…gertrudesbaltimore.com
By the way, Gertrude was John's grandmother.
We're staying downtown and heading to the Ambassador Dining Room, 3811 Canterbury Road in an area known as Tuscany.
To be more precise, we're about two blocks from Johns Hopkins University. The restaurant is located in the Ambassador apartments, built in 1931. A beautiful building.
Closed Monday, indoor and outdoor seating (adjacent to a charming garden), open for lunch and dinner, street parking, and a small lot on the property, the owner, Go Pal, is from Nepal, and I'm guessing so is his wife Juny, seating for 120. Authentic Indian cuisine is served here. And before I forget, they do cater on and off-premise. For help with that, contact their catering manager Vernida (443-844-2406).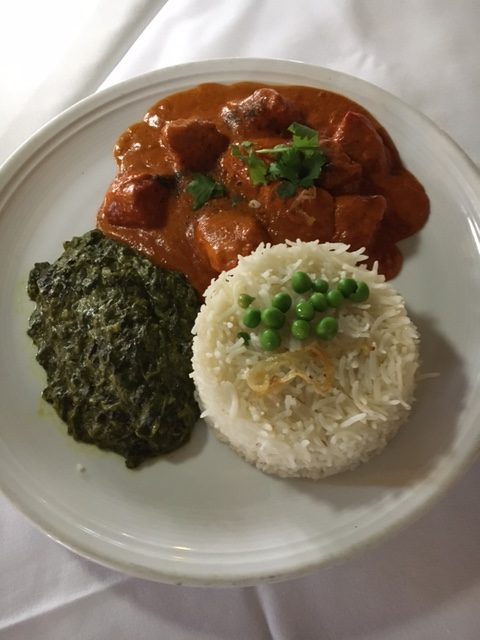 Admittedly I am not well versed on Indian food. So I was helped with my food selections. I was introduced to lamb chops with mint chutney, goa fish, and chicken tikka masala. and organic butternut squash soup. The lamb chops were my favorite. If you're not up to date with Indian food either, the staff will be happy to assist….410-366-1484…ambassadordining.com
It is usually at this time we take a break from restaurants and head to our attraction. But since this one is further away let's make that third restaurant stop now. We're leaving downtown but staying in the city as we arrive at Miss Shirley's Café, 513 West Cold Spring Lane in an area known as Roland Park.
Open seven days 8 to 3, breakfast items are served all day, parking in the back or on the street, outside dining in season, locally owned, they do not take reservations, 18 years at this location, have been the recipient of many food awards (like best pancakes in the country from the Food Network), yes I said country. As a quick aside, I can attest to that because they have the best blueberry pancakes I have ever had.
Let me also suggest the chicken pot pie soup, crab hash with fried green tomato eggs benedict, the Maryland omelet, cinnamon apple donuts, chicken andouille sausage biscuits, and the avocado & hummus toast. That will keep you busy for a while.
There are three other locations, 750 East Pratt, West Street Annapolis, and Concourse A at BWI. All with the same hours and menus.
Perhaps I should mention they were voted Maryland's Favorite Restaurant by the Restaurant Association of Md….410-889-5272…missshirleys.com (make sure you have 3 s's)
Okay, put on your seat belts we're going to Assateague Island, a barrier island off the Maryland and Virginia coasts. Currently, there are no residents on the island. It's 37 miles long, about 800 acres, 24.4 square miles, the northern two-thirds are in Maryland, and the southern third is in Virginia.
In the northern portion, you'll find the Assateague Island National Seashore and State Park. In the southern portion the Chincoteague National Wildlife Refuge and Lighthouse. In 1965 the Assateague Island National Seashore was formed. The entire island is owned and operated by three agencies – NPS, MD State Parks, and the U.S. Fish & Wildlife Service.
At one time the island was connected to the southern end of Fenwick Island, but the 1933 hurricane created an inlet south of Ocean City.
Over time it would have silted back but a permanent system of artificial jetties was built to preserve the inlet as a navigation channel.
The land masses are now 0.62 miles apart.
Bridge access for cars is possible from both Maryland and Virginia though there are no roads that run the full north/south length.
The National Park Service allows off-road vehicles with permits in certain areas. Back country sites are available from the National Seashore. Car camping sites are available in both the National Seashore and Assateague State Park by reservation.
You'll notice I didn't mention the stately feral horses. I assume everyone knows about them. If you don't, go directly to the Assateague website. As a tip, the next five months are the best time to go, very few people. And thanks to their website for providing some of this information.
And there you have it. Another successful road trip. If you need a nap, I understand.

Eddie Applefeld is a Baltimore native and a graduate of Towson University. He has been in the broadcasting profession for over 30 years. Currently he is the Promotions Director of WCBM radio. Before that, he was part of the Rouse & Company show on WQSR, host of a cable TV show called Dining Out and adjunct instructor at Towson.
His past accomplishments include being named a finalist in Baltimore Tourism's Employee of the Year Program and winner of Toastmaster's Speaker of the Year contest. He was also twice a heartthrob for the American Heart Association's gala fund raiser.