Daytripping and good eating at the Shops at Kenilworth and checking out Luann Carra Gallery
Food from The Gourmet (Photo by Eddie Applefeld)
I hope you're hungry because we're making four restaurant stops, fortunately all at the same location. But I promise a break in between.
All restaurants are in the Shops at Kenilworth, Kenilworth Drive, Towson, off Charles Street. Pay attention because we won't be long at any of them. By the way, while there be sure to check out the annual train garden, many months in the making.
It doesn't matter where we start, so let's go first to Felipe's Taqueria. This is located outside but adjacent to the mall. I liked the 'build your own' part of the menu. You choose your entrée, than protein or veggie, then toppings, then sauce. When you're done you have a terrific sandwich.
Felipe's is open seven days, outdoor dining year-round (with heaters), it opened in June 2020 (very brave), bar with TV's, a seven-day Happy Hour, a scratch kitchen and they do cater. A huge selection of 'bars' on that catering menu – taco, nacho, taco salad and fajita. And locally owned, as are all of the restaurants featured here….443-991-8440….felipestaqueria.com
Directly across the sidewalk is The Gourmet, which opened just this past August. Seating for 140 inside, and more seating outside, live piano music Friday & Saturday from 4:30 to 9, bar with TV, Happy Hour Sunday-Thursday from 3 to 6 at the bar, open seven days and a large selection of oysters on the half shell. Blue points and great whites as examples.
Okay, let me tell you I had perhaps the best Chilean Sea Bass ever as part of my visit. Don't ask me how it was cooked, what they put on it, don't care, it was terrific. Our production crew also tasted the Chesapeake green tomatoes, lemon dill scallops (not a fan of scallops but these were exceptional) the Bookmaker salad (locals should be familiar with this). Reach them at 443-491-7125 or go to the gourmet@kenilworth.com
(There's also a Catonsville Gourmet on Frederick Road)
Okay a quick break from food, now we'll nourish the mind. We travel to 1918 Fleet Street, in an area sometimes referred to as Upper Fells Point, to visit Luann Carra Gallery. It was my first visit. I went to see a collection of black and white photos shot by Walter Levy, a promising photographer. That's probably gone but the gallery is a place to see paintings, mosaics, sculptures, and more. Art classes are also available. You can even pick up some jewelry, soaps, candles and windchimes….410-802-9918….luanncarra.com
Okay, okay, we're going back to food. The next location in the Shops at Kenilworth is one where you do enter from the mall, Italian Gardens. In business for only 32 years. If a restaurant anywhere can survive that long, they are worth a visit and a taste. Open seven days with seating for about 105, full bar with TV, and still serving those pizzas at a separate entrance. Speaking of longevity, the General Manager, Mindy, has been there over 20 years.
Our group enjoyed the chicken parmigiana, baked lasagna, veggie flatbread, and garlic toast. Sunday thru Thursday there are specials on pickup-only pizza and the menu has money-off coupons on some pizza items and pasta. They do deliver but I assume there are limitations on distance….410-821-0292…Italian-gardens.com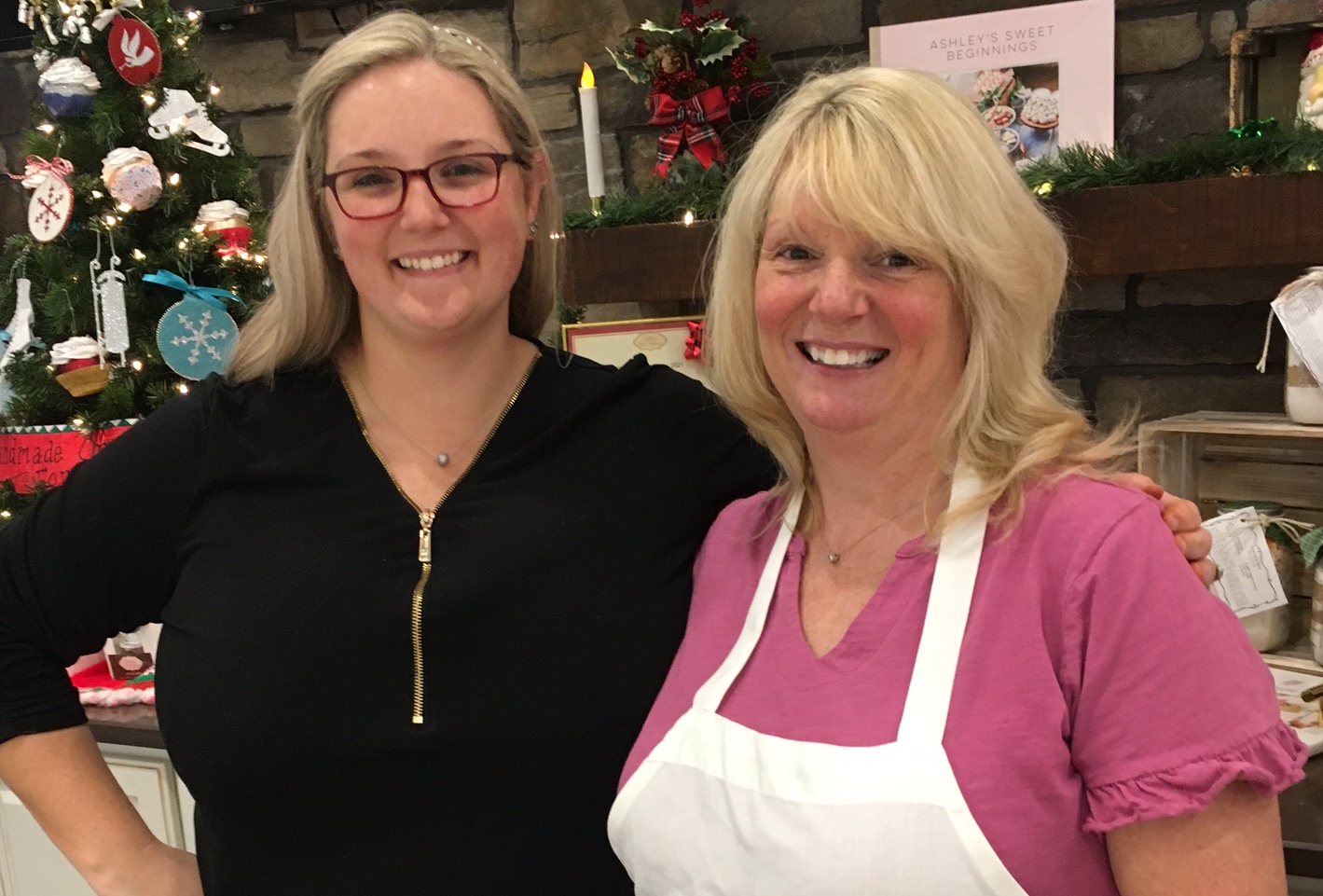 Directly next door is Ashley's Sweet Beginnings Bakery, run by Ashley and Mom Kathy. Ashley knew from an early age what she wanted to do.
At 13 she was making cakes at 21 she opened this location. Open Tuesday thru Saturday from 10 to 5 you'll find custom cakes, cookies, wedding cakes, ice cream, seasonal pastries, and yes more.
So if you're planning a party or event and need desserts this is your go-to place….410-337-6991…ashleyssweetbeginnings.com (doubles)
I will assume you've had enough for one day. Okay, I'll leave you now, but with this threat, I'll be back soon.

Eddie Applefeld is a Baltimore native and a graduate of Towson University. He has been in the broadcasting profession for over 30 years. Currently he is the Promotions Director of WCBM radio. Before that, he was part of the Rouse & Company show on WQSR, host of a cable TV show called Dining Out and adjunct instructor at Towson.
His past accomplishments include being named a finalist in Baltimore Tourism's Employee of the Year Program and winner of Toastmaster's Speaker of the Year contest. He was also twice a heartthrob for the American Heart Association's gala fund raiser.