I recently wrote about the reopening of The Watergate Hotel, which underwent a major renovation. It was bought by Jacques and Rakel Cohen who paid $45 for the foreclosed property in Washington.
There are 366 rooms, 14 floors, a spa and rooftop restaurant, both opening soon.  The room rate start at $425. On the first level is the Next Whiskey Bar, where 2,500 wine bottles make up a large wall.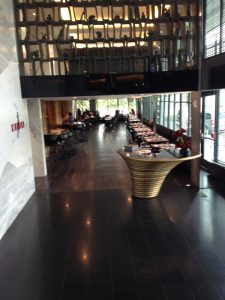 The hotel is located at 2650 Virginia Avenue, NW – a terrific location.  Next door is the Kennedy Center and in 10 minutes you can walk to Georgetown.
I could go on about the hotel but it's now time to talk about the restaurant one level down, Kingbird.  Actually Kingbird is a dual concept restaurant offering causal and fine dining.
This article will talk about the less formal of the two. It serves all three meals and I can tell you the pancakes were quite good.  I had those at the Saturday Brunch, which is also served Sunday.  It has become quite popular with the locals and also the hotel guests so reservations are suggested, especially for dinner.  The dress was described to me as elegantly casual.
The decor was called modern, sticking with the theme of the rest of the hotel. The chef is Michael Santoro, who has worked in Philadelphia and New York.  In season, you can dine on the outdoor deck.  Manager John Gilbert told me they are still tweaking the menu, with some of the selections based on feedback from diners. There is also a bar suitable for dining.
The dinner menu consists of four sections. They are noted as sharing, starters, dinner and butchers block. Examples from each category would include corn and lima bean flatbread as a sharing; grilled octopus from the starters; grilled short rib from the dinner and 55 day dry aged rib eye from the butchers block.
One reason I enjoyed eating there, beside the food, was that I kept thinking I was taking part in history.  To clear up a point, the Watergate complex is actually six buildings, three condos, two offices buildings and one hotel.
The break in was in one of the office buildings. The guard saw it from the hotel.
You can reach both the restaurant and hotel at 202-827-1600 by going to thewatergatehotel.com.