Baltimore Bike Share Program wows with 'pedelec' bicycles
The Baltimore Bike Share Program will feature two hundred  electric-assisted bicycles. (Anthony C. Hayes)
Can a fleet of power-assisted bicycles help jump start Baltimore's economy by providing a lift to homeless and hurting veterans? Good paying jobs, and pleasant rides, are two of the goals behind the soon-to-be-launched Baltimore Bike Share Program.
Reporters had an opportunity to try out some of the state of the art bikes that will be available for short-term rent around Baltimore beginning Fall 2016. The demonstration took place earlier today at The Baltimore Station, 140 W. West Street, in the Otterbien section of Baltimore.
The Baltimore Bike Share Program will be similar to rental programs found in many other metropolitan areas, though officials here say the number of pedal-assisted bicycles in Baltimore City's program will be the largest of any program in North and South America.
500 bicycles will be available for short-term rent around Baltimore, thanks to the approval of a $2.36 million contract with Canadian company Bewegen Technologies. The bicycles, 200 of them featuring electric-assisted pedaling, will be placed at 50 stations around town, in an area spanning from the Inner Harbor west to Union Square, north to Charles North, east to Canton and south to Locust Point. Riders will be responsible for providing their own helmet.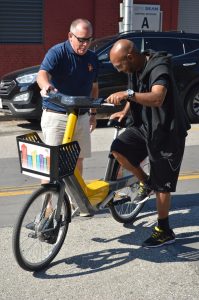 Each bicycle will be equipped with GPS technology to track its whereabouts. Bewegen Technologies, and program partner Corps Logistics, plan to hire about 80 local employees, including veterans at The Baltimore Station – a transitional residential treatment program for men recovering from homelessness and drug addiction.
Jim Duffney, CEO of Corps Logistics, told the Baltimore Post-Examiner the power-assisted bikes are known generically as pedelec bikes (from pedal electric cycle).
"It has a motor, but that doesn't mean it's a motor cycle. As you pedal, the bike kicks in with the motor and that's what gives you the assist with your ride."
Duffney said the cost of the bicycles vary, but he wasn't sure what the city paid for them. Duffney did, however, confirm that the rentals would be available on both a daily and monthly use plan.
"I like to say renting these bikes is like taking a bus, but instead of traveling on their time, you travel on yours. It's a very safe design, the seat height can be easily adjusted to fit the rider. The front wheel is smaller than the back, so it gives you a bit more ease in turning.
"We're also happy to be partnering with The Baltimore Station. It's a great organization that takes in homeless veterans who have either drug or alcohol dependency. I'm a 1st Sergeant in the New Jersey National Guard; been in for 37 years. This is my passion now, and these are my brothers. We're going to employ them and bring jobs back to the community of Baltimore."
Taking a quick spin, this reporter was immediately impressed with the ease of the ride. The Bewegen power-assisted bikes look and feel just like the public access bikes one will find in New York or Washington, DC. Your posture is upright, with good visibility. The "wow" moment comes when you begin to pedal and feel the silent electric motor start up. The bike moves along crisply, effecting a ride that is energetic without being too taxing.
Time limitations precluded any opportunity to test the bike in some of Baltimore's more topographically challenging areas. Even so, those we spoke with thoroughly enjoyed their rides and appeared to be anxious for more.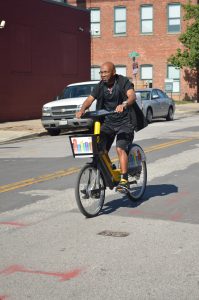 "The ride is great," exclaimed Army veteran, Onzea Robinson. "It a great bicycle. It's not too big or too small; just a perfect fit, and once you start to pedal you can feel the motor kick in and that carries you a little bit further, so I enjoyed the ride a lot."
We asked Robinson if he was a regular bicycle rider?
"Not really. I do have a mountain bike at home but I don't ride it much, so I was never really a bike person. But riding this bike will make me a bike person."
New Jersey native James Damico was also impressed with his demonstration ride.
"It was totally amazing, how it picked up with the ease of a bike, but the power assist made it that much more of a pleasure. I enjoy my own bicycle, but as I was saying to Jim Duffney, 'Where was this technology 30 years ago?' It would have made riding a lot easier."
Could Damico see himself using the bike on a future visit to Baltimore?
"Sure, I could see using these in any city – especially one with hills!"
"It was amazing! My jaw literally dropped," said Harry Nieves. "I've ridden the rental bikes in New York, but they are like normal bikes. These bikes feel like once you start to pedal, it just takes off; not fast but at a comfortable pace, where you feel like you have to do less to ride more. That's pretty impressive. Riding in a big city like New York, with the standard pedal bikes, you don't want to get somewhere and be tired. With these bikes, whatever technology they use, that is not a problem."
Nieves told us he has lived in Idaho, where he frequently mountain biked and used a street bike for his daily commutes. "I've used a number of different bikes, but this one feels like an amazing cruiser bike. I think this would appeal to people who do not usually ride a bike. The comfort and ease of use are two main factors. That, and the enjoyment."
William Miller, one of the facility residents, certainly enjoyed his ride. A Vietnam-era veteran who now uses a wheelchair, Miller smiled as he watched other residents take a spin from a shady spot near the entry door.
"It was nice," said Miller. "This was my first ride in quite a while. I have a three wheel bike with big tires on the back, but it's nothing like this. I would feel comfortable riding this bike anywhere in the city."
"That was amazing," exclaimed Jim Duffney, shortly after William Miller's ride. "He was in a wheelchair, and we helped him get on the bike and he rode it. He couldn't even believe that he could still ride a bike. So what this bike does is it opens the demographic up to many different riders. And what does that do? People who can get on this bike and ride it will say, 'Hey – I can do this. I will get my own bike now.' It's great.
"Fitness, jobs for homeless men, and rebuilding the community of Baltimore. It's a great story to tell."
For more information please visit Baltimore Bike Share.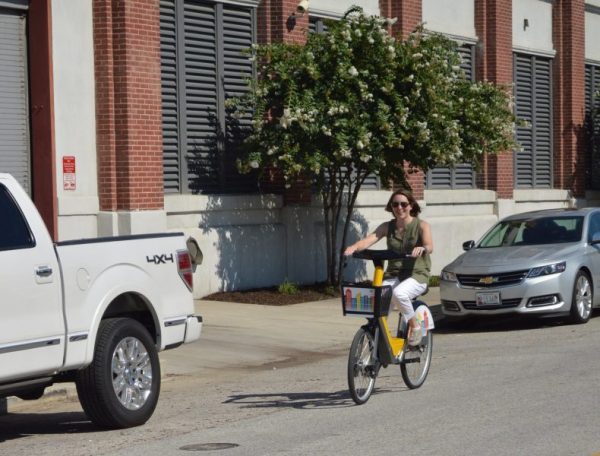 Anthony C. Hayes is an actor, author, raconteur, rapscallion and bon vivant. A one-time newsboy for the Evening Sun and professional presence at the Washington Herald, Tony's poetry, photography, humor, and prose have also been featured in Smile, Hon, You're in Baltimore!, Destination Maryland, Magic Octopus Magazine, Los Angeles Post-Examiner, Voice of Baltimore, SmartCEO, Alvarez Fiction, and Tales of Blood and Roses. If you notice that his work has been purloined, please let him know. As the Good Book says, "Thou shalt not steal."