CZW World Champion Tremont defeats Moore for third time
TV Ready arrives to deliver a beating to Dave McCall and Nate Carter. (Lyle C. Williams)
Combat Zone Wrestling's (CZW) Proving Grounds took place at Flyer's Skate Arena in Voorhees, New Jersey, on Saturday, March 26th. Proving Grounds welcomed approximately 300 fans.
Dave McCall got Proving Grounds off the ground by calling out his former trainer, Sabian (now known as BLK JEEZ). However, McCall was welcomed by fellow Dub Boys member Nate Carter, donning Sabian's ring gear of years past, mocking the previous CZW Heavyweight Champion. Carter's shenanigans drew the attention of TV Ready – JEEZ, Pepper Parks, and Cherry Bomb, leading to an impromptu match between the Dub Boys and the CZW Tag Team Champions.
JEEZ and Parks maintained an early lead, singling out Carter. A tag to McCall changed the pace of the match, leading to a series of aerial moves leaving all four wrestlers outside of the ring. The four soon returned to the ring, where McCall was eventually isolated. Parks soon after caught McCall in a Boston Crab. Still held in the submission, BLK JEEZ landed a Double Stomp off the top rope, provoking Parks to release the hold and bridge McCall for the three-count. TV Ready's celebration was brief, as the festivities were disrupted by Da Hit Squad – Monsta Mack and Mafia's CZW debut. Following an assault from Da Hit Squad, Mafia issued a challenge to Parks and JEEZ Tag Team titles at Prelude to Violence.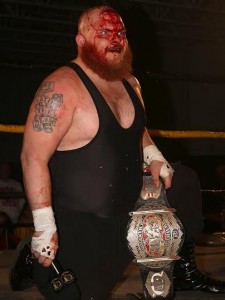 Tim Donst and Sozio continued the show with an engaging, back-and-forth match. Donst's amateur wrestling background proved essential to his victory, forcing Sozio to submit to his Crossface-Armbar combination, From Dusk till Donst.
The second tag team match of the evening pitted Dezmond Xavier and Zachary Wentz of Scarlet & Graves, along with manager JT Davidson against Nation of Intoxication members Lucky 13 and Conor Claxton. Towards the end of the high-flying extravaganza, Wentz's night was almost ended following a double team Tombstone on an opened chair from Claxton and Lucky, but managed to kick out at two. Xavier alter turned the match around in his teams favor, reversing Claxton's dive off the top rope with a Double Knee Facebuster. Xavier and Wentz ended the match with a pair of top rope aerial maneuvers.
Greg Excellent made quick work of his opponent, Joe Gacy. Ensuring Gacy had little chance to win the match, Greg dived through the ropes during his entrance, propelling Gacy into the guardrails. Still before the match made it to the ring, Excellent's manager, Chrissy Rivera, jumped off the apron to Tornado DDT Gacy on the concrete. Barely getting out of a Tiger Driver from Excellent, Gacy followed up with an beautiful Springboard Stunner. Taking advantage of the disoriented Gacy, Excellent cinched in a Roll-up, getting his enormous legs up on the ropes to keep Gacy from kicking out.
Two-time CZW Wired Champion Joey Janela defended his title in a Fatal-Four Way Best of the Best preview match. His opponents included Dave Crist, David Starr and Lio Rush. Crist smugly garnered a chorus of boos as manager JT Davidson snagged the microphone from announcer Emil Jay to introduce Crist. As Jay completed his introduction for Starr, a fan chucked a wad of pocket change at Starr, a Jewish wrestler, implying he might be cheap. Starr proceeded to aggressively chew out the fan.
Crist found himself in an early predicament, locked in a Crossface from Janela. Starr joined in by applying an Ankle Lock to Crist. Rush soon cleared the ring, nailing a solid Enzuigiri on Starr's head. Crist had Janela cornered briefly, landing several strikes, but Janela was able to get Crist onto the apron, where Starr came in from out of nowhere with a gorgeous Dropkick, sending Crist to the concrete. While Rush was airborne, Crist jumped off the top rope and stomped him into a bent over Starr. Crist threw a hissy fit when the move only earned a two-count on Rush. Janela eventually found himself resting against the camera side guardrail, with Rush doing the same on the opposite. Starr exploited the weakened men by Suicide Tope`-ing Rush, ran back to the ring, Suicide Tope`d Janela, returned to the ring, then repeated the process once again. Starr then attempted the same on Crist, but he quickly slide into the ring, only to dive over the ropes to land on Starr.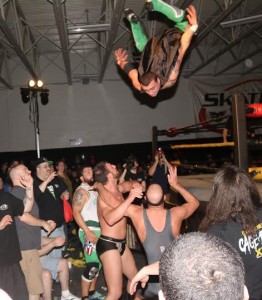 While Starr was stunned, Davidson, along with Zachary Wentz and Dezmond Xavier ambushed him. While the referee was distracted by Crist's allies, Rush gave Janela a low blow. Rush covered Janela and three seconds later earned his second Wired Championship. Rush then turned on the fans, lashing out over his perceived negative reception in CZW.
CZW owner and combatant DJ Hyde then announced the first four Tournament of Death competitors. He first announced himself, exclaiming he was certain this year would finally yield a Tournament of Death victory for the "Lariat God." Ricky Shane Page, who had a brutal match with Danny Havoc at Cage of Death, was also announced. Alex Colon then came out to the ring with a barbed wire baseball bat, where he called out Havoc and told Hyde he wanted another match with him following their previous match in November. Preacher then came out, begging for a piece of Colon, seeking retribution for Colon breaking his neck eighteen months prior. Hyde granted both men their wishes, booking Preacher and Colon in a match at Prelude to Violence in May, as well as pairing Colon against Havoc in a first round Light Tube Deathmatch at Tournament of Death in June.
EYFBO – Angel Ortiz and Mike Draztik went head-to-head against the unofficial #1 contenders of CZW's tag team division, The Amazing Gulaks – Drew and Rory Gulak. The Gulaks are clearly the best technical-minded tag team on the independent scene. Their brotherly antics make them a must-see live act. Ortiz and Draztik surprisingly mirrored the technical skills of the Gulaks. Drew was put out of the match after Draztik flipped off the top rope and over the barricade onto him. Draztik and Ortiz then defeated the helpless Rory with a Power Bomb/Blockbuster hybrid.
Following a five-year hiatus from CZW, B-Boy mad his return to the Combat Zone in a match against Jonathon Gresham. Though B-Boy was received extremely well by the crowd, Gresham was less than enthused. Gresham spent much of the match disrespecting the former Best of the Best tournament winner, slapping him about and tapping his genitals throughout the match. Gresham reversed a Shining Wizard, grabbing B-Boy's free leg to apply an Ankle Lock. Gresham continued to work B-Boy's left leg, applying a figure-Four Leg Lock later on. During a second Figure Four, Gresham started wailing on B-Boy's weakened knee with his fist. The referee called for the bell after several strikes, knowing B-Boy had no way out of Gresham's submission. Former CZW star Homicide made a surprise return, along with Da Hit Squad, in a show of support for B-Boy after the loss. B-Boy told the Combat Zone that this would not be his last match there.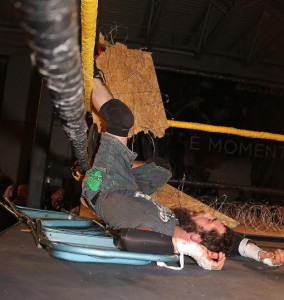 The main event featured CZW World Champion Matt Tremont defending his title against Devon Moore in a Barbed Wire Board Taipei Deathmatch. In a Taipei Deathmatch, wrestlers wear masking tape gauntlets that have been covered in super glue, then coated in the remnants of broken beer bottles. Additionally, barbed wire boards were littered outside the ring. Each corner was supporting a board as well. Tremont, who has defeated Devon Moore twice in previous months, challenged him to a third match on the premise that though he has beaten him both times, he has never actually pinned him, stating that he would continue his hot streak by doing so. Tremont pinned AR Fox in the Cage of Death in December, in which Moore also participated. Then in January, Tremont defeated Moore in a ladder match for the CZW World title.
In an interview with Tremont, he stated the match was intended to pay homage to the fallen Axl Rotten, who innovated the Taipei Deathmatch in 1995. Tremont assured fans that he and Moore would do the stipulation justice, as it is fairly uncommon and is revered in the Deathmatch subculture. Moore expressed similar views in an interview, speaking highly of the late Rotten, as well. Moore spoke about his experience in Taipei Deathmatches, a rare commodity, having competed against CZW veteran Nick Gage previously.
Tremont made use of his gauntlet early, shredding Moore's forehead while pinned against the ropes. Moore also took the first fall into a barbed wire board, the result of a Drop Toe Hold. Moore soon got back at Tremont, sending him through the largest board with a Death Valley Driver off of the apron. Moore was then the victim of an Exploder Suplex that sent him crashing through another board. Tremont's back was nearly blown out after Moore Superplexed him onto an opened chair. The move sent Tremont rolling into more barbed wire.
At Tremont got up, his legs were tangled immensely in a snare of barbed wire. Tangled, but not trapped, the Bulldozer finished Moore off with a Death Valley Driver of his own into the sea of barbed wire, followed by a Spike Piledriver that ended the match. Both men lying in the ring a bloody mess, gasping for air, each paying the price for Tremont's goal. While the ring crew was snipping the wrestlers free, Greg Excellent came to challenge Tremont for his title, all the while rejecting the wrestlers Tremont has defended his title against successfully. Tremont accepted the challenge, telling Excellent the title was on the line anytime, anywhere.
CZW's Prelude to Violence will take place on Saturday, May 14th at the Flyer's Skate Zone, 601 Laurel Oak Road, Voorhees, New Jersey. Bell time is 8:00 p.m. The show will be prefaced by WSU's Unshakable at 4:00 p.m. Tickets for both events are available at czwrestling.com. All CZW events stream live at streamczw.com. Previous CZW and WSU events, including Proving Grounds, are available at CZWstudios.com. Photo credit and great thanks to CZW's veteran photographer Lyle C. Williams.

Having recently graduated from the broadcasting program at The Sheffield Institute for the Recording Arts, Jack Hash is working fervently to break into business of professional wrestling as a commentator. To keep his dream alive, Jack hosts a weekly podcast, Shooting Star Cast, where he satirically tears apart all the ridiculous happenings in pro wrestling, while singing the praises of the rays of sunshine that break through the clouds of the squared circle.