CODEPINK's Co-Founders, Jodie Evans and Medea Benjamin, Stepping Down from Leadership Roles
Medea Benjamin (Photo by Bill Hughes)
Two of the finest social justice activists that I have known, Jodie Evans and Medea Benjamin, are relinquishing their leadership roles with CODEPINK.
To learn more about who they are, and their backgrounds in the area of the ongoing fight for peace and social justice, go to CODEPINK.
As for CODEPINK, the organization that they co-founded almost two decades ago, it is "a national, women-led grassroots association working to end U.S. wars and militarism, support peace and human rights initiatives, and redirect our tax dollars into healthcare, education, green jobs and other life-affirming programs."
In an October 12 press release, the duo stated: "After 18 years of nonstop engagement of this wonderful organization, the two of us are stepping down from our role as co-directors so that three younger, brilliant and capable women can step forward."
The trio of new CODEPINK directors will be Farida Alam, Ariel Gold and Carley Towne. Alam is a veteran member going back now for 15 years, while Ms. Gold has five years under her belt. Ms. Towne, a recent addition to the group, was described as a "dynamic organizer and activist."
The press release detailed many of CODEPINK"s accomplishments, "over the last eighteen years." I'm pleased to say I was able to chronicle some of these actions, particularly the ones that took place around and in our nation's Capitol – Washington, D.C.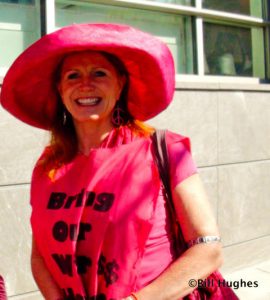 The following is just part of Evans and Benjamin's lists of CODEPINK's achievements, which I have summarized for space purposes, during their time as co-directors.
1.  Carrying the anti-war message to Presidents Bush, Obama and Trump.
2.  Building public opposition to drone warfare.
3.  Advocacy for the Iran nuclear deal and embracing the concept of citizen diplomacy.
4. Worked for the release of political prisoners.
5. Urged cities, universities, and banks to divest from war spendings and instead to invest in life-affirming activities.
6.  Traveled to a host of foreign governments, like Gaza, Iraq, and Iran, and brought material support and messages of peace.
7. Labored to demilitarize our police.
8.  Opposed the Trump Gang's mean-spirited sanctions on Cuba, Venezuela, and Iran.
9. Pushed for peace economies and championed the cause of the "Poor People's Campaign."
10. Finally, they have expanded CODEPINK's support base from the U.S., to around the world, to over a half million people.
Evans and Benjamin underscored how its faithful, loyal and hard-working "grassroots supporters have always been the backbone of their successes." They finished their press release with these ringing words of purpose, encouragement and hope: "Onward toward a beautiful world of peace and justice." It was signed by "Ariel, Carley, Farida, Jodie and Medea."
The duo promised that in the future: "We are not going far. We will be active board members and will continue to work on key CODEPINK campaigns."
"Evans," the press release continued, "will focus on the local peace economy." While Benjamin will "consult with our Middle East and Latin American teams, and well as writing articles and books about how to transform our foreign policy and build international solidarity." Both of them promised to continue to support the "Feminist Foreign Policy Project."
As fate would have it, yours truly has been working on a photographic tribute to Jodi Evans and Medea Benjamin, CODEPINK, and its members, for some time now. Check out my Facebook page of 104 photos of CODEPINK members in action.
I close with this comment: "These photos are my personal salute to CODEPINK, its leaders and members, along with the hope that it may inspire others to follow their splendid example of courageous participatory democracy. Long live the Republic.

Bill Hughes is an attorney, author, actor and photographer. His latest book is "Byline Baltimore." It can be found at: https://www.amazon.com/William-Hughes/e/B00N7MGPXO/ref=dp_byline_cont_book_1