Chesapeake Synchronize Skaters advance to national championships
A dream without a goal is just a wish.
The Chesapeake Synchronize Skaters' dream of going to Nationals finally is paying off.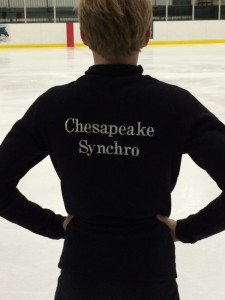 They sacrifice long hours of practicing, cutting their summer vacation short, and spending time critiquing their skills one practice at a time. With all of their hard work, they came in third place out of 17 teams at the Eastern Competition in Richmond, Va. They now have the chance to competing with teams all over the United States at Nationals, Championship of Synchronized Skating held in Kalamazoo, Mich. The team will perform locally on March 13.
"The Chesapeake Synchronize Skaters taught me how to work with other people. All I wanted was for the team to go to Nationals, I am so happy for them," said Kim Peggs 20, a former skater.
Synchronize skating is a style of skating where a group of 8 or more people come together and skate. Chesapeake Synchronize organization started in 2003-2004 and has grown in the Baltimore County Area. Lauren Benesch Neidig is the head coach of the organization and has extensive experience, as she skated with Team USA during freshman year of college.
The skaters range from ages 14 to 18 years old. They are currently working on an adult team to join in synchronize skating. They practice at two locations in Ice World in Abingdon, Maryland and Reisterstown Sportsplex, in Reisterstown. The skaters start practicing in the summer with averaging two to three practices per week lasting eight hours. In September they practice two times per week on Sundays and Wednesdays.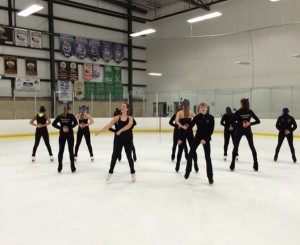 "The Chesapeake Synchronize Skaters are a wonderful group. Claire has learned valuable skills, teamwork, responsibilities, and help build self conscious and close friendships," said Lisa Polites, whose 14-year-old daughter, Claire Polites, skates for the team.
Majority of the skaters have been on the team at a young age. They have grown to build close friendships and all came from different levels of skating. The Chesapeake Synchronize Skaters mission is for their skaters to obtain confidence build leadership skills, and work together as a team.
"Last year we were all on different teams and were excited to blend and work together. To see how we can merge together is magical these skaters are my best friends," said MaKenzie Frieman, an 18-year-old skater who attends Roland Park High School in Baltimore.
To find out more about them and to see the different teams please visit their website.

As a child I wrote novels because I didn't have many friends. I would sit in the living room and pretend my friends were my characters. I would write a story and never complete it. I fell in love with the library on Beauty and the Beast, instead of the Beast. My childhood habits became my passion in life. In college I preferred to write in my journal than to go out to the clubs. I don't listen to rap music as much because it's difficult for me to understand, and when I hear the unedited version I am often surprised. I am someone who actually listens to the words and becomes perplexed at the lyrics. I think never and always are unnecessary words because life is unpredictable. Live, laugh, love is a great motto to live by, but if it was up to me I would replace the laugh with write.