Cava Mezze: Where Greek cuisine has a new appeal
One of my favorite restaurants here in Baltimore, Cava Mezze, puts a modern day spin on our Greek favorites.  Their menu items are traditional in the sense of Greek cuisine but their presentations are more upscale.  Just look at the Dolmades photograph:  stuffed grape leaves, roasted eggplant, za'atar rice, presented on a celery root puree, caper chimichurri, with micro cilantro.
Mezze in Greek translates to appetizer, but it often makes up an entire meal, combining an assortment of dishes: hot and cold, vegetables and meat – the assortment at Cava Mezze doesn't disappoint.  Along with their popular array of small and medium plates they have just introduced fourteen new dishes to their Baltimore location and coming soon to their other four locations in the DMV.
Here is a small sampling of the new items
Roasted Beet Salad: Red, golden and candy striped beets, red wine vinaigrette, feta, spiced hazelnuts and herb garlic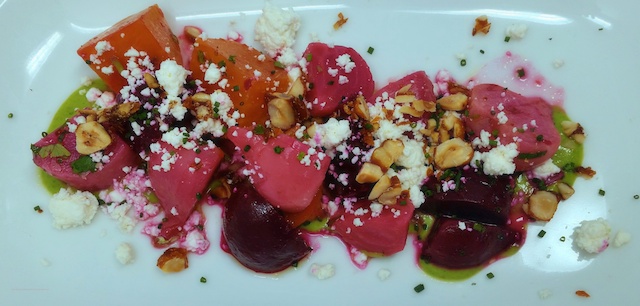 Lamb Meatballs: Grilled, harissa marinated lamb, split pea puree, caper mint relish, tzatziki, crispy chickpeas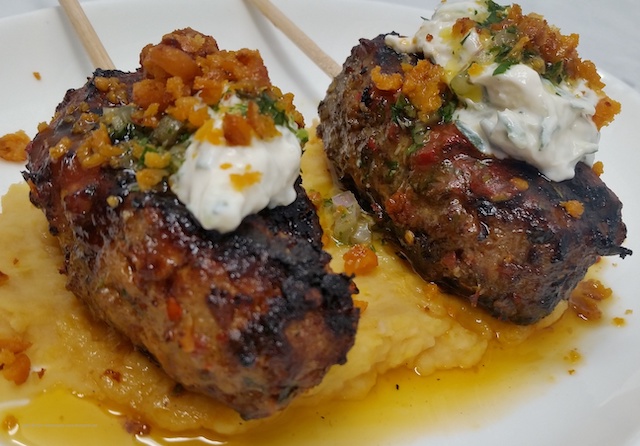 Sweet Potato: Roasted, onion date relish, za'atar butter, lemon yogurt, dukkha spice, mint
Branzino: Whole fish butterflied, grilled fingerling potatoes, caper chimichurri
New York Strip:Grilled, celery root puree, seasonal squash, harissa honey, chives
Never fear as to what you will drink, one side of the menu touts wines, cocktails, draft beer, and alcohol free beverages that you can indulge at their bar or your dining table.
Cava Mezze – 1302 Fleet Street, Baltimore MD 21202 (443) 499-9090 www.cavamezze.com/   FACEBOOK  Twitter & Instagram @cavamezze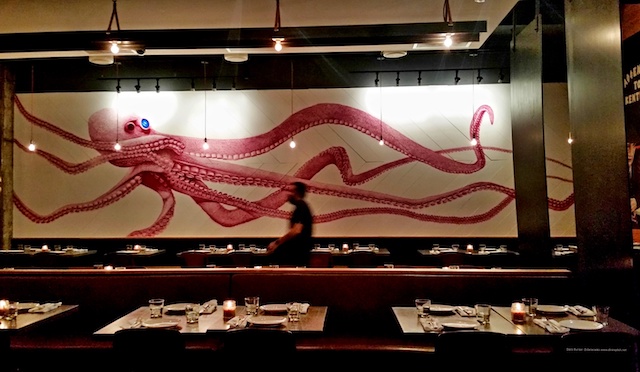 For Dara Bunjon if it is food, Dara Does It, in fact, that is the name of her company which offers creative solutions for the food industry the likes of public relations, marketing, social media, cookbook compilations, food styling, culinary events, networking and freelance writing. You will now find Dara applying her broad range of culinary skills as a food stylist for television chefs/cookbook authors the likes of Steven Raichlen, Sara Moulton, Nick Malgieri, and Nathalie Dupree. Dara Bunjon lives, eats, dreams and writes about food and isn't hesitant to share her views and experiences about restaurants, culinary trends, recipes, cookbooks or even her childhood food memories. She has been on the food scene for too many years to mention. Known both in Baltimore and nationally, Dara Bunjon is a former member of Women Chefs and Restaurateurs' national public relations committee.
In the past, she has written for Style Magazine, Foodservice Monthly, Mid-Atlantic Restaurant Digest, Urbanite and other sundry publications. Since 2004 she has maintained an award-winning food-related blog called Dining Dish. She co-authored her first cookbook Yum! Tasty Recipes from Culinary Greats in association with Studio Spear. And has written Baltimore restaurant reviews for Gayot.com
Dara believes food is subjective; everyone's taste is different and she enjoys bringing you to her table to commiserate and enjoy lively discourse.
Considered one of Baltimore's food influencers, you can follow her on Twitter and Instagram @daracooks.