One of my favorite restaurants here in Baltimore, Cava Mezze, puts a modern day spin on our Greek favorites.  Their menu items are traditional in the sense of Greek cuisine but their presentations are more upscale.  Just look at the Dolmades photograph:  stuffed grape leaves, roasted eggplant, za'atar rice, presented on a celery root puree, caper chimichurri, with micro cilantro.
Mezze in Greek translates to appetizer, but it often makes up an entire meal, combining an assortment of dishes: hot and cold, vegetables and meat – the assortment at Cava Mezze doesn't disappoint.  Along with their popular array of small and medium plates they have just introduced fourteen new dishes to their Baltimore location and coming soon to their other four locations in the DMV.
Here is a small sampling of the new items
Roasted Beet Salad: Red, golden and candy striped beets, red wine vinaigrette, feta, spiced hazelnuts and herb garlic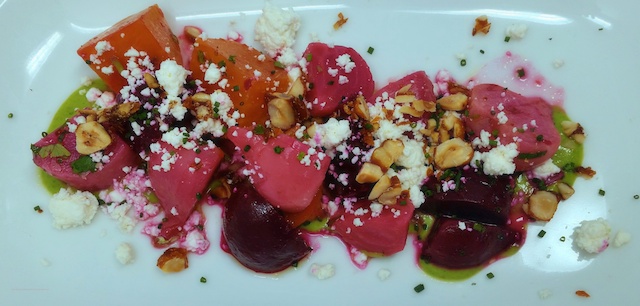 Lamb Meatballs: Grilled, harissa marinated lamb, split pea puree, caper mint relish, tzatziki, crispy chickpeas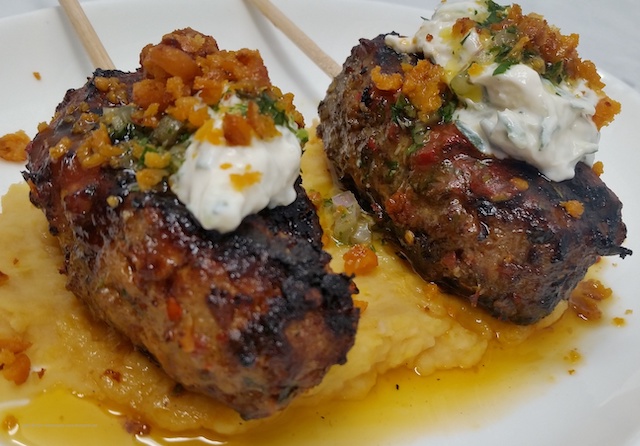 Sweet Potato: Roasted, onion date relish, za'atar butter, lemon yogurt, dukkha spice, mint
Branzino: Whole fish butterflied, grilled fingerling potatoes, caper chimichurri
New York Strip:Grilled, celery root puree, seasonal squash, harissa honey, chives
Never fear as to what you will drink, one side of the menu touts wines, cocktails, draft beer, and alcohol free beverages that you can indulge at their bar or your dining table.
Cava Mezze – 1302 Fleet Street, Baltimore MD 21202 (443) 499-9090 www.cavamezze.com/   FACEBOOK  Twitter & Instagram @cavamezze