California cop killer suspect is an undocumented immigrant with prior arrests, gang affiliations
Officer Ronil Singh's brother at  press conference (screenshot)
LAS VEGAS — The man suspected of killing Newman California Police Department Officer Ronil Singh, 33, early Wednesday morning was arrested after being on the run for two days.
Sheriff Adam Christianson of the Stanislaus County Sheriff's Office said that Gustavo Perez Arriaga, 32, was arrested in a home in Bakersfield, California early Friday.
Perez-Arriaga entered the U.S. illegally, according to police.
Two other men, Adrian Virgen, 25, and Erik Razo Quiroz, 27, were also arrested. Both men were also in the U.S. illegall, police said.
Police say they helped Perez Arriaga escape after Officer Singh was shot and killed.
Virgen is Perez Arriaga's brother and Quiroz is a coworker.
Speaking of Virgen and Quiroz, Christianson said, "They intentionally lied to us, they tried to divert us off the investigation, they misled us, they provided information that was false, all in an attempt to protect the brother, who we also know was trying to flee to Mexico. That was his goal to get across the border."
Perez Arriaga, who is from Mexico and has worked as a laborer, had known gang affiliations and had two prior drunken driving arrests, police said.
Sheriff Christianson said Perez Arriaga used multiple aliases and had Facebook pages under different names.
Excerpts from Friday's press conference as follows:
Sheriff: "This criminal, Mr. Arriaga crossed our border illegally into Arizona some time ago. He is a criminal.   He has two prior arrests for DUI. Remember, that was the reason that Officer Singh stopped him because we had probable cause to believe that he was under the influence of alcohol. Past behavior is often typical of future behavior. And an officer loses his life over a DUI stop from someone who's been previously arrested. Mr. Arriaga also has known gang affiliations."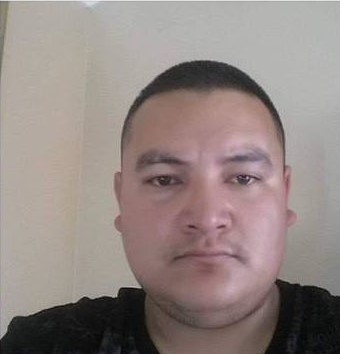 Sheriff: "We can't ignore the fact that this could have been preventable and under SB54 in California, based on two arrests for DUI and some other active warrants that this criminal has out there, law enforcement would have been prevented, prohibited from sharing any information with ICE about this criminal gang member. Ladies and gentlemen, this is not how you protect a community. This is not how you assure the people who live in our community, who regardless of their ethnicity, their culture, their race, any of that, that they live in a safe community because there are people who want to exploit and victimize others. And in this case, Officer Singh sacrificed everything. He paid the ultimate price trying to protect and serve the people of Newman. We need to have a conversation about that."
Sheriff: "I want to focus on the fact that this is a criminal illegal alien with prior criminal activity that should have been reported to ICE. We were prohibited, law enforcement was prohibited because of sanctuary laws and that led to the encounter with Officer Singh. I'm suggesting that the outcome could have been different if law enforcement wasn't restricted, prohibited or had their hands tied because of political interference."
Reporter: "Can you clarify that?" "You're saying that he was previously released after a DUI arrest…"
Sheriff: "Twice."
Reporter: "Twice, and had he been deported, this wouldn't have happened?"
Sheriff: "Potentially. If he wasn't here, then he wouldn't have been driving drunk and it wouldn't have been reported to Officer Singh and the encounter, the stop, the enforcement stop potentially would never have occurred. My point is, why are we providing sanctuary for criminals, gang members. It's a conversation we need to have."
Sheriff: "I'm not here to talk about the President of the United States. But I will repeat what I said before. Border security goes hand in hand with national security, goes hand in hand with public safety, goes hand in hand with the safety of our community. We, law enforcement need to be able, unrestricted, without political interference, we need to be able to protect our communities. We have a strong relationship in Stanislaus County with a variety of community stakeholders. We're not here, we're not here to enforce federal immigration law. That's not our job. But law enforcement should be able to turn people over to ICE who are committing crimes, who are gang members who victimize and exploit others."
At the press conference, Reggie Singh, Officer Singh's brother who was emotional said, "Please bear with me, this isn't easy for me. Ronil Singh was my older brother. Yes, he's not coming back but, [crying] there is a lot of people out there that misses him and a lot of law enforcement and people that I don't know who worked days and nights to make this happen. I'd like to thank you from the bottom of my heart to make this happen. I wish I could thank all the law enforcement agencies, Homeland Security, San Francisco, everywhere, Bakersfield team. I was waiting for this to happen. I would like to thank you for working day and night to make this happen. Thank you."
Officer Ronil Singh, an immigrant from Fiji, came to the United States to pursue a career in public service. He joined the Newman police force in 2011. He is survived by his wife and 5-month-old son. He is the first police officer in the history of the Newman Police Department to be killed in the line of duty.

Doug authored over 135 articles on the October 1, 2017 Las Vegas Massacre, more than any other single journalist in the country. He investigates stories on corruption, law enforcement and crime. Doug is a US Army Military Police Veteran, former police officer, deputy sheriff and criminal investigator. Doug spent 20 years in the hotel/casino industry as an investigator and then as Director of Security and Surveillance. He also spent a short time with the US Dept. of Homeland Security, Transportation Security Administration. In 1986 Doug was awarded Criminal Investigator of the Year by the Loudoun County Sheriff's Office in Virginia for his undercover work in narcotics enforcement. In 1992 and 1993 Doug testified in court that a sheriff's office official and the county prosecutor withheld exculpatory evidence during the 1988 trial of a man accused of the attempted murder of his wife. Doug's testimony led to a judge's decision to order the release of the man from prison in 1992 and awarded him a new trial, in which he was later acquitted. As a result of Doug breaking the police "blue wall of silence," he was fired by the county sheriff. His story was featured on Inside Edition, Current Affair and CBS News' "Street Stories with Ed Bradley". In 1992 after losing his job, at the request of the Federal Bureau of Investigation, Doug infiltrated a group of men who were plotting the kidnapping of a Dupont fortune heir and his wife. Doug has been a guest on national television and radio programs speaking on the stories he now writes as an investigative journalist.