Brewery Profile: Innis & Gunn
When I walk into a beer store, I instinctively look for something new. Something I haven't tried before. I don't know if this is just the natural progression of being a craft beer drinker, or something conditioned from using gamification apps like Untappd. But nonetheless, it's what I do.
Usually when I see a new brewery in a store, any new beer is primarily an American craft beer that just hasn't been distributed in my state until now. Sometimes it's a new brewer within my state. But now the rarest of these breeds is a new import.
This used to be the norm when I first began drinking beer. But then there were a lot of things that were new to me. But considering there were only a handful of craft breweries back then, most of the new beers were from newly imported breweries. Mostly Belgian and German back then.
Today, craft beer is dominated by domestic breweries. Trust me, that is a nice thing. I can finally laugh at the canoe joke. But at the same time I miss seeing new imports show up from time to time.
Then one day, I was at Liam Flynn's Ale House, I saw some Innis & Gunn on tap. I had heard of them, but had yet to try them. What a novel experience for me, it hadn't been since Brew Dog since I had truly seen a new imported beer.
It's not like Innis & Gunn was exactly new either. They were actually older than Brew Dog, but having only been founded in 2003 it certainly wasn't old by the standards of the British Isles or Europe. But it was new to me and that's all I cared about.
https://www.youtube.com/watch?v=VAogp0ejXJY
Currently there are 3 regularly available beers from Innis & Gunn ales found on the shelves today. Innis & Gunn Original, Rum Aged, and Toasted Oak IPA.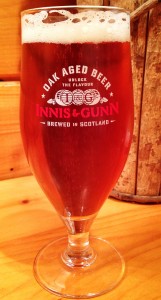 Innis & Gunn Original – This beer is somewhat light in color. Original has about the same color as a standard IPA. After pouring in the glass you will be greeted by a delicate nose of oak, caramel, and fruit. The taste however is certainly a departure from the preconception I had. It is certainly oakey, which brings in flavors of vanilla and caramel, but there is also the presence of banana and apple. The finish is somewhat similar to a Marzen interestingly enough. While it has an ABV of 6.6% it is strangely hard to nail down. If someone had told me it was 7.6% or 5.6% I would believe them. The oak gives it richness while the overall composition of the beer is very light and quaffable.
Innis & Gunn Rum Aged – This is my favorite of the regular lineup from Innis & Gunn. This pours a much darker amber color, appearing like a much more traditional Scotch Ale. It has a stronger nose than the original with sugar, oak, and raisins being the predominant aromas. The taste has a strong malty character that is amped up even more with the rum oak chips. The Innis & Gunn oak character comes through strong in this, but the darker malts seem to compliment the oaked rum profile very well.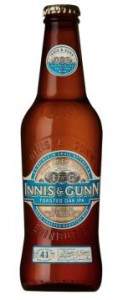 Innis & Gunn Toasted Oak IPA – For me this one was kind of a miss. It's not that it was a bad beer. But it wasn't a great beer either. And for some it is difficult to distinguish English IPAs from American IPAs too. They both have IPA listed on the bottle, but they are significantly different. This was certainly an English Style IPA. It certainly has the Innis & Gunn oak character, but this time it is supposed to deliver a hoppier flavor profile. That being said, since its English style I wasn't expecting the big American hop flavor, but I was expecting something more coherent. My initial thoughts were pretty negative on this, but I came around, slightly, by the end of the beer. Overall, I did find their IPA to be a little bit of a disappointment.
So these are the beers of the Innis & Gunn's primary ale lineup. There are some seasonal beers that will pop up from time to time, but these are the ones that you can get with regularity. Each of their selections are easy drinking with a big oaky sweetness. But if you are going to pickup one, grab the Rum Aged Scotch Ale.
While writing this, I enjoyed a…..
Innis & Gunn Original
Innis & Gunn Rum Aged
&
Innis & Gunn Toasted Oak IPA
…duh

John Thompson is a beer enthusiast who began evangelizing craft beer a few years ago on his blog thehoplocal.com. John has been homebrewing sporadically for almost 20 years, and also is a Cicerone Certified Beer Server. When not enjoying a cold malty beverage you will find John spending time with his spouse and two young children or working his day job in Financial Services Technology. Make sure to find John on Facebook, and follow him on Twitter @TheHopLocal and Untapped. at : http://untappd.com/user/thehoplocal