'The Book Thing' in Charles Village
Bouncing back from a devastating fire in March of this year, "The Book Thing" held a "rebuilding" benefit in Charles Village on Saturday. The event had a long list of supporters, led by the Peabody Heights Brewery, which hosted the gig along with Friends Records and WLOY Loyola Radio.
Peabody Heights is located at 401 E. 30th Street, on the east side of Charles Village and just around the corner from "The Book Thing." The latter is a free outlet for books – and a community treasure, though its appeal is citywide.
Contributing his efforts to the benefit was Earl Crown, the popular DJ host of Loyola Radio WLOY. He was spinning out his latest rendition of "Crucial Cuts." There was live music, too, from noon to 8 p.m., by the likes of the talented Baltimore Boom Bap Society, Eze Jackson, Greasy Hands, Sun Club and much more in that same genre.
The beer supplies were courtesy of Peabody Heights, Raven, Monument City and the makers of Old Oriole Park Bohemian. The bar itself is a classic one, like the one at the Owl Bar, located on the first floor of the Belvedere Hotel.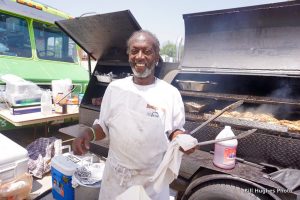 The Peabody's walls were filled with photographs of the old Baltimore Orioles' teams of yesteryear. Of course, George Herman "Babe" Ruth is spotlighted. He played for the-then minor league Orioles. They played their home games at old Oriole Park, then located at Greenmount and 30th St. It burned down on July 3, 1944.
Plus, there are photos of some of the ball players for the fabled "Baltimore Elite Giants." Their home games were held at the now-defunct Bugle Field in East Baltimore.
Pitching in, via the yummy food department, was the one and only, Duane "Shorty" Davis. He's the owner of one of Baltimore's faves – "Bootleg BBQ."
The donation entry fee for the benefit was $15. Volunteering at the ticket table was social justice activist Bonnie Lane.
To learn more details about this community-sourced event, click here.
To see even photos, click here.

Bill Hughes is an attorney, author, actor and photographer. His latest book is "Byline Baltimore." It can be found at: https://www.amazon.com/William-Hughes/e/B00N7MGPXO/ref=dp_byline_cont_book_1