'Book Club' worth attending
3 out of 4 stars
Forgive the ladies of "Book Club" – Vivian, Sharon, Carol and Diane – for not being among the millions who read E.L. James' titillating trilogy "50 Shades of Grey" or watching the three movies that followed it.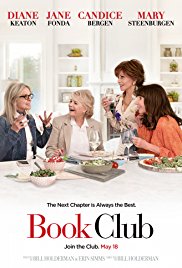 They were really, really busy. Diane (Diane Keaton) was mourning her husband while trying to be a terrific mother and grandmother to her daughters who lived in another state. Carol (Mary Steenburgen) was running her own restaurant while married. Sharon (Candice Bergen) was too busy being a federal judge after she divorced her husband (Ed Begley Jr.) to go on dates. Vivian (Jane Fonda) had her time occupied by running her luxury hotel.
But every month for 40 years, the foursome who had been friends since college gathered for their "Book  Club," where wine and sexual jokes flowed freely. They laughed, but knew there love lives were no laughing matter.
It had been months since Carol had slept with her husband (Craig T. Nelson), years since Sharon or Diane were with a man and days since Vivian had been with one since while she slept with many, she never fell asleep with any.
Since it was Vivian's choice, all the women acquiesced to begin reading James' "50 Shades of Grey," a book about bondage, spankings, and sadomasochism.
But all four women's love lives received a jolt thanks to the sexual shenanigans of Christian Grey and Anastasia Steele.
The 60-somethings don't try to emulate what they read – although their conversations as they read all three parts of the franchise are very witty – they set out to be more Sex and the City than Golden Girls.
Vivian immediately hooks up with her ex-boyfriend (Don Johnson) and Diane turns a chance meeting on the plane into a relationship with a pilot (Andy Garcia). Carol tries to turn back the clock to entice her husband to pretend they're dating and Sharon uses the dating app Bumble to land a date with a balding accountant, (Richard Dreyfuss), and end up having a night neither will forget.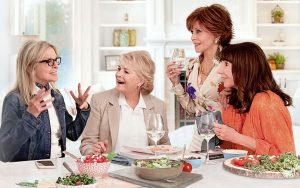 "Book Club," which is the directorial debut for Bill Holderman, who wrote the script with Erin Simms, isn't about sex. It's about the women finding companionship when they figured they've lost it forever, either by loved one's death or figuring they are too old for them to rekindle their love lives.
The 104-minute film is as easy to follow as James' book is to read. Bergen, Keaton, Steenburgen and Fonda have chemistry from the start and complement each other seamlessly, which isn't surprising since the foursome has won four Oscars and five Emmys combined.
Vivian, Sharon, Carol, and Diane do have a downfall – and it's not their fault. For some reason, Paramount Pictures decided to pit "Book Club" against "Deadpool 2," whose predecessor made more than $780 million at the worldwide box office, this weekend.
Still, don't write off the 60-somethings just yet, considering an older audience is certain to gravitate towards them because Vivian, Sharon, Carol, and Diane know how to throw one hell of a book club.

Jon Gallo is an award-winning journalist and editor with 19 years of experience, including stints as a staff writer at The Washington Post and sports editor at The Baltimore Examiner. He also believes the government should declare federal holidays in honor of the following: the Round of 64 of the NCAA men's basketball tournament; the Friday of the Sweet 16; the Monday after the Super Bowl; and of course, the day after the release of the latest Madden NFL video game.