Baltimore's first online farmers market launches: Chesapeake Farm to Home
Chesapeake Farm to Table just launched a new online farmers market for residential customer with delivery to three culinary partner pickup locations in the Baltimore Metro Area: Culinary Architecture, Remington Wine Company and Towson Tavern will be the weekly pick up locations.
Chesapeake Farm to Home offers the same quality, fresh, local produce, honey, meats and dairy items to the home consumer.
They previously only offered wholesale farm products to the Chesapeake Region's best restaurants. This is Baltimore's first online farmers market, Chesapeake Farm to Home and features 25+ local, sustainable farms and food crafters selling their seasonal, best-quality farm products each week in an online storefront offering subscription-free time-saving convenience.
Heather Hulsey, Chesapeake Farm to Table's Executive Director stated, "Often people want to join a farm CSA, but can't come up with the significant investment up front or they've previously joined a CSA and found themselves drowning in the produce they're not using.
Many people also struggle to find time to get to a farmers market and they really want to support local farmers. We created this à la carte option for those customers and to help support and bolster sales for our participating small-scale farms where every last sale really makes a difference to that farmer."
Launched in 2015 by Calvert's Gift Organic Farm, Chesapeake Farm to Table is a local food hub with a mission to help build more economically viable, sustainable small-scale farms in the Chesapeake region through education programming and improved access to local foods.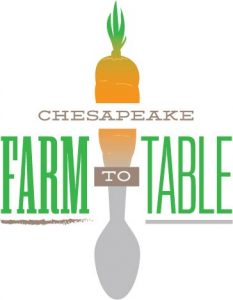 Chesapeake Farm to Table is a farmer-owned, cooperatively managed online marketplace for purchasing high-quality, local and sustainably grown farm products. Learn more at www.chesapeakefarmtotable.com.
Why the food hub?
These small producers under normal circumstances would not have the wherewithal, time to sell and deliver to the restaurants. Chesapeake Farm to Table, owned by Calvert's Gift Farm's Jack and Beckie Gurleys, the 2nd certified organic farm in Maryland, have been and are mentors for Future Harvest, an organization that trains future farmers. Many participants in the Chesapeake Farm to Table Food Hub who sell produce have evolved from Future Harvest.

For Dara Bunjon if it is food, Dara Does It, in fact, that is the name of her company which offers creative solutions for the food industry the likes of public relations, marketing, social media, cookbook compilations, food styling, culinary events, networking and freelance writing. You will now find Dara applying her broad range of culinary skills as a food stylist for television chefs/cookbook authors the likes of Steven Raichlen, Sara Moulton, Nick Malgieri, and Nathalie Dupree. Dara Bunjon lives, eats, dreams and writes about food and isn't hesitant to share her views and experiences about restaurants, culinary trends, recipes, cookbooks or even her childhood food memories. She has been on the food scene for too many years to mention. Known both in Baltimore and nationally, Dara Bunjon is a former member of Women Chefs and Restaurateurs' national public relations committee.
In the past, she has written for Style Magazine, Foodservice Monthly, Mid-Atlantic Restaurant Digest, Urbanite and other sundry publications. Since 2004 she has maintained an award-winning food-related blog called Dining Dish. She co-authored her first cookbook Yum! Tasty Recipes from Culinary Greats in association with Studio Spear. And has written Baltimore restaurant reviews for Gayot.com
Dara believes food is subjective; everyone's taste is different and she enjoys bringing you to her table to commiserate and enjoy lively discourse.
Considered one of Baltimore's food influencers, you can follow her on Twitter and Instagram @daracooks.