Baltimore Riots give rise to courage and hope in wake of devastation
Darkness masked much of the mayhem which gripped Baltimore on Monday night, as roving bands wreaked havoc throughout Charm City. The wave of destruction started around 3:30 p.m., when a large group of teens from Frederick Douglas High School assembled at Mondawmin Mall for a protest – ostensibly in memory of Freddie Gray. When police intervened and moved the protesters away from the mall, the anarchy began.
The riots went on through the night, and by Tuesday morning the damage about town was clear. Under the watchful eyes of the police and an influx of National Guard, the people of Baltimore started to tally their losses. While cleaning up the mess, many were left wondering what the future might bring once order is completely restored. More than a few offered hope in the face of the devastation. The Baltimore Post-Examiner visited several of the areas affected by the violence and spoke with some of the people whose lives have been directly touched by the Baltimore riots.
* * * * *
The 7-11 at Charles and Centre Streets was ransacked by one of the roving bands. The store employees were still in shock and too busy cleaning up to talk when we stopped by to survey the damage.
Just east of Johns Hopkins Hospital, in the 2100- 2300 blocks of East Monument Street, a number of stores were looted. One proprietor said that, at the height of the pandemonium along the normally busy business strip, some men in a van were using a gas powered abrasive saw to cut the bolts off of various storefront's security gates. Once the bolts were cut, the thieves could pour in and out at will.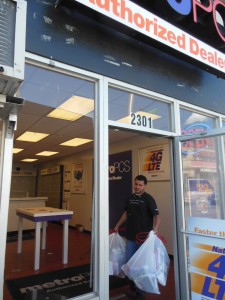 Wasim – the owner of Metro PCS – said his business was especially hit hard.
"When it got out of hand, they came over here and broke the door and got in; wiped the whole place clean, as you can see. We've been watching the cameras all night. These guys have been in and out of the store. They walk behind the counter; they see there's nothing left. They just walk right back out.
"We sell Metro PCS; it's a cellular phone company. I'm trying to clean up, reopen, hopefully get things back to normal, the way they used to be. I want to secure the building so people can stop coming in."
Like most businessmen, Wasim carries insurance to cover a host of hazards. But is his business covered for losses incurred during civil unrest?
"That I do not know. We have insurance, but I don't know with a riot concerned. I don't know if riots are different; I'm not well aware of that."
* * * * *
Currently surrounding City Hall are dozens of men and women in uniform; many equipped with an assortment of military gear.
Half a block away – in the parking lot of the Zion Church of Baltimore – a groundskeeper shared with this reporter a disturbing discovery – a pristine machete hidden in the underbrush.
A former police officer from Washington D.C., who was working security for some of the media in the area, speculated that such an implement might be used to cut fire hoses, as was the case in other parts of the city on Monday night. The machete was immediately removed from the secluded spot where it had been concealed.
"This place is serious man. This is no joke," said the former officer.
* * * * *
The most spectacular incident on Monday night occurred – not on the west side of town where the rioting initially started – but at a construction project at the intersection of North Gay and Chester Streets. It was at this location the Southern Baptist Church was building senior housing and a community center.
Pastor Donte Hickman of Southern Baptist told the Baltimore Post-Examiner that the devastating loss may in fact spur a more wide-ranging effort.
"For eight years, we've been envisioning how we can bring about change, make necessary health transformation and revitalization. Provide work force development initiatives, behavioral counseling, HIV-Aids testing, and mortgage lending services. And at the same time, provide affordable housing for senior citizens. We need to see change and investment in our community. This fire has lit a fire in us to do even more."
Hickman noted that the sad irony of the incident is that, as the project he has shepherded for so long was going up in flames, he was on the west side of Baltimore with the men of Shiloh Baptist trying to quiet the fierce unrest.
* * * * *
Apryl Deal and Aris Oliver, both members of the Southern Baptist Church, talked about loss.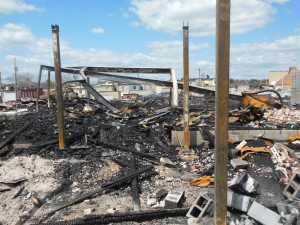 "This project meant a lot to the community," explained Aris. "This was going to be our senior apartment building. The structure, the actual framing was up; you started to be able to see the rooms. You were beginning to see things actually develop, and for it to be burned down is very heartbreaking. It was a place where our seniors would be able to come and live and still be close to the church. What better way to build up the community than by having somewhere for our seniors to go that will be safe?"
Apryl added, "I believe the pastors were also planning on building a children's recreation center. There was a lot of work put into this."
* * * * *
Several civic leaders associated with the ambitious senior housing project were also present to offer the church and the community a hand.
State Delegate Talmadge Branch (D) represents the area while serving as Majority Whip in the Maryland House of Delegates.
"To see this is just devastating. To see all of the work they put into it. It wasn't even ready yet. And to see it now down to the ground, along with this store next to it – Novak's – which has been here for years. I've lived in this neighborhood for most of my life, and I remember going to Novak's when I was about twelve. It's always been a little neighborhood corner store and to see that be gone as well? I just don't understand what is happening to young people today. They've got to understand that they are taking people out of jobs. This is gonna cost the church double to even put it back. It's just heartbreaking. We had great hopes for the what church was doing with this property. This community was rebuilding and to see it now reminds me of 1968. When Dr. King was assassinated, this area of Gay Street was nothing but stores. To see what that looks like today with no stores and no job opportunities and to see it continue today with this fire is what is really heartbreaking.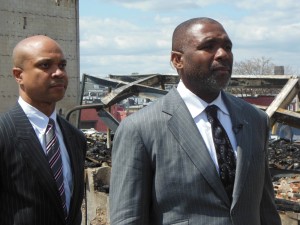 "I travel nationally, and I'm sure my colleagues will be asking about Baltimore and to see what Baltimore is doing now is somewhat embarrassing."
* * * * *
Reverend Delman Coates, Pastor, Mount Ennon Baptist Church in Clinton, Maryland was one of the first to reach out to Pastor Hickman. Coates ran as a candidate for Lieutenant Governor with Heather Mizeur in the last primary election.
"Our churches fellowship together. I just wanted to come up to be with him; I heard about this on the news last night. I was actually watching it on television and receiving messages that it was Southern Baptist church, but I dismissed it, because I knew that all the action was taking place in West Baltimore, and that Southern Baptist is in East Baltimore. Still, I called Pastor Hickman – he and I talk several times a day. He has poured his heart into this project for the past few years. This congregation is really devastated to see what happened.
"We are going to help this church rebuild; they are going to rebuild here. It's gonna be bigger; it's gonna be better. We've also gotta refocus the attention on the need for justice. Justice delayed creates the kind of conditions that cause this kind of unrest and frustration in the community.
* * * * *
City Councilman Carl Stokes (D) of District 12 was also on hand to survey the damage. The senior center sits on the easternmost edge of councilman Stokes' district.
"It is a devastating loss to the community, but this is a resilient community. It will be rebuilt; there's no doubt about that. It took us many years – I think we started this vision in 2006, and it's just going up now. I know it's been destroyed, but it's going to go up sooner, faster, than the original vision allowed us to get to here.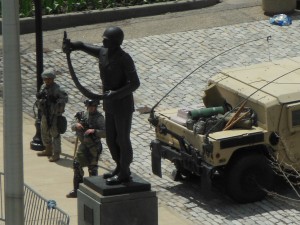 Stokes said – like so many others – he was stunned and appalled to see the way the events of the last few days unfolded.
"Most of us went home at the close of the rally at City Hall on Saturday. We went home. I was home and shocked by the pictures I saw coming on the t.v. about two or three hours later. There was a splinter group who left City Hall and started toward Camden Yards. I understand that they got into a bit of a back and forth with some of the fans coming from Oriole Park. I think they (the protesters) were intent on starting a civil criminal disturbance. We are all in favor of some civil disobedience, but not criminal disobedience. It's lawlessness; it doesn't honor the memory of Freddie Gray."
Stokes said he is confident that the influx of additional police and the National Guard – combined with the efforts of civic leaders and the citizenry – will quickly quell the unrest. But he questioned the wisdom of having the police stand back as the rioting took place.
"I think that the greater, by far, the hundreds of thousands of good citizens in this town don't want (the unrest). We are not going to be intimidated by the few bad apples. Obviously, we want the police to protect and to serve at this moment. I was frankly dismayed by the less than aggressive approach I thought the police took on Monday. I did not like seeing the police officers being attacked and being assaulted physically. I felt that my police officers should not have been under those conditions, and that there should have been a counter method that would allow those persons to be arrested sooner.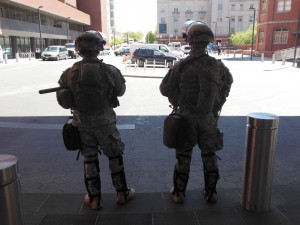 "I think it's obvious that they were ordered to stand down. I thought they did a remarkable job of restraint on Saturday, particularly. But I thought that yesterday that they needed to, I don't want to say to defend themselves, but they needed to defend the city.
* * * * *
Suspicions that the senior center fire may be unrelated to the protests seem to be corroborated by Rosalyn McCauley, a retiree who lives in the neighborhood.
"There was nothing going on Monday night; it was very quiet and peaceful. Suddenly, we heard on the news that there was a fire on Gay Street. I was curious what was going on, and when I looked out my door I saw the whole area was ablaze. It took a while for the fire department to get here, but when they did, they settled everything down."
Were there any unruly mobs like the ones pictured on the west side of town?
"Not here. There were people who live up the street who were coming to see what was burning. But there were no problem people; they were very mild, and only out of concern were up here. They walked back home. There was no incident here.
"Everybody on this block, primarily, are home owners. Our parents bought these houses, and we are the second generation of people in these blocks. We work hard to make sure nothing goes on in here that would be irrevocable to our living situations, to our homes.
"I had a neighbor who said the heat was so intense it blew the glass out of her back screen door. But that was it. Other families were affected by that. The fire was terribly intense.
"It's a pitiful situation. It's a shame, because here's a church trying to build things for the community, and someone is tearing it down."
* * * * *
On the west side of town, at the intersection of North and Pennsylvania Avenues, a huge crowd gathered to consider the damage done by the riot to the CVS pharmacy. Many were also there to help with the clean-up.
One group of four college-age students said they were inadvertently maced when police apprehended an unruly bystander. Another student – Liban Miller from UMBC – was pleasantly surprised by the contingent that turned out to help with the cleaning
"I thought it was a good idea to come down here and volunteer. I know that Baltimore's got a bad rep right now, so I thought it was a good idea to come down and show some positivity.
"I brought a broom and some trash bags; thought I'd come over here and help out. I didn't expect this big of a crowd and all the t.v. stations, to be honest."
At about 3 p.m., smoke from a hot spot beneath the air conditioning unit on the top of the CVS started to fill the burned out building. As if to underscore the state-wide effort which has gone into securing Baltimore City, fire crews from Baltimore and Kent Maryland quickly arrived on the scene and dealt with the issue under the watchful eye of a fire chief from Howard County.
A few blocks south of the burned out CVS, an impromptu prayer circle gathered. The circle consisted of three minsters from United Methodist Church, Baltimore-Washington Conference, a few church laymen, two passers-by and one Baptist reporter.
Reverend Twanda Prioleau, Associate Pastor of the John Wesley United Methodist Church in Baltimore, explained the spur-of-the-moment gathering:
"We were just walking down the street. The circle started, because one of our clergy right here in the neighborhood, had been out on the street for the last couple of weeks, and we thought that we would come around him and pray for him. And then, we had other people who were walking down the street, saw us praying, and they just decided to join in. Not just decided, but I believe that God led them to actually join into the prayer. We thank you, as well, for coming down and joining us."
Pastor Wanda Duckett, of Mount Zion United Methodist Church on Liberty Heights Avenue stated, "Just as a native of Baltimore, to see your house, your home, your backyard – being destroyed and understanding that people are angry and frustrated; and understanding why they are angry and frustrated. But just wanting so much to have peace for the city, for your home."
When asked about the impact people of faith have had in restoring a semblance of order to the area, the group commended the outpouring of men from Shiloh Baptist who stood between the police and protesters on Monday night.
"I think that we need to speak out," said Reverend Bonnie McCubbin from Good Shepherd United Methodist. "We need to let our faith lead us and guide us, because if we don't let God guide us, nothing will. I know that other clergy are going to be gathering and also planning for what we can do in the future to work together to bring God's hope and God's peace to this city."

Anthony C. Hayes is an actor, author, raconteur, rapscallion and bon vivant. A one-time newsboy for the Evening Sun and professional presence at the Washington Herald, Tony's poetry, photography, humor, and prose have also been featured in Smile, Hon, You're in Baltimore!, Destination Maryland, Magic Octopus Magazine, Los Angeles Post-Examiner, Voice of Baltimore, SmartCEO, Alvarez Fiction, and Tales of Blood and Roses. If you notice that his work has been purloined, please let him know. As the Good Book says, "Thou shalt not steal."