B-17 'Flying Fortress' buzzes Baltimore skies
May 8, 1945 — the day Nazi Germany surrendered to the Allies, ending World War II in Europe — also marked Warren Dorfler's last flight in a B-17 bomber.
Until this week.
Under a hot Monday afternoon sun, the 92-year-old Towson resident and former airplane engine mechanic with the Army Air Corps' 351st Bombardment Group, 511th Bomb Squadron glowed with pride as he recalled his final mission 67 years ago.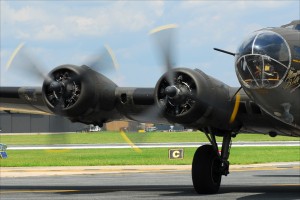 "I never thought I'd fly in one of these again," said Dorfler, leaning on a cane. "Didn't even need the earplugs. It felt tremendous. I wouldn't have missed this for the world."
Dorfler may not have required ear protection, but the half-dozen journalists who boarded the famous Boeing B-17 "Memphis Belle" for a 15-minute press flight over Baltimore certainly did. The noisy old aircraft is parked at Martin State Airport for its first nationwide tour, as part of the Liberty Foundation's 2012 Salute to Veterans.
On Aug. 18 and 19, half-hour morning flights will be offered to the general public at $450 per passenger. That may sound expensive, though not when compared to the $4,500 it costs to maintain the Flying Fortress in the air for one hour — and the $1.5 million the Liberty Foundation spends just to keep its famous planes (it also owns a Curtis P-40E Warhawk) airworthy and out on tour.
"We'll take everybody who wants to go up," said Keith Youngblood, a Liberty Foundation volunteer from Atlanta who works weekdays as a programmer at Yahoo.com. "They don't teach much about World War II in school, so our mission is to tell the story of the men who flew in these planes. People are pretty excited about the fact that this is one of the few B-17s still flying."
One of 13, to be exact. And this particular B-17 is special, because it was used in the 1990 fictionalized war movie "Memphis Belle" starring Matthew Modine, Eric Stoltz and Tate Donovan. However, it never saw any actual combat. It's painted in the identical colors and nose art of the original historic "Memphis Belle" B-17 that flew 25 bombing missions over occupied Europe in 1942-43 and is now undergoing restoration at an aircraft hangar in Dayton, Ohio.
During a pre-flight talk in the shadow of an aircraft wing, Youngblood briefed the assembled journalists on what to expect.
"Obviously this is a military aircraft and it has few creature comforts. There are plenty of things to bump your head on, and cables overhead. So be careful what you grab," he warned. "Even if you've been on another B-17, this one is very loud, so use earplugs. For takeoff and landing, everyone must be seated. Once airborne, you can stand up and go anywhere except the tail. And if anyone starts to feel sick, let us know. We have airsick bags."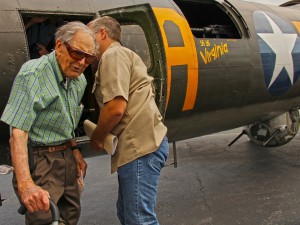 In the end, nobody threw up — probably because they were too busy filming the interior of this storied old warplane, and photographing the spectacular view of Baltimore from the clear plastic nose. But the journalists on board had to take turns doing so, since the aisle of the B-17 is incredibly narrow and no more than two or three people can fit into the nose at any given time.
The B-17 was piloted by Dave Lyons and Bill Clark, both of whom fly big jets for Delta. Flight attendant Dave Pfaff works for US Airways.
"None of us get paid for this," said Youngblood, 41. "The Liberty Foundation is an all-volunteer crew. We all have to go home tomorrow to our regular jobs."
Boeing manufactured more than 12,000 B-17s between 1935 and 1945; of these, 4,735 were lost in combat over Europe, most of them operated by the 8th Air Force and launched from Allied bases in England.
Ken Hutcherson remembers those days well. A native of southern Virginia, his family relocated to Baltimore in July 1941. Soon after, he joined the 95th Bomb Group as a radio man, and in 1943 and 1944 went on 26 bombing missions over Nazi Germany.
After the war, Hutcherson became a printer, eventually winning a contract to provide graphic services for the International Monetary Fund.
"I got a phone call three days ago asking if I wanted to take a ride in a B-17," said the 89-year-old Lutherville resident. "It was all very nostalgic for me."
As if that's not nostalgic enough, onboard the B-17 is a framed, yellowed portrait of the first 10-man Memphis Belle crew to complete 25 combat missions. The photo was taken May 17, 1943, in Bassingbourn, England.
Following World War II, B-17 bombers saw combat in both Korea and Vietnam; Israel also used them during its 1948 War of Independence. This particular plane went into storage, and in 1960 was converted into a water tanker used to fight fires out West.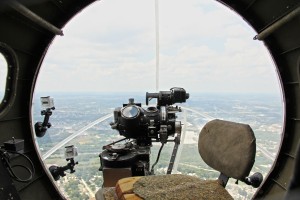 In 1982, retired wartime pilot David Tallichet, bought it in the name of the Military Aircraft Restoration Corp. and restored the B-17G to resemble a B-17F model. That restoration included reinstallation of power turrets, early tail gunners compartment, early Sperry dorsal turret recovered from a South Pacific wreck, and the addition of a 91st Bomb Group paint scheme.
"This is the first time it's been out on tour," said Youngblood, who brought the Memphis Belle from Syracuse, N.Y., that same morning. The plane's next stop after Baltimore: Norfolk, Va.
"Every time you see a picture of a B-17 in combat, think about the fact there were 10 men in there. It was probably minus 60 degrees at that altitude, so they had to have oxygen and heated suits," he said. "What these guys did is pretty amazing, though most of them would tell you they were just doing their jobs."
For more information on B-17 flights and tours at Baltimore's Martin State Airport, call (918) 340-0243website. or visit the

Larry Luxner is news editor of The Washington Diplomat and former editor of CubaNews. Born and raised in Miami and based in Bethesda, Md., since 1995, Larry has reported from every country in the Western Hemisphere. His specialty is Latin America and the Middle East, and he's written more than 2,000 articles for publications ranging from National Journal to Saudi Aramco World. Larry also runs an Internet-based stock photo agency at www.luxner.com.