BALTIMORE — A Baltimore City restaurant icon is on today's menu. But first a visit to a Baltimore City attraction, a one of a kind destination for locals and tourists. We're making out first stop at the American Visionary Arts Museum (AVAM), 800 Key Highway.
This eclectic museum opened in 1995, and as soon as 1997 it received an award for excellence from the Urban Land Institute.
It consists of over 67,000 square feet under one roof. In addition, two outdoor sculpture plazas, a wildflower meditation garden, an amphitheater, and a summer movie theatre. Movies outside began in 2005.
The museum is open Tuesday thru Sunday from 10 to 6. Adult admission is $15.95, seniors (60 & up) $13.95, students $9.95 and under six free. There are discounts for groups of 10 or more. Parking is along Key Highway, Covington Street and in the Rusty Scupper lot across the street. Every Saturday at 2:30 they offer a free drop-in guided tour with a  docent.
They encourage non-flash photography. But they do add, no tripods, lights or selfie sticks. If a wedding is in your future, you might consider AVAM. They average close to 80 weddings a year. The front entrance is handicapped accessible.
At one time there was a café on the upper floor, actually more than one over the years, but today the café area is closed. I suspect before too long another restaurant will pop up. But there is the Side Show, which is their shop for souvenirs.
Some of the current exhibits include – Parenting: An Art Without a Manual; Esther and the Dream of One Loving Human Family;  Reverend Albert Lee Wagner: Miracle at Midnight and permanent collections on the 1st and 2nd floor. There's also the Jim Rouse Visionary Center and a display of outdoor sculptures and amenities.
AVAM is the site of the annual (since 1999) Kinetic Sculpture Race that takes place in the Inner Harbor. This year the event is May 4. The impetus to get this museum open belongs to Rebecca Hoffberger.
I'm told there are about 40 of these types of museums in the world, but AVAM is the largest. If you haven't been you should check it out. By the way, they do have a fan club. Call 410-244-1900 extension 238. The museum can be reached at the same main number.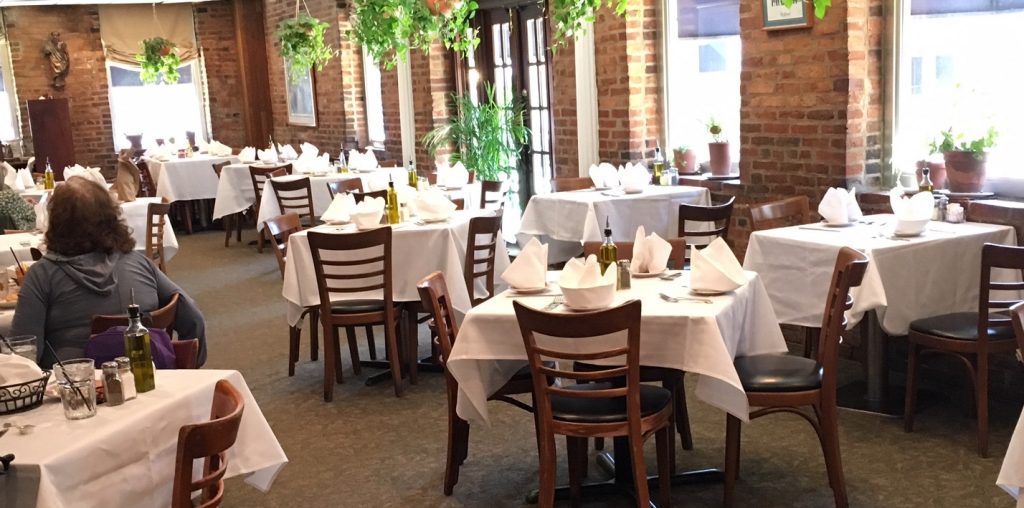 From AVAM we can simply drive around the harbor or take one of those neat harbor shuttles and land in Little Italy, namely Chiapparelli's, 237 South High. If there is such a thing as a Baltimore iconic restaurant, this is surely one of them. It opened around 1940 and is still serving the excellent Italian food you expect in Little Italy.
I go back many years with Chipps. I had my high school prom dinner here, I had two high school reunions here and have dined on my own many times. But I do have a question, how is it the Chipps salad is still so good?  Brian Chiapparelli told me people from just about all over the state come here for that. But he would not tell me the recipe.
There are six dining rooms, a bar, valet parking during select times, open seven days, seating for about 350 and it has been owned and operated by the Chiapparelli family since day one.
A few of their signature dishes are Grandma's Ravioli, Drooling Gnocchi, the create your own pasta, Chicken Vincenzo and Calamari Fra Diavolo.
Reservations are a good idea on weekends. Reach them at 410-837-0309 or at chiapparellis.com.