Affidavit Asserts Widespread 'Manipulation' in 2020 Michigan Election
Image by Ulrike Leone from Pixabay
Could a forensic analysis of the Election Management System (EMS) used in Michigan – and in other states – provide sufficient evidence to overturn the results of the 2020 election? This is a question which seems to emerge from an affidavit that was filed this week in the case of King vs Whitmer (District Court, E.D. Michigan.)
The Detroit News reports, "The suit seeks emergency relief including orders requiring Michigan Gov. Gretchen Whitmer to transmit certified election results that state 'President Donald Trump is the winner of the election.' It also seeks the impounding of all "voting machines and software in Michigan for expert inspection.'"
The affidavit (Exhibit 104 — Document #1, Attachment #14) was submitted by Russell James Ramsland, Jr. of Dallas, Texas. Ramsland — a Harvard graduate who has worked for both NASA and MIT — is part of the management team of Allied Security Operations Group, LLC, (ASOG) – a group which Ramsland states "…provides a range of security services, but has a particular emphasis on cybersecurity, open source investigation and penetration testing of networks." (item 2)
Ramsland states that although demonstrable security issues with the EMS's have been known for years, that hasn't stopped states such as Michigan from using the systems.
"Over the past three decades, almost all of the states have shifted from a relatively low-technology format to a high-technology format that relies heavily on a handful of private services companies. These private companies supply the hardware and software, often handle voter registrations, hold the voter records, partially manage the elections, program counting the votes and report the outcomes. Michigan is one of those states." (item 5)
He then adds:
"These systems contain a large number of vulnerabilities to hacking and tampering, both at the front end where Americans cast their votes, and at the back end where the votes are stored, tabulated, and reported. These vulnerabilities are well known, and experts in the field have written extensively about them." (item 6)
Problems with Dominion
In assessing the situation in Michigan, Ramsland and his group looked at Dominion (items 7, 8, 9) — a privately held company that provides election technologies and services to government jurisdictions.
Ramsland notes that numerous counties across the state of Michigan use the Dominion Election Management System.
"Key components of the system utilize unprotected logs. Essentially this allows the internal operator or an external attacker the opportunity to arbitrarily add, modify, or remove log entries, causing the machine to log election events. The system makes the creation and maintenance of various logs voluntary, so that the user has a choice to "not retain" or "conceal" their actions. Further, when logs are left unprotected and can be altered, they no longer serve the functional purpose of provided a transparent audit log to the public or election officials.
"My colleagues and I at ASOG have studied the information that is publicly available concerning the November 3, 2020, election results. Based on the significant anomalies and red flags that we have observed, we believe to a reasonable degree of professional certainty that election results have been manipulated within the Dominion system in Michigan.
"Until a thorough forensic analysis of the voting system hardware and software is conducted, it will be impossible to know for certain."
(Dominion Voting Systems categorically denies assertions about vote switching and software issues with its voting systems.)
One of the red flags Ramsland noted has been seen in Antrim County, Michigan (item 10.)
"In Michigan we have seen reports of 6,000 votes in Antrim County that were switched from Donald Trump to Joe Biden and were only discoverable through a hand counted manual recount. While the first reports have suggested that it was due to a "glitch" after an update, it was recanted and later attributed to "clerical error." This change is important because if it were not due to clerical error, but due to a "glitch" emanating from an update, the system would be required to be "re-certified" according to Dominion officials. This was not done. We are skeptical of these assurances as we know firsthand this has many other plausible explanations and a full investigation of this event needs to be conducted as there are a reported 47 other counties using essentially the same system in Michigan. It is our belief (based on the information Case 2:20-cv-13134-LVP-RSW ECF No. 1-14, PagelD.627 Filed 11/25/20 Page 3 of 6, we have acquired to this point) that the problem most likely did occur due to a glitch where an update file didn't properly synchronize the ballot barcode generation and reading portions of the system. If that is indeed the case, there is no reason to assume this would be an isolated error."
More glaring is the red flag of higher than could be expected voter turn-out (noted in item 11.)
"Another statistical red flag can be observed in Michigan where even the very limited remaining public data reveals 643 precincts with voter turn-out above 80%, according to county records. Further if these very limited remaining public data votes were normalized to 80% turnout (still 15%+/- above normal), the excess votes are at least 36,812 over the maximum that could be expected. We anticipate that precincts with excess voter turnout will be even higher with complete public data (Some larger precincts in Wayne Co and others are no longer publicly reporting their data).
Precinct/Township % Turnout
City of North Muskegon 781.91%
Zeeland Charter Township 460.51%
Grout Township 215.21%
City of Muskegon 205.07%
City of Detroit 139.29%
Spring Lake Township 120.00%
Greenwood Township 100.00%
Hart Township 100.00%
Leavitt Township 100.00%
Newfield Township 100.00%
Otto Township 100.00%
Pentwater Township 100.00%
Shelby Township 100.00%
Shelby Township 100.00%
Weare Township 100.00%
City of Hart 100.00%
Grand Island Township 96.77%
Tallmadge Charter Township 95.24%
Fenton 93.33%
Bohemia Twp 90.63%
Zeeland Charter Township 90.59%
After noting "a series of impossible spikes shortly after the counting was closed at 2:00 am (item 12) Ramsland states in item 13:
"The final red flag is perhaps the greatest. Something occurred in Michigan that is physically impossible, indicating the results were manipulated on election night within the EMS. The event as reflected in the data are the 4 spikes totaling 384,733 ballots allegedly processed in a combined interval of only 2 hour and 38 minutes. This is physically impossible given the equipment available at the 4 referenced locations (precincts/townships). We looked at ballots processed and cross referenced the serial numbers and types of the scanning devices used at each location to determine the amount of ballot processing capacity per the equipment performance specifications. The Model DRM16011 processes 60 images/min. without accounting for paper jams, replacement cover sheets or loading time, so we calculate 2,000 ballots/hr/machine in field conditions, which is probably generous. This calculation yields a sum of 94,867 ballots as the maximum number of ballots that could be processed. It should be noted that in the event of a jam and the counter is not reset, the ballots can be run through again effectively duplicating them – This was noted in Ms. Carone's affidavit, a Dominion Contract Employee working in Detroit (attached). The existence of the spike is indicative of a manual adjustment either by the operator of the system (see paragraph 12 above) or an attack by outside actors. In any event, there were 289,866 more ballots processed in the time available for processing in four precincts/townships, than there was processing capacity."
Ramsland then concludes:
"Based on the foregoing, I believe these statistical anomalies and impossibilities compels the conclusion to a reasonable degree of professional certainty that the vote count in Michigan, and in Wayne County, in particular for candidates for President contain at least 289,866 illegal votes that must be disregarded."
According to the Associated Press, Joe Biden won the State of Michigan by more than 154,000 votes. Disregarding 289,866 "illegal votes" would likely tilt the election victory to Donald Trump.
A story on the lawsuit in The Detroit News addressed one vexing item of Ramsland's affidavit – pointing out that the late tally spikes were anticipated.
"However, this (the spikes) was expected by Michigan election experts for months before Nov. 3 because more Republicans tended to vote on Election Day and more Democrats tended to vote absentee. Absentee ballots generally took longer to process and often showed up in released counts after Election Day tallies."
The Detroit News story offers no rebuttal to Ramsland's assertion that 289,866 absentee ballots could not have been processed in the allotted time given processing capacity, nor does it touch on the topic of estimated excesses in voter turn-out.
Below is Ramsland's affidavit in it's entirety: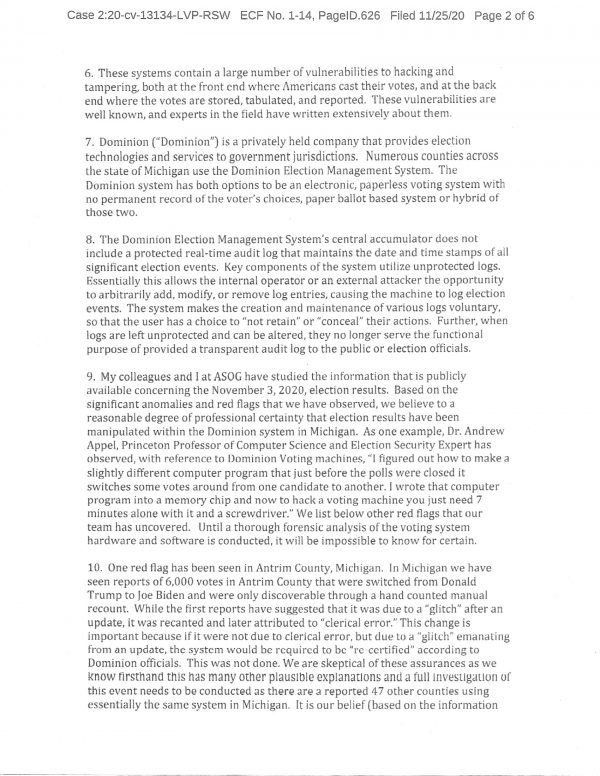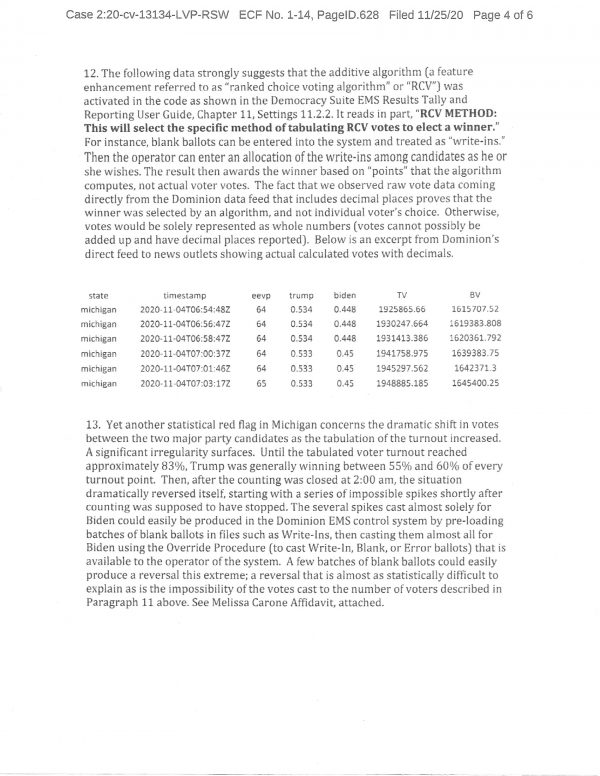 © Copyright 2020 Baltimore Post-Examiner. All Rights Reserved

Anthony C. Hayes is an actor, author, raconteur, rapscallion and bon vivant. A one-time newsboy for the Evening Sun and professional presence at the Washington Herald, Tony's poetry, photography, humor, and prose have also been featured in Smile, Hon, You're in Baltimore!, Destination Maryland, Magic Octopus Magazine, Los Angeles Post-Examiner, Voice of Baltimore, SmartCEO, Alvarez Fiction, and Tales of Blood and Roses. If you notice that his work has been purloined, please let him know. As the Good Book says, "Thou shalt not steal."