Submit 10 Baltimore brings performance and prose to the pub
One moment, three stalks of corn discuss the meaning of life and death in a chaotic universe. The next, two engineers are talking shop about their latest project: a line of robot girlfriends.
It's an ordinary Monday night at the Liam Flynn's Ale House in Baltimore.
Submit 10 Baltimore, a new reading series hosted in the Station North pub and organized by founder Rachel Hirshorn, brings a cast of fascinating characters and writers to Baltimore every other week. The event gives local authors the chance to see their work read in front of a small audience – and volunteers the chance to perform.
"We have never had a project this collaborative before,"   Flynn said. "We have never had a project that recruited, read, organized, cast and produced itself."
Spontaneous collaboration
Submit 10 Baltimore gets its name from the program's main rule: writers should submit dialogues, poetry, short stories or other pieces that can be performed in ten minutes or less.
The setup is decidedly low-key. Contributors find copies of their work waiting on a back table at Liam's the night of the event. Anyone who shows up can volunteer. Participants read from a row of stools lined up just a few steps away from the bar.
The format – and the venue – combine to create a unique experience for the audience, the performers and the writers.
"The general scene makes one want to work to keep things clear and less dependent on subtlety," said John Leigh, a frequent Submit 10 contributor. "And to work in a more jokey idiom."
Readings often feature multiple roles, with volunteers assuming different parts. Participants usually have time to look through their part beforehand – but without a rehearsal, the collaboration is improvised and spontaneous.
"Rachel and the talented participants of Submit 10 create an event with every reading," Flynn said.
 "Contagious energy"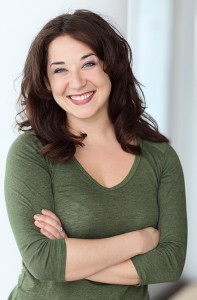 Hirshorn launched Submit 10 to boost the Station North Arts and Entertainment District, and to create an innovative environment for writers and performers.
"I'm interested in creating an ego-free, energy-filled, and high creative atmosphere – for both the professional, as well as the amateur writer/performer," she said.
Hirshorn developed a proposal for Submit 10 and won over Flynn and his wife, Jessica Beil.
"We were excited about the idea," Flynn said. "We didn't know Rachel very well, but she has a very contagious energy. We thought about the neighborhood and all the great things happening around us and it became clear that this idea was something different, and that Rachel was about to make something really great happen, too. We felt lucky."
Flynn and Biel "are huge supporters of the arts," Hirshorn said. Previously, the two have provided a space for Rhymes with Opera, Pub Readings with Centerstage, and Table Talks with Open Theater. Today Liam's holds weekly open Irish Music Sessions, and through June will hold Irish Dance Lessons on Tuesday nights.
Hirshorn collects submissions, lines up the performances, casts volunteers for specific readings, and promotes Submit 10 – all in addition to her work as an actor and teacher.
"It's a lot more work than I expected, but then again, it's the kind of work that I love to do!" she said. "I've been professionally doing some aspect of this project for years – but it's never felt quite like this."
Hirshorn's experiences as an actor and teacher shaped her idea for the series.
"We often forget how vulnerable it feels to share a story…but once the envronment created is easy and fun, judgement is set aside, and we surprise each other which how much we have in common – how closely we relate to each tale," she said. "I think it's more important to get it all, and feed off the creative choices others are inspired to make."
"That's certainly what continues to drive me, personally," Hirshorn said.
Submit 10 is at Liam Flynn's Ale House, 22 W. North Ave., Baltimore. Performances start at 8 p.m.; volunteers should arrive by 7:30 p.m. and introduce themselves to Rachel. Check www.pintsizepub.com  for scheduling. Submissions can be sent to submit10baltimore@gmail.com.
Jacob Fawcett is an editor at the Baltimore Post Examiner.