What does the future of the Maryland GOP look like in the post-Hogan era?
Good times don't last forever. Especially in politics. So enjoy the power while you have it. Because one day it will be gone.
(Jan. 2015-Jan. 2023) 
For eight years, Republican Larry Hogan occupied the governor's mansion despite Maryland being an overwhelmingly Democratic state.
Hogan was highly popular while in office and is considered a moderate. Hogan ran two campaigns based on pocketbook issues such as lower taxes, cutting red tape, and making it easier to start a business.
Hogan generally steered clear of controversial social issues like abortion, and was often critical of former President Donald Trump, especially when Trump made comments widely considered to be inflammatory.
Some pundits thought Hogan might seek another office such as U.S. Senate or even president. But Hogan declined on both counts.
Perhaps Hogan sensed the changing winds in the Maryland Republican Party as it followed the MAGA-aligned national party and decided now was not the best time to again seek office.
Maryland GOP voters rejected Hogan's hand-picked successor and cabinet secretary, Kelly Schulz, in favor of hard-right-Trump-supporter and conspiracy theorist Dan Cox. Cox, a state delegate, would go on to lose the general election by a 2-1 margin to Democrat Wes Moore.
(Jan. 2023-present)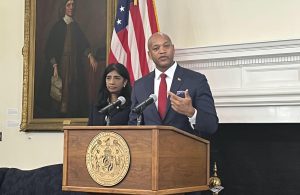 Moore has been governor for just seven months and is already being mentioned by pundits as a possible 2028 candidate for president.
Maryland's attorney general, comptroller, and treasurer are all Democrats. Democrats command a supermajority in the General Assembly.
Both of the state's U.S. Senate seats are occupied by Democrats, as are seven of the eight congressional seats.
Where does that leave the MD GOP? Who are their leaders in the post-Hogan era? What lessons were learned from the 2022 blowout?
"What the overall results of the 2022 gubernatorial cycle means is that we have to do a better job of putting forth candidates and focusing on issues that the majority of Marylanders are concerned about, and candidates who can speak to those issues in a compelling way," Del. Jason Buckel (R-Allegany) told Baltimore Post-Examiner.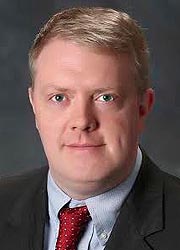 Buckel, who is the minority leader in the House of Delegates, added: "I don't think that the 2022 results reflect that Marylanders, in general, have embraced the far-left's agenda. Although, certainly, it is a Democratic state."
Buckel said distinctions between Hogan-aligned Republicans and Trump-aligned Republicans are largely insignificant.
"That is not actually a very valid question that actual voters care about. Voters care about better schools and safer schools. Voters care about the economy. They care about money being taken out of their paychecks for taxes and seeing a good return on that investment."
Buckel said future MD GOP stars could include some of his fellow delegates, such as Minority Whip Jesse Pippy of Frederick County, Wayne Hartman of Wicomico and Worcester counties, and Matt Morgan of St. Mary's County.
Buckel said it would be a reach for any Republican to win the U.S. Senate seat that is about to be vacated by three-term incumbent Democrat Ben Cardin, who is not seeking re-election. Buckel said that there is a general reluctance among more established Republicans to even consider running for the seat.
So far, perennial candidates Robin Ficker and Ray Bly are the only Republicans who have announced their candidacies. The Democrats running for U.S. Senate are Prince George's County Executive Angela Alsobrooks, Rep. David Trone, Montgomery County Councilman Will Jawando, and Bread and Roses Party founder Jerome Segal. Democratic Rep. Jamie Raskin has said he is considering running for Senate and will make a decision by early July.
Mac Mathias, who served from 1969-87, was the last Republican to represent Maryland in the U.S. Senate. Mathias, who was considered to be one of the most liberal Republicans in the upper chamber, was from Frederick. Mathias died in 2010.
Del. Brian Chisholm (R-Anne Arundel) said Hogan is probably the only Republican who could win the seat.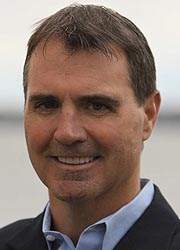 "He (Hogan) does carry favor with Democrats. And if he could get through a primary, he might be able to do it. But other than that, I am not sure. We seem to always run the same Republicans for U.S. Senate and it is a lost cause."
Chisholm rejected the premise that Republicans should move to the center to be more electable in Maryland.
"My personal opinion is: 'No!' I think that is why we lose so many Republicans. If you look at the State House, every time we try to move toward the middle, they (Democrats) move further left. You have got to stand on principle at some point. And we still do have a lot of people in Maryland that are heavily principled. The reason that Larry Hogan won here is because of the Democrat vote, not the Republican vote."
Sen. Johnny Ray Salling (R-Baltimore County) said moving to the center does not necessarily mean sacrificing core principles.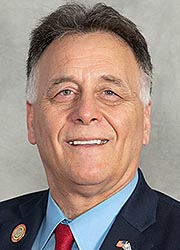 "The center is not a bad place. Where you are in the center makes a difference. It makes a resounding sound. You have to be cautious in that area. I have worked with not just my party, but with Democrats as well. It makes a difference. It is not a compromise. I keep my stand."
Maryland Republican Party Chair Nicole Beus Harris said the state's GOP voters are best suited to decide what direction the party should go in.
"I believe that the Republicans of Maryland need to make that decision. I love the primary process because you get to pick from all of these people who represent you-the closest to whatever your ideals are. That is the person that we end up getting for our nominee. Then we have to communicate what that person stands for in the general election… That is not something that the party itself should be deciding. We should not be playing any favorites in the primary process."
Harris said the party needs to improve its communication with voters.
"One of the biggest lessons we should take out of 2022 is our communication with people and the way that we interact with them."
Harris said she believes a Republican with the right credentials could win a U.S. Senate seat in Maryland because both Hogan and fellow former GOP governor Bob Ehrlich proved that Republicans can win statewide with the right message.
Analysts say MD GOP would benefit from moving to the center 
"Maryland Republicans resemble Republicans around the country, ignoring all strategic calculations in the name of principles largely defined by former President Trump," said Carin Robinson, a professor of political science at Hood College in Frederick. "Competitive political parties can strengthen democracy. Right now, the Republican Party in Maryland is not competitive."
Robinson said except for Hogan, Republicans have virtually no chance of winning a U.S. Senate seat in Maryland.
"Other than Hogan, not a chance. But it is interesting that Hogan would have a chance! A Republican with name recognition, a moderate platform, a proven-record could be competitive. But there is only 1 person in the entire state who fits that description (Hogan)."
Robinson said she expects Republicans to continue to "struggle" in statewide elections in Maryland as well as other states where the electorate is predominantly Democratic.
"In the aftermath of the 2022 gubernatorial race, it doesn't appear viable. Dan Cox's nomination spoke volumes about the direction of the party and the continued influence of Trumpism. Without some new leaders, new ideas, and new candidates, the party will struggle in statewide elections. With abortion as salient as it is, with Trump still prominently in the news, I think Republicans across the country will have a hard time in any left-leaning state."
John McTague, a professor of political science at Towson University, also said Maryland Republicans would do well to try and emulate Hogan.
"I can see why some elected Republicans in MD would think centrist Hoganism is unnecessary to win elections if they represent deep red parts of the state. But the evidence suggests this is a very misguided position. In a state like MD, with such an imbalance of partisans in the electorate, the only chance a Republican has for winning statewide is to craft their brand as distinct from the brand of the national Republican Party. Hogan was very successful at doing this—often distancing himself from the national party and the specific melodramas of President Trump."
However, McTague said it is doubtful that even Hogan could win a U.S. Senate seat in Maryland.
"Voters distinguish between state and federal office. Hogan won elections for governor, but I highly doubt he would have won those same elections for U.S. Senate. MD Democrats were willing to give Hogan power in Annapolis, but that doesn't mean they would be willing to give that same power to the national Republican Party by sending a Republican to D.C. National politics is too competitive and too polarized to expect a Republican to win a Senate seat from MD except under the absolutely most bizarre, 99.99th percentile circumstances."
As for where the MD GOP stands today, one need only look back to 2014 when Hogan was first elected, McTague said.
"It can win statewide under "perfect storm" circumstances, but the default is that they do not. Political scientists describe the electorate as "thermostatic," which means it reacts against the governing party. For example, eight years of Martin O'Malley engendered enough of a shift in mood away from the Democratic Party's agenda—enough "agenda fatigue-" to provide an opportunity for Hogan to win in 2014. Eight years of Moore, or 12 years of Moore and a successor, might offer the same opportunity. Maybe see where we are in 2030 or 2034. By then, voters may have once again tired of Democratic one-party rule enough to give a centrist Republican the governor's office."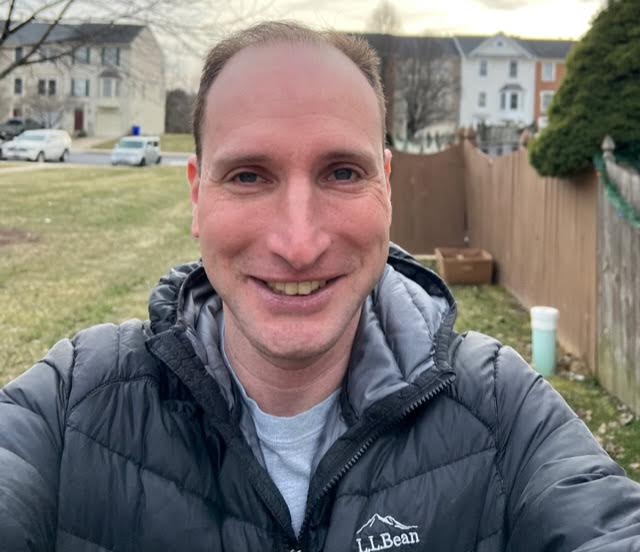 Bryan is an award-winning political journalist who has extensive experience covering Congress and Maryland state government.
His work includes coverage of the election of Donald Trump, the confirmation hearings of Supreme Court Justice Brett Kavanaugh and attorneys general William Barr and Jeff Sessions-as well as that of the Maryland General Assembly, Gov. Larry Hogan, and the COVID-19 pandemic.
Bryan has broken stories involving athletic and sexual assault scandals with the Baltimore Post-Examiner.
His original UMBC investigation gained international attention, was featured in People Magazine and he was interviewed by ABC's "Good Morning America" and local radio stations. Bryan broke subsequent stories documenting UMBC's omission of a sexual assault on their daily crime log and a federal investigation related to the university's handling of an alleged sexual assault.