Welcome to Sally's Culinary Adventure
Welcome to my corner of the institution.
I've always wanted to say that, though I suppose I should introduce myself.  I'm Sally, the culinary adventurer.  I wasn't always so adventurous.  I was brought up by a really picky eater and his wife – no fish, no poultry and only five vegetables, most of which count as starches – whose only seasonings are salt and butter with the occasional ketchup.  Then I got married, to a wonderful man – we'll call him the guinea pig (GP) – whose spice rack is beginning to take over the cabinet.  It was like Dorothy going from sepia Kansas to colorful Oz.
The world is your oyster, rack of ribs, salad bowl or stew pot, depending on your style.  It's a great way to explore another culture, travel somewhere else, and bring people together.  There are seemingly endless opportunities to try something new, all you need is an open mind, or, if you're anything like me, the ambition to be that apartment you can smell on the first floor stairwell and wish you were eating at my place.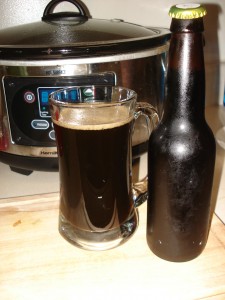 Thanks to family and friends, I've always felt most comfortable in a kitchen.  It's a gathering place, and some of my favorite memories have been made there.  I come from a long line of little old ladies (in body and at heart) who aren't happy unless they're feeding someone.  My favorite recipes come from my dear great-grandma, though I often venture into the jungle of cookbooks (they are not just shelf fillers in this home), our beloved "Joy of Cooking" has been renamed "The Food Bible."  Let's not forget the rabbit hole of Pinterest recipes – thanks to them I haven't repeated a dinner yet this year.  Experimenting in and of itself has also become a joy, I've become infamous for my "McGuyver meals": things thrown together based on what is in the fridge or pantry, the trick being to write it down so I can do it again.
My goal for this blog is to try new things, from cooking to baking, even occasionally peeking into the underground of home-brewing.  I find the culinary world a magnificent place for growth; I know I have a lot to learn – please bear with me, I'm new to the blogging world.  Along the way I'd also like to share some old favorites, because some things are just too good not to share.
I guess the only thing left to ask is, are you along for the ride? And what's for dinner?
How about this wonderful easy-to-make meal?
Slow Cooker Beef Carbonnade
The hot summer months is when I bond closest with my slow cooker.  Having a hearty meal without heating up the kitchen (and thus the rest of the apartment) appeals a great deal to me, and the less hassle, the better.  Don't get me wrong, I'll go all-out for a meal.  Being a creative housewife allows plenty of time for that, but knowing I don't have to watch over it while something percolates to make my neighbors jealous isn't such a bad thing.
Most of the recipes – for dinners at least – will be tweaked versions of someone's hard work.  I have a tendency of taking liberties with cookbook recipes, adjusting them to my own tastes, conveniences or based on what I have on hand.  I've come to find as a general rule of thumb, cooking is casual, it can be up for interpretation and rendition, whereas baking is much more unbending.
Last night for supper I made Beef Carbonnade inspired from the cookbook Slow Cookers from Bay Books. This really was one of those recipes that I could throw in the crock pot and run out the door for the day.  Here's how it went.
Beef Carbonnade
2 ½ lb. Chuck roast
3 onions cut into ½" slices
1 clove of garlic, smashed
1 tablespoon brown sugar, soft
1 bottle of stout or porter beer, like Guinness or O'Hara's (I happened to have a bottle of home brew on hand)
2 bay leaves
1 teaspoon thyme
1 teaspoon parsley
Into the slow cooker pour into the beer, add brown sugar, bay leaves, thyme and parsely, stir.  Add sliced onions, smashed garlic and roast.  In this case I left it on low for six hours, but if you don't have that much time, you can cook it on high for three.
When I walked back into our place at the end of the day, the smell of it certainly roused my appetite.  The only thing I would do differently next time is to throw some potatoes in with it to better round out the meal, though the meat and onions tasted fabulous alone.

Sally is a wife and domestic diva in Maryland. She approaches life with gusto, humor, and a passion that is unmatched. She is a classic woman, with a modern twist and is the kind of woman who will throw back a beer and watch Star Trek with her husband, and entertain the church croquette group with homemade cheese cake. Sally offers something for everyone, and is always experimenting and cooking up a storm in her kitchen.