Now is a great time to go to Verde in Canton during Summer Restaurant Week, Friday, August 2nd to Sunday, August 11th. Whether you have been before or never been, it is a great opportunity to taste their Neapolitan inspired dishes from antipasti, insaltate, pizze to dolce. For summer restaurant week Verde has a two-course brunch or lunch on Saturday and Sunday for $15 and a three-course dinner for $30 nightly. Optional wine and alcohol deals are available.
Nestled away in a more residential area of Canton, what was initially a Neapolitan pizza restaurant over the past seven years has grown into a full-service trattoria. Verde sits at the corner of S. Montford and Foster Avenue. One can grab an al fresco Peroni umbrella table or indulge in the rustic, yet stylized interior. Valet parking is offered nightly, $2 during the week, and $7 during the weekend.
Here is a selection of Verde's Summer Restaurant Week options I've relished recently.
Zeppole di San Zanobi – a fried dough puff with crescenza and prosciutto di Parma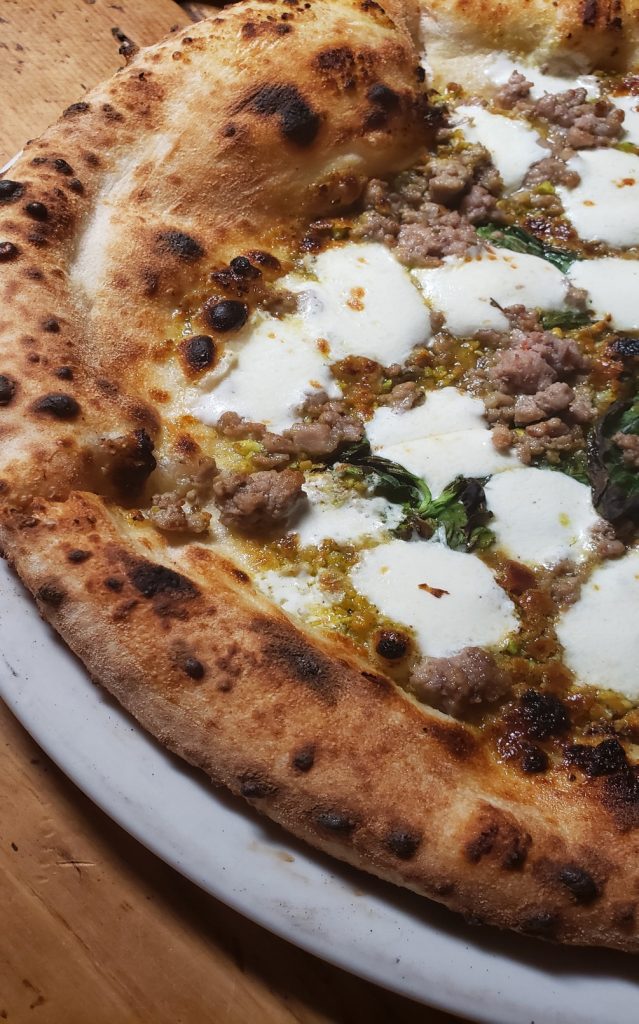 Pistacchio e Salsiccia – their housemade mozzarella, pistachio pesto, sausage, pecorino romano cheese, basil and extra virgin olive oil.
Salsiccia e Funghi – their housemade mozzarella, sausage, wild mushrooms, fresh ricotta, pecorino romano.
Torta al Cioccolato – flourless chocolate caked with whipped cream. Gelato not on Restaurant Week menu, although they do offer an array of gelatos nightly.
Grab yourself a reservation while they still exist for Baltimore Summer Restaurant Week or any other time of the year – you will be delighted with a Neapolitan meal – so much so, you will leave singing O Sole Mio.
Verde 
641 South Montford Avenue
Baltimore, Maryland, 21224
410.522.1000
info@verdepizza.com
www.verdepizza.com
www.baltimorerestaurantweek.com 
Social media @verdepizza