Trainwreck: Amy Schumer, LeBron James, John Cena score in romantic comedy
3 out of 4 stars
Meet Amy. 
She's attractive, loves to get hammered frequently at the bar and in bed and doesn't mind asking her man of the night to leave before the sun comes up.
She has a cushy job writing for a men's magazine and basically talks to her friends about sex, drinking and doing both all over again. Oh, and she'll slip out of a movie to get stoned outside the theater.
Yep, Amy is one chubby, walking trainwreck, which is appropriate since that's the movie's name.
Trainwreck is basically Amy Schumer's stand-up routine made into a movie that's a little over two hours of laughter.
Schumer, whose Comedy Central show has caused her popularity to skyrocket, isn't Hollywood's stereotypical leading lady. She's by no means a size 0, but her waistline is nowhere near the size of Melissa McCarthy's. Schumer won't be nominated for an Oscar anytime soon, but she won't earn a Razzie, which are given to Hollywood's worst performances of the year, either.
Schumer's self-deprecating humor carries much of Trainwreck, which she wrote and comedy czar Judd Apatow directed. Trainwreck isn't Apatow's best work, but considering he's been behind Bridesmaids, This is 40, Step Brothers, Pineapple Express, Knocked Up, Talladega Nights: The Ballad of Ricky Bobby, the 40-Year-Old Virgin and most recently Neighbors, Apatow's good is better than a lot of his colleague's great.
Schumer isn't a one-woman show. She's complemented well by Colin Quinn, Amy's father whose constant cheating on good ol' mom broke up the family, putting Amy on her path of distrusting men. Amy's younger sister Kim (Brie Larson, The Gambler) is the opposite of Amy as a married mother, while Dr. Aaron Conners (Bill Hader) shines as the boyfriend who will stop Amy from setting the walk of shame world record.
But it's two non-actors — WWE star John Cena and NBA star LeBron James — who take an above average movie and make it very good. Cena stars as Amy's latest fling, and the sex scene before they break up steals the show. James, however, doesn't get naked, but his one-liners are delivered as perfectly as his dunks on the basketball court.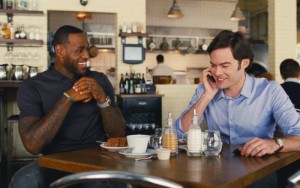 Trainwreck's story is the definition of a romantic comedy. Amy gets assigned to write a feature on Aaron, who's the next big thing in sports medicine. Amy not only dislikes sports; she mocks their stupidity. Aaron is employed by the Knicks and about to perform a revolutionary surgery on Amar'e Stoudemire's knee. But Amy — being Amy — sleeps with Aaron after meeting for drinks at a bar and of course, Aaron falls in love with her and things hysterically spiral out of control.
The movie doesn't drag and never goes more than a few minutes without causing the audience to laugh, which is expected since Trainwreck's supporting crew is basically the cast of Saturday Night Live.
But is Trainwreck funny enough to avoid being one at the box office?
R-rated comedies haven't brought a whole lot of smiles this summer, considering Ted 2 and Magic Mike XXL haven't reached their lofty expectations. Marvel's Ant-Man will offer stiff competition when it also opens Friday.
Still, Schumer's bandwagon has ballooned as she's gone from the stand-up circuit to TV and now to Hollywood, so this a trainwreck worth seeing.

Jon Gallo is an award-winning journalist and editor with 19 years of experience, including stints as a staff writer at The Washington Post and sports editor at The Baltimore Examiner. He also believes the government should declare federal holidays in honor of the following: the Round of 64 of the NCAA men's basketball tournament; the Friday of the Sweet 16; the Monday after the Super Bowl; and of course, the day after the release of the latest Madden NFL video game.