I always like to write about more than one restaurant at a time. Mainly because it gives me the opportunity to visit more than one and enjoy each and then write about them so the readers of baltimorepostexaminer.com have a place to eat. Isn't that just so selfless of me? Just say yes and let's move on.
We'll begin our tour at the Sheraton Baltimore North, 903 Dulaney Valley Road Towson and stop in Rain 903. The main and only dining area in the hotel. I think it is a truism that when people are deciding where to go to dinner, a hotel restaurant is usually not in the mix. Sometimes that's justified, but when the chef has about 40 years of experience in restaurants, like chef Donald Spence at Rain 903, you might want to think again.
Rain 903 is open for all three meals, seven days, as you would expect a restaurant in a hotel. There is also a Sunday buffet. At capacity, it serves about 100 including an area for private dining. Parking is provided at an adjacent lot but there is a charge. You can enjoy Happy Hour weekdays from 5 to 7 p.m.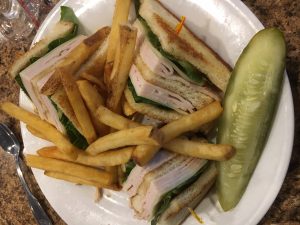 I was there for lunch and had the traditional turkey club and Maryland crab soup. Chef Donald told me some of the favorites on the luncheon menu includes the classic Caesar salad, spinach salad, the shrimp salad sandwich, and the traditional Reuben. Some of the favorites on the dinner menu include the crab cake slider trio, chicken wings, jumbo lump crab dip, the all American burger, the 12 oz New York strip steak and the pan-seared Atlantic salmon.
The menu does change just about when the seasons change. So that means look for a few additional items to be added soon. That also means a few currently on the menu could be replaced. You can believe the crab cake will still be there. In short, Rain 903 deserves a look.
You can reach them at 410-321-7400 or go to sheratonbaltimorenorth.com.
Now let's head downtown to Points South, 1640 Thames Street in Fells Point. I have been to this location before, when it was Melle, but never since Bryson Keens took over about two and a half years ago. I first met him at Roy's when he was the manager, now he can enjoy all the responsibilities as an owner. And, by the way, he seems to be doing a very good job.
Open seven days for lunch and dinner weekdays, with brunch and dinner Saturday and brunch only Sunday. The restaurant is on two levels with seating for about 200. In the warmer months, you can dine outside on Thames Street. I also noticed a cozy room Bryson called the Wine Room. This will seat six for a romantic or private dinner.
This definitely is casual. I mean come on, is there a formal dining room in Fells Point? Reservations are a very good idea on weekends.
Be sure to allow time to find a place to park. But calm yourself there is valet parking.
Now here's something you don't see every day. Every Sunday brunch Drag Queens perform. I heard it is a hoot. The cost is $35.00 for a show and dinner. And before you ask, no I am not one of them.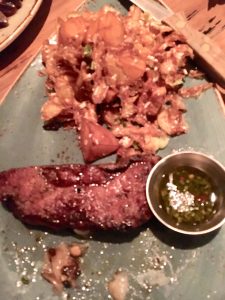 Bryson pointed out the signature items, but I have to tell you I had the grilled octopus and the fire grilled NY strip steak. I also tasted the Denver lamb ribs which were wonderful. Okay back to the signature items – there's the braised pork shank, the steak I had, the grilled salmon, the seared duck breast & leg confit and a side of Peruvian potatoes.
With a Wine Room, you'd expect a fairly full wine selection, and it's here. I  saw wines from around the globe – Argentina, Uruguay, Chile, Spain, Brazil, and Glen Burnie. Well, maybe not Glen Burnie. Prices by the glass are quite reasonable, the $7.00 to $10.00 range.
For dessert, I tried the apple cinnamon empanada ($10.00). This is vanilla ice cream and crème Anglaise. There is also an array of after-dinner cocktails. Gluten-free is available.
And here's another benefit of dining at Points South. After your meal, you can stroll the streets of Fells Point. Walk along the Thames or head up Broadway. No matter which way you go, you'll be entertained. For a visit that might make you think you arrived on another planet go down Halloween night. Take a camera.
Reach Points South at 443-563-2018 or go to pointssouthbaltimore.com. And let me end with a special thanks to Sharon who accommodated my request to change tables.