The Good Dinosaur: More like Pretty Good Dinosaur
2.5 out of 4 stars
Call it the ultimate regift.
Pixar's The Good Dinosaur certainly had promise: Earth wasn't hit by the huge asteroid that led to the extinctions of the dinosaurs about 65 million years ago. Instead, dinosaurs became civilized, with herbivores becoming farmers and carnivores minding herds. But what could have a fascinating storyline gets wasted in a movie that at its core, is a bunch of cartoon movies repackaged, just in time for the holidays.
You see the one that opens with the boy's father dying tragically? It's called The Lion King.
How about the one featuring two mismatched characters? Oh, that would be any Toy Story, Monsters or Cars film.
How about the one where the characters go on some adventurous journey? Sure, it's called A Bug's Life, The Incredibles, Finding Nemo or Wall-E.
How about the one where a child comes of age or finds his or her true calling? Yep, go check out Frozen, Brave or Inside Out.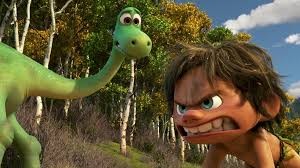 While those films were packaged as kid's movies, they were appealing to adults. The same can't be said for The Good Dinosaur, which is more a children's cartoon than a feature film.
The Good Dinosaur focuses on a timid, young Apatosaurus named Arlo (voiced by Raymond Ochoa), who gets separated from his corn-growing family. He misses his Momma (Frances McDormand) and his two older siblings Buck (Marcus Scribner) and Libby (Maleah Padilla), who must work even harder following the death of  Poppa (Jeffrey Wright).
Of course, Arlo befriends a Neanderthal boy named Spot (Jack Bright) and the two polar opposites embark on a journey to return to their homes. Spot, who walks on all fours and grunts, is more like Arlo's dog, but nevertheless emerges as the 100-minute film's most captivating character.
Arlo, the runt of the litter, is a coward. But when he gets whisked away in a river and lands hundreds of miles from home, he is forced to grow up – or die trying.
Arlo and Spot navigate what's basically the Wild West, where it's eat or be eaten. Of course, there's a family of Tyrannosaurus Rexes – with the leader voiced by Sam Elliott while the siblings are voiced by Anna Paquin and A.J. Buckley – who symbolize cowboys as they move their herd across the plains. But there's also velociraptors and pterodactyls, who see Arlo and Spot as nothing more than their next meal.
Director Peter Sohn – like the movie's title suggests – does a good, but not a great job of telling a dated story. His tale receives a boost by being in 3D, which breathes life into what could pass as the Colorado wilderness, complete with grassy plains, rolling rivers and snow-capped mountains.
Pixar is taking a risk with The Good Dinosaur, which almost became extinct. The film was scheduled to hit theaters in May 2014, but was delayed after Pixar got rid of director Bob Peterson and replaced him with Sohn. The move was significant because The Good Dinosaur will be Pixar's first film to open outside of the summer season since The Incredibles in 2004.  It also caused Pixar's highly anticipated Finding Dory, the sequel to 2003's Finding Nemo, to get pushed to June 17, 2016 after it was slated for a Nov. 25 opening.
The delay also left Pixar without a movie to show in 2014 – its first year without a picture since 2000 – and forced the studio to double down this year with Inside Out, which has made more than $851 million at the worldwide box office.
But only truly good films take home that kind of money and this dinosaur is more above average than good.

Jon Gallo is an award-winning journalist and editor with 19 years of experience, including stints as a staff writer at The Washington Post and sports editor at The Baltimore Examiner. He also believes the government should declare federal holidays in honor of the following: the Round of 64 of the NCAA men's basketball tournament; the Friday of the Sweet 16; the Monday after the Super Bowl; and of course, the day after the release of the latest Madden NFL video game.