The Game of Soccer was a Door Opener for me
From the soccer field at South Baltimore's Latrobe Park (just down the road from historic Fort McHenry), to the ones utilized by Calvert Hall College High School and the University of Baltimore, these fields were all a pathway for me to follow. It was the game of soccer itself that became one of the door openers in my life's journey.
Before there was soccer, however, there was this wonderful, inspirational recreation leader at Latrobe Park. Her name was Mae Dubow. She was built on the small side, like in the range of a U.S. Senator Barbara Mikulski. This was in the late 40s. I was in the ten-to-twelve-year-old slot back then.
I was part of a restless gang, we had no idea what we were going to do from minute to minute. (Mercifully, there were only two "dopers" in our Locust Point neighborhood back then. We were all told in the strictest terms: "Stay the hell away from those two losers!") So, the choices in the summer were to go swimming in the harbor and/or start a card game. That was it.
Ms. Dubow, to my astonishment, changed all of that.
Dubow slowly introduced us to track and field activities, volleyball and the game of softball. In fact, we even had a softball team under her guidance.
I recall one game we played over at Latrobe Homes in East Baltimore. Today, if you played there, it would be against a team of African-Americas. Back in that era, the competition was mostly Italians.
No, not the Italians from Little Italy! These guys were right off the boat from Italy itself. I recall after the game, some of us decided to walk home to celebrate our victory. Not a good idea since it was about five or six miles away. It took us over two hours to make the trip!
Another memorable game was played at the Broadway Pier on Thames St. in Fell's Point. There, they had designed a softball field high up in back of their building. It was surrounded by a large fence to keep the balls from going into the harbor.
Just in case, they had a long pole with a net on it to retrieve the balls that escaped. That happened often. The water-soaked balls were then put back into play to save money. Lord help you if you got hit in the head with one of them! You would think you had taken a punch from "Rocky" Marciano – the-then world heavyweight boxing champ.
(Note – On one occasion, a Locust Point club member of ours actually swam across the harbor from the foot of Hull St. to the Broadway Pier. It was a daring achievement considering the distance and the usual heavy ship traffic on the water. His name was William "Duke" Brown. He later joined the Baltimore City Police force and rose to the rank of Sergeant.)
My sports interest soon shifted to baseball. In that bygone era, the city's police department-sponsored teams all over the city.
The Southern District had a team for kids in the 10-12-year-old category. The police station was located just south of the Cross Street Market. They even had a pool table upstairs for us to use. I was then living in nearby Locust Point.
Our baseball coach was Sgt. Carl Lowman, a prince of a guy. Swan Park, off Hanover St, was our home field. I remember that season as a fun-filled year.
(I think it would be a great idea to see the police department bring back its youth-sponsored baseball program. A big assist from the players (with deep pockets) on the Baltimore Orioles baseball team would be very welcomed, too. Think partnership! I predict it could work magic in our city.)
Soccer turned out to be my game. It was one of the Malinowski boys on Hull St. that suggested that I should go out for the soccer team at Calvert Hall. It was 1954, and I was in my senior year.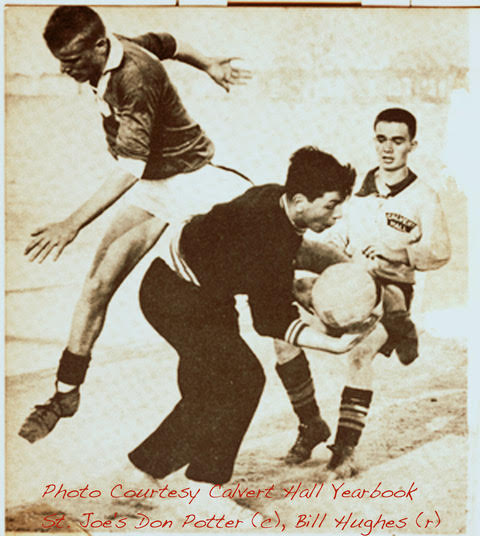 I'm glad I followed his suggestion. "The Hall" had a terrific coach from East Baltimore, "Hap" Groome. I made the team as a center forward and scored a couple of goals; one against the Park School and another against Poly.
The goal against Poly turned out to be the winning one in a 1 to 0 victory. I can't help wondering, tongue in cheek of course, if, when I pass Clifton Park at St. Lo Drive where we played that game: Why couldn't there be some kind of marker to signify that occasion? (Hell, I'll even pay for it.)
We won the MSA championship that year. Two of our stars were fellow Locust Pointers: Bill Schonowski and Pete Leichling. The later scored 11 of the team's 16 goals. I got lucky and made the MSA's all-conference third team. Leichling, of course, made the first-team all-conference.
After Calvert Hall, sandlot soccer entered the picture. I got asked to play for "Jules Morstein," a team for 16-19-year-olds, coached by Melvin "Unk" Jones. It was a Locust Point-based lineup. I quickly said "yes" to his request.
Coach Jones put some darn good players on the field, like the late Eugene Klemkowski. He played outside left on the team. His dad, Henry, owned the popular tavern then located at Fort Ave. and Woodall St. in Locust Point.
The soccer Gods were with the Jules Morstein team. It was the late '50s. We won the city championship that year by a nose over one of East Baltimore's best teams.
We then got invited to play in Philadelphia. Our luck, however, ran out there against the fabled "Lighthouse" team. We got whipped by a five to zip count. Let me tell you, it was a long bus ride home to Baltimore after that game.
Thanks to all of the above, I got offered a soccer scholarship to the University of Baltimore. I played two years for them – 1960 and 1961.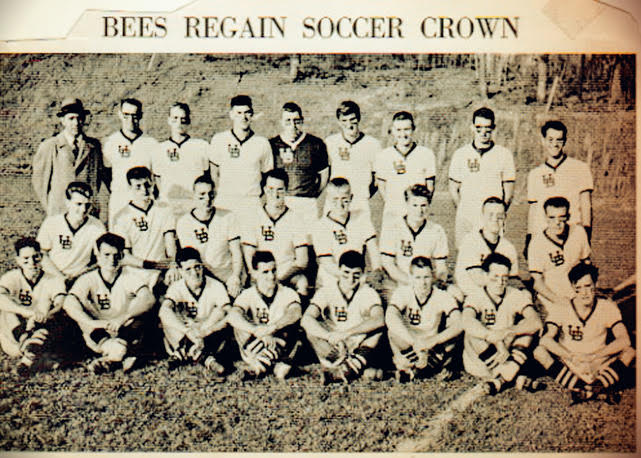 Our coach from East Baltimore was Howard Beck. He was a master strategist. In 1961, we won the Mason-Dixon Championship. One of the best players on our team was a stand out halfback from Locust Point – John Bauerle. I played outside right on that winning squad.
Moving on. The Associate in Arts Degree from U.B. led me to attend its law school in the fall of 1962. It was for three years of night classes after which I earned a JD Degree. I was working during the day as a Deputy Clerk in the courthouse at the time.
(One of my adjunct professors at UB Law was Spiro "Ted" Agnew. He was the Baltimore County Executive at the time. Later, he served as VP under Richard M. Nixon. Agnew taught a course in "Torts" and gave me an "A." He was a first-rate teacher – always prepared and dressed to the "T." I was very impressed. I know Agnew had a "hard fall from grace," but I still have fond memories of him.)
After law school and passing the Bar, I eventually landed a job in the City Solicitor's Office, in 1969, thanks to the patronage of the late State Senator, Harry J. "Soft Shoes" McGuirk. When I left in the late '70s, I held the position of "Chief of the Litigation Division."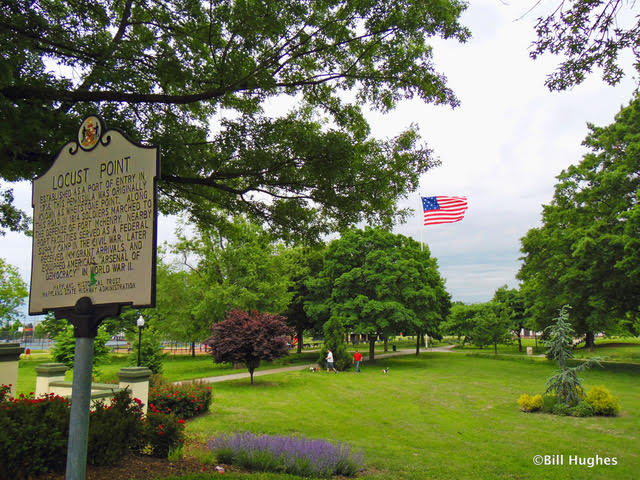 Let me emphasize the importance of my getting enrolled in athletics back in my Latrobe Park days under the tutelage of Mae Dubow. That fortuitous starting point can be traced in a straight line to where I ended up in the sports realm, which included getting that soccer scholarship to UB.
The soccer teams at Calvert Hall and the U. of Baltimore, along with the Jules Morstein team, with their terrific coaches and very talented players, all helped to shape who I eventually became. It is clear, in my fast approaching twilight years, that the game of soccer opened up a lot of doors for me for which I am forever grateful.

Bill Hughes is an attorney, author, actor and photographer. His latest book is "Byline Baltimore." It can be found at: https://www.amazon.com/William-Hughes/e/B00N7MGPXO/ref=dp_byline_cont_book_1