The Fab Faux invades DC: 'When a Beatle calls you to play with him, you play with him'
After bassist Will Lee listened to the message on his answering machine, he called his brother right away.
"Great George impression," Lee quipped. His brother was known to do a spot-on George Harrison impression.
"I didn't call you," his brother replied, confused.
Luckily, Lee hadn't erased the message because it turns out that George Harrison really had called him that day.
"He asked if he could steal me away from 'that television program' to join him playing at Royal Albert Hall," Lee recalls. At the time, Lee was still playing with the CBS Orchestra, led by Paul Shaffer, that was the house band for "Late Night with David Letterman."
While that gig alone was a primo one—which lasted 33 years–when a Beatle calls you to play with him, you play with him.
It wasn't known at the time, but that would be the last concert that George Harrison played under his own name.
Forming the Band
Music has been in Lee's blood practically since birth. Although he switched from playing drums to the bass guitar in his teens, he has had a hugely successful career with his chosen instrument. In addition to playing with Shaffer, he's played on more than 1,800 Pop, Jazz, and Rock albums, with the likes of James Brown, Aretha Franklin, Mick Jagger, Luther Vandross, Bette Midler, Diana Ross, Liza Minnelli, Barbra Streisand, Frank Sinatra, Billy Joel, and Carly Simon, among many others.
Although he has played with or on albums with all four Beatles (we'll get to that later), Lee wanted to start a band to cover their music. But he was hesitant. "When I looked back to everything I do musically for a living, it all started with The Beatles," Lee says. "There were already Beatles cover bands, who do a very good job of it."
Then, though, Lee met drummer Rich Pagano, who plays, Lee says, much like Ringo Starr. "It dawned on me that it would be fun to try to bring the Beatles records—not dressing up like them with wigs and stuff—to the stage with this guy and some like-minded people who really understood how great the records are," Lee says.
While Lee was pondering this, he was standing next to the guy who then booked music at a New York City club called the China Club. Although it's closed today, in 1998, it was rockin'. Lee asked him if he put together this Beatles band if he'd have them play there. "Of course," the booker said.
"I thought, 'Oh my God! Now I'm kind of committed to doing this,'" Lee recalls.
After he had Pagano on board, Lee wanted Jimmy Vivino, the musical director for "Conan," Conan O'Brien's show. Luckily Vivino then lived in the same apartment building as Lee. "I wanted him because he's a musical archivist and knows the inner workings of a lot of records. I was able to corner him daily in the elevator to ask him to join," says Lee, laughing. "Finally, he caved."
Lee was then introduced to Frank Agnello and Jack Petruzzelli, and he knew they were the perfect finish to the band he envisioned. (Yes, The Fab Faux has five members. Because they focus on the music, as opposed to dressing up like The Beatles, Lee says that he wanted more voices on stage so that they can "Have this great timbre coming from the combination of voices," as he says. This also allows them to play songs live that The Beatles never could.)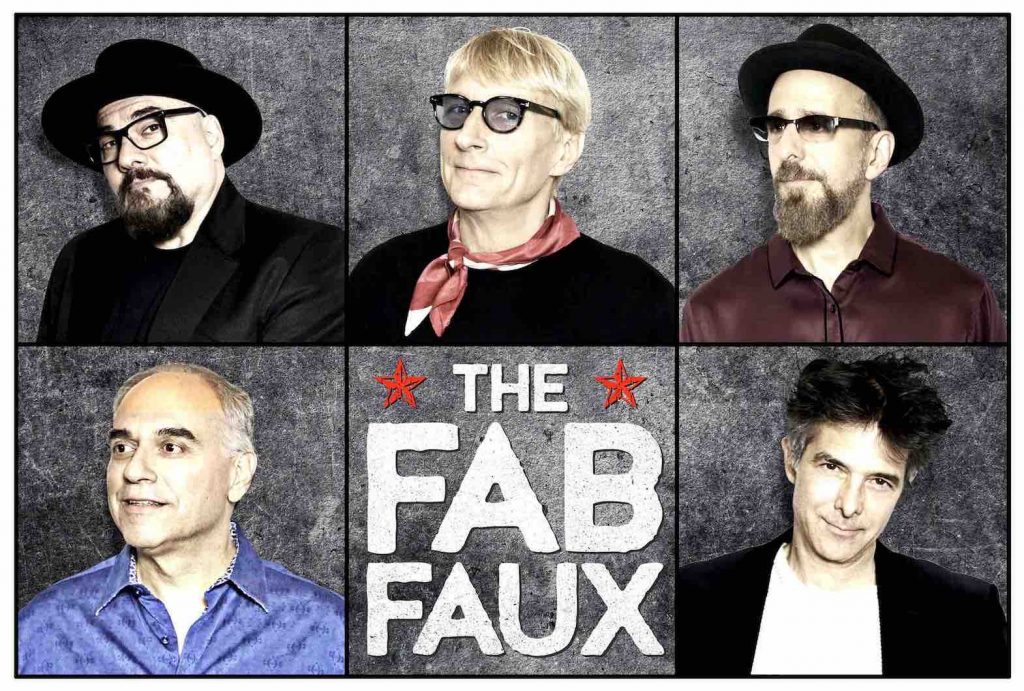 21 Years Later
Having lasted longer than many marriages, The Fab Faux still tour, even though Vivino lives in Los Angeles, rather than New York City where the others reside. Lee admits that there have been times when the guys had verbal altercations about how they were going to play the music: "We realized that the music is already gone the way it's going to go; we've just got to get to it. We all have the same goals in mind," Lee says. "But in the end, we get on stage, and everybody's all smiles, and we realize that we went through that stupid stuff to get up there, to the great stuff. We don't do the stupid stuff anymore."
Over the years, the band has come up with different types of shows to keep audiences enthralled. "We did a theme one time—The Beatles in Black and White and in Color—where we did the basic rock and roll and then the psychedelic songs," explains Lee. "They've done so much in their body of work—213 songs. There's always flavors that can mix and match."
When they appear on Saturday, October 26 at The Hamilton Live in Washington, D.C., they're focusing on favorites from the White Album and a mixed set. For the future, Lee is toying with the idea of a Beatles animal theme.
Playing with Others
Back to Lee's playing with the other Beatles: His first encounter was being asked to play on Starr's fifth studio album called Ringo's Rotogravure. It was the last one of Starr's that would feature contributions from all four Beatles. Lee was asked to replace the original bass player on the John Lennon-written song, "Cookin' (In the Kitchen of Love)." While he didn't meet Lennon, Lee played on that track, which Lennon not only wrote, but also played the keyboards on. In that sense, Lee played with him.
As for playing with Paul McCartney, Lee did that when McCartney organized The Concert for New York City, which was held shortly after 9/11. Lee had always wanted to play with McCartney and says that he "put it out into the universe." Paul Shaffer's band ended up being the house band for the concert, so Lee got to play not only with McCartney, but also with David Bowie, James Taylor, Mick Jagger and Keith Richards, and many more.
"Paul and I have been in touch since," Lee says.
Still Fresh
Even though he's played it in Tthe Fab Faux for 21 years, Lee says that the music of The Beatles never gets old. "Every time I prepare for the next show, and I go back and listen to the music, I still hear something that I hadn't heard before," Lee says. "It's the music that keeps us hanging in. It's the music that keeps us coming back every time."
The Fab Faux performs at The Hamilton Live in Washington, D.C. on Saturday, October 26. For more info, go to https://live.thehamiltondc.com/.

Michele "Wojo" Wojciechowski is a national award-winning writer and author of the humor book Next Time I Move, They'll Carry Me Out in a Box. Her work has appeared in publications such as Vanity Fair, Esquire, Parade, Discover, AARP, PBS' Next Avenue, Family Circle, Reader's Digest, and many more. Over the last few years, she's been learning to play the drums and dreams of playing one song with the Foo Fighters. Oh yeah, and she's got a Xena Warrior Princess costume hanging in her closet. Don't ask. Reach her at WojosWorld.com, Twitter @TheMicheleWojo, Facebook WojosWorldFanPage.com.