I still think the next best thing to traveling the world is to eat food from all over the world. Since getting married, my husband and I have gone to Ireland, Germany, Mexico, Morocco, Italy, France, China, Japan, and Thailand.  Within the last couple weeks, we've tasted India.  It's not our first plate visit to India, some friends took us out to a place a year or so ago.  I just had no idea it was so easy to visit from home!
I stumbled across a buzzfeed list of Indian dishes to try at home, and since making this meal, I've decided to make it a checklist.  To make your own checklist, read the article here.  In the mean time, let me tell you about these incredible dishes.
I'll start with side dish. Technically, my side is an entree, but I' eat these for breakfast, lunch, or dinner.  To say that Aloo Tikki is an Indian potato pancake would be an enormous understatement.  Sure, it's a potato-based patty, but it's a flavor bomb.  Mixed into these are all sorts of spices, peas, onion, peppers – I would have eaten a lot more vegetables as a kid if they were made like this.   I've been teasing too long, so here's the recipe.  Really, so easy!
Aloo Tikki (from Pinch of Yum)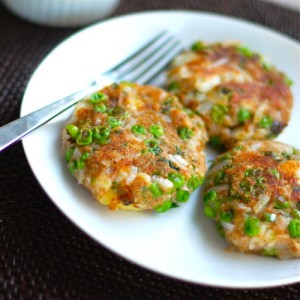 3 large potatoes, peeled, boiled and mashed
¾ cup frozen peas (uncooked)
½ large onion, chopped
1 jalapeno pepper, minced
1 tsp. chili powder
2 tsp. garam masala
1 tsp. cumin powder
1 tbs. grated ginger
1 handful fresh parsley or cilantro leaves, chopped
2 tbs. bread crumbs (I used panko)
4 tbs. flour
Heat a little oil over medium-high heat and fry a few minutes on each side until golden brown. Drain and cool on paper towels.  Serve with any kind of sauce you like.
The main dish of our meal is a staple of Indian cuisine.  At least, westernized Indian cuisine. Nonetheless, this stuff is amazing. It's also more what we think of when we hear about Indian food – meat served in a thick, creamy sauce.  It's worth noting the meat isn't cooked in the sauce, it's delightfully marinaded, and then broiled (or grilled, when available) and then happily nested in the sauce.   The original recipe calls for the meat, once cooked, to hang out in the happy spicy hot tub of a creamy tomato sauce.  Since I was reducing the recipe, and I was in hurry, I decided to just top the chicken with the sauce and serve it with chapati (an Indian flatbread) and the aloo tikki.
Tikka Masala (from Chew Out Loud)
1 tsp salt
½ tsp ground cumin
½ tsp ground coriander
¼ tsp cayenne pepper
2 lbs boneless, skinless chicken breasts – dried well, pounded evenly flat
1 cup plain (unsweetened) whole milk yogurt
2 TB vegetable oil
2 tsp ground ginger
1 TB ground garlic
FOR THE SAUCE:
3 TB vegetable oil
1 onion, finely chopped
6 garlic cloves, minced
2 tsp grated fresh ginger (peeled)
¼ tsp chili powder
2 TB garam masala
1 tsp ground cumin
½ tsp ground tumeric
1 TB tomato paste
1 (28 oz) can crushed tomatoes, undrained
2 tsp sugar
⅔ cup heavy cream
¼ cup chopped fresh cilantro
dashes of kosher salt to taste
DIRECTIONS
For the Chicken: Combine salt, cumin, coriander, and cayenne in small bowl. Sprinkle both sides of dry, evenly-pounded chicken with spice mixture, pressing in so mixture sticks. Place chicken in single layer and set aside. Whisk yogurt, oil, ginger, and garlic together in large bowl and set aside.
For the Sauce (can be made a day or two before, without chicken): Heat oil in large heavy pot over medium heat. Add onion and cook until golden, about 8 minutes. Add garlic, ginger, tomato paste, and cook about 3 minutes. Add the rest of sauce ingredients and bring to boil. Reduce to medium low, cover, and simmer 15 minutes, stirring occasionally. Lastly, stir in cream and return to simmer a few minutes. Remove from heat and cover to keep warm.
While sauce is keeping warm, place oven rack 6 inches from heat broiler. Dip chicken well into yogurt mixture, coating with thick layer of yogurt. Arrange each piece on wire rack lined with aluminum foil. Broil chicken about 5-9 minutes, flip over halfway, and broil another 5-9 minutes. The exterior will be lightly browned in spots.
Let chicken rest 5 minutes. Cut into bite size chunks and stir into warm sauce when ready to eat. Do not simmer chicken in the sauce. If sauce needs warming, warm it up first and then toss the chicken in when ready to serve. Lastly, season with kosher salt to taste, toss in fresh cilantro, and serve immediately over Basmati rice.
Tip of the week: According to Bobby Flay, if your marinade is very acidic, then don't let your meat marinade for much longer than four hours.  After that, the acids, in yogurts, vinegars, citrus, etc., begins to break down the meat, and give it something of a spongy texture.

Sally is a wife and domestic diva in Maryland. She approaches life with gusto, humor, and a passion that is unmatched. She is a classic woman, with a modern twist and is the kind of woman who will throw back a beer and watch Star Trek with her husband, and entertain the church croquette group with homemade cheese cake. Sally offers something for everyone, and is always experimenting and cooking up a storm in her kitchen.