Taking in the artworks at Glenstone and topping it off with lunch at Salsa Grill
This time of year is ideal for those day trips you've been planning all summer. Lucky for you I'm available with suggestions.  Like this one, Glenstone, 12100 Glen Rd, Potomac.  One side benefit from a visit here, on the way you'll pass by homes big enough for eight families. But I digress. What do these people do?
Glenstone, which opened in 2006, is open Thursday through Sunday from 10 to 5. About 450 people pass thru each day. They strongly suggest you make reservations for your arrival on their website. This helps control the number of people on-site at the same. Walk-ins, however, are welcome.
When you arrive the first stop is the Arrival Hall. Here you'll be asked to place such items as bags, umbrellas, pocketbooks, etc in a locker. You should also pick up a handy brochure. And be sure to use it.
The brochure states, 'Glenstone is a place that seamlessly integrates art, landscapes, and architecture into a serene and contemplative environment.' And they want to keep it that way. It was founded by Mitchell and Emily Rales.
"Glenstone assembles post-World War II artworks of the highest quality that trace the greatest historical shifts in the way we experience and understand art of the 20th and 21st centuries," is what the founders say on their website.
Basically there are two main parts.  Attached to the Arrival Hall are 11 connected pavilions. Each one small and containing wonderful pieces of art with an explanation on a sidewall. In each pavilion is a well-trained guide. Don't be shy. Ask questions. That's why they're there.
In the middle of the pavilions, and outside, is the Lotus Pond, complete with a bench. Do what I did, spend a few minutes and relax.
The second part is located down a path where you'll find two food outlets, The Cafe (heavier fare) and The Patio (lighter fare). Close by are two pavilions with indoor art. The current exhibit is Fear Eats the Soul. Don't forget to venture down there.
Here are a few general rules to follow when you visit – visitors must be 12 or older, no cash accepted in restaurants, no smoking, no touching objects, stay on marked paths, no indoor photography. But here's the primary rule – have a great time and enjoy yourself.
Reach Glenstone at 301-983-5001 or go to glenstone.org.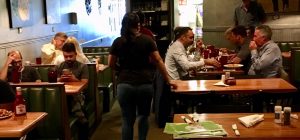 After all that walking, and as I do each time I exit a museum, it's time to eat. For that, we're heading to 6644 Security Blvd, across from Social Security, and stopping at Salsa Grill. Here's one amazing fact about this place, it has been operating at this location by Jay Angle since 1993.
Let me do that again. A restaurant at the same location run by the same owner for 26 years. That my friends is unheard of in the restaurant business, where the average run is five years.
Open for lunch and dinner seven days (though breakfast is being considered) you might want to call this a Peruvian restaurant. And yes there are menu items that back that up, but also on the menu are subs, salads, sandwiches, wraps, and soups.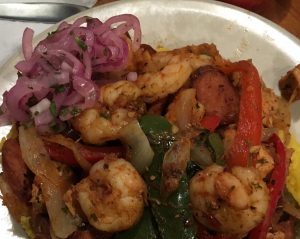 Most of the produce is local, carry out is available, seating for about 100, Jay will do on and off-premise catering, plenty of free parking and the desserts are done in house. One day I'll tell you about the plain and cookies and oreo cheesecakes.
House favorites include the jumbo lump crab dip, Empanada de Espinaca (spinach pie),  caesar salad, vegetarian stir fry, grilled chicken fra diablo (what I had) and the all-time favorite the Caribbean Paella.
Salsa Grill can be reached at 410-265-5552 or go to eatsalsagrill.com.

Eddie Applefeld is a Baltimore native and a graduate of Towson University. He has been in the broadcasting profession for over 30 years. Currently he is the Promotions Director of WCBM radio. Before that, he was part of the Rouse & Company show on WQSR, host of a cable TV show called Dining Out and adjunct instructor at Towson.
His past accomplishments include being named a finalist in Baltimore Tourism's Employee of the Year Program and winner of Toastmaster's Speaker of the Year contest. He was also twice a heartthrob for the American Heart Association's gala fund raiser.