Tahmooressi is home but questions linger
Andrew Tahmooressi getting on a private jet after being released from a Mexican jail.
(Local TV station screen grab)
Now that Andrew Tahmooressi is freed from the Mexican jail and comfortable in his Florida home, it's time for the young Marine Reservist to come clean. He doesn't have a long jail sentence in a foreign country hanging over his head, although he might be guilty of a few misdemeanors at least in California that he still needs to answer for, before this is completely over. Not to mention any military charges if he is charged for missing his unit's training rotations while incarcerated.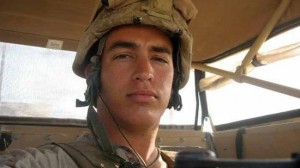 First question though is: Why was Tahmooressi traveling into Mexico with loaded weapons? Let's take one step back even: why was he breaking California law by driving with loaded weapons in his vehicle? Ask any legal professional and they will tell you, especially if you are facing charges, ignorance of the law is no defense — it isn't a valid excuse.
And let's remember Tahmooressi was here in the San Diego area for about a month before he was detained in Mexico. Which begs the question: where was he staying for that time while he claims he was looking for housing?
The reason he gave for having the loaded weapons in his truck, and this isn't a valid reason either, is that having them made him feel safe. Well, everyone wants to feel safe, but we don't all drive around with loaded weapons in our vehicles.
Why was he bringing loaded weapons into Mexico? It's a clear violation of Mexican law.
Okay, at this point we have to address another inconsistency in his story: the claim that he made a wrong turn that landed him in Mexico. I watched Greta van Susteren's little piece on Fox News about Tahmooressi's alleged "mistake" and she was trying to convince us that it was easy to make that mistake and that the ramps weren't clearly marked, even though the video we were seeing in her report showed the signs clearly marking the freeway exits and onramps.
Yes, the signs had graffiti on them, but they were easily legible. But okay, for a first time visitor to San Ysidro, the last municipality on the U.S. side of the border, the freeway onramp on that street can look weird at the very least. But for anyone who has been there before and parked on the U.S. side of the border and walked across into Mexico, you know the one onramp leads north and the other south toward Mexico — it's clearly marked. The night Tahmooressi was arrested was not his first trip to Tijuana. He has admitted to parking in the same parking lot before, without any incidence of mistakenly crossing into Mexico.
So what was different about this time on March 31 of this year? Was he under the influence? One of the excuses used was that Tahmooressi is "easily distracted." And this was caused by his Post Traumatic Stress Disorder. No one has ever successfully used "easily distracted" or PTSD as an excuse for committing a crime. Although we can now say one person has successfully used PTSD to get out of a Mexican jail.
Another question, and this assumes Tahmooressi was "easily distracted" and made a "wrong turn" that put him on the southbound I-5 freeway going to Mexico, when he got to the U.S. border agents, why didn't he ask them for help to get to the turn around on the U.S. side of the border? He wouldn't have been the first U.S. citizen to do so and he wouldn't have been the first to be directed to that spot where drivers can turn around before entering Mexico.
This brings up one other possible scenario that you know someone is going to postulate: maybe Tahmooressi didn't know at that moment he was about to enter a foreign country.
Okay, even though border agents stop and at least look in every vehicle about to cross into Mexico, maybe Tahmooressi did ask, but didn't get a response or maybe he didn't have a chance to ask. Those are mighty big "if's."
Anyone who has crossed into Mexico in a motor vehicle knows the drill. Have valid Mexican auto insurance — that's rule number one — and then be prepared to stop. The wait on the U.S. side of the border is not very long and the border agents will only pull aside anyone that looks suspicious. One can easily roll down a window and ask the U.S. border agent, "Hey! How do I turn around? I don't want to enter Mexico."
The long waits you might read or hear about are for vehicles entering the U.S. Which is one reason many of us will park on this side of the border, walk across and get a Mexican taxi, if we're only going into the touristy areas of T.J.
And the structure that is the border crossing into Mexico is so massive — and the large, lit, Mexican flag so visible — one cannot reasonably argue they did not know they were about to enter a foreign country. You can argue it, but those of us that live here will only laugh. You can clearly see the border crossing and the Mexican flag from miles away. And if you've crossed into Mexico more than once you know that flag and that massive building off in the distance.
Once in custody why did he lie when he was first arraigned in the Mexican legal system? His excuse for that was his Mexican lawyer told him to lie. Okay … but Mexican authorities had video to back up their side of the story, so what would be the point of denying what is clearly on video?
According to that Mexican attorney, Alejandro Osuna, Tahmooressi had already lied to the authorities when he was first detained, by saying he had never been in Mexico before that night. So Osuna recommended Tahmooressi stick with the story, rather than amend it to say he had been in Mexico before, including earlier in that day. Obviously Osuna's advice was flawed, to say the least. The Mexican Customs for Tijuana produced a video of Tahmooressi crossing the border on foot, refuting that lie.
And the head of the Mexican Customs for Tijuana, Alejandro González, said, "He never said that he was lost, he never informed us that he was carrying weapons, and he never said that he was a former member of the armed forces."
According to González, Tahmooressi was initially detained because he didn't have a front license plate on his truck, so the Mexican border agents pulled him over for further inspection and that's when they found the firearms and, according to phone records and video, that is when Tahmooressi tried to call 9-1-1.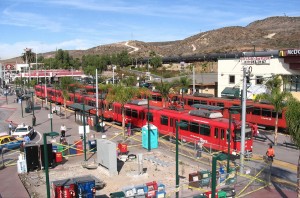 He didn't accidentally cross the border, roll down his window and tell a Mexican border agent, "Hey! I crossed into Mexico by mistake. Can you help me get back to the U.S.? Oh, and by the way, I have three weapons in my car: a military grade rifle behind the seat, a shotgun on the passenger seat and a .45 automatic in the door."
In case this isn't clear: leading up to the border crossing from San Diego there are a multitude of signs saying you will be crossing into Mexico and, by Mexican law, it is illegal to bring firearms into Mexico.
Anyone who has travelled as far south as San Ysidro and Imperial, California would have seen the signs.
Once in custody, why did he try to escape? Again the PTSD is used as an excuse.
•••• •••• ••••• •••• ••••
Here's one of the things I find personally bothersome, offensive even: thousands of U.S. veterans suffer from Post Traumatic Stress Disorder, many of them untreated. We need to do a much better job of treating our veterans with PTSD. There's no reasonable excuse for not doing so.
Most of these thousands of vets suffering from PTSD have not committed any crimes, other than traffic violations all of us fall prey to on occasion. For those who have committed more serious crimes, PTSD is not a defense. A judge might take it into consideration upon sentencing if the vet is convicted, a judge might even order treatment, but a diagnosis of PTSD does not get a veteran off if convicted of a serious crime — and driving with loaded firearms in California is a serious offense.
It is offensive to use Tahmooressi's diagnosis as an excuse for his actions, as all his supporters have been doing for the past six months. PTSD is a serious condition; life threatening for many and waving it around like a "get out of jail free" card diminishes the credibility of those who are diagnosed with PTSD.
A lot of people, vets and others, worked long and hard to get PTSD recognized as a real condition that can occur as a result of combat and should therefore be treated by the Department of Veterans Affairs. The V.A. didn't just wake up one day and say, "Hey let's treat Post Traumatic Stress Disorder!"
Seeing it used, often in partisan political attacks, is offensive. Let's treat Tahmooressi and the thousands of other vets with PTSD, but stop using it for partisan political purposes.
•••• •••• ••••• •••• ••••
Which brings up this little bit of the story: right wing folks have been using this incident to beat the drum that our president doesn't care about a Marine locked up in a Mexican jail for breaking Mexican laws. With Tahmooressi's release they claim it was done without any help from the Obama Administration.
Tahmooressi's release was negotiated by former New Mexico Governor Bill Richardson — a Democrat by the way — with two Republican Congressmen, Ed Royce of California and Pete Salmon of Arizona. Many "news" accounts conveniently leave out Richardson's political affiliation or that Montel Williams, the civilian former talk show host who also used his celebrity to bring the situation into the public eye, had a radio program on Air America, the failed liberal radio network.
Our Secretary of State brought up the plight of Tahmooressi when he last got together with the Mexican President Nieto in May, when the secretary was in Mexico for talks with the Mexican government. U.S. authorities have been negotiating with their Mexican counterparts for Tahmooressi's release, they have just taken time. This is true of every prisoner release: no one negotiates with a foreign government without the consent of the State Department and the administration. It just doesn't happen.
Bill Richardson has been an emissary before, negotiating for the U.S. with Saddam Hussein, Fidel Castro, the North Koreans — the Taliban. He's done it during Republican and Democratic administrations. So it probably seemed like a logical choice to have Richardson oversee the Tahmooressi affair.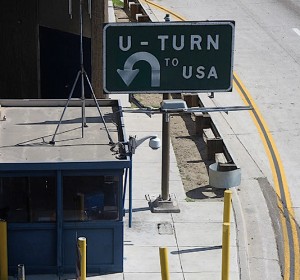 If you think the young Marine was freed from the Mexican jail without any assistance from the State Department and the Obama Administration, or that their input was minimal at best, then you are on a flight from reality.
•••• •••• ••••• •••• ••••
It's good that Tahmooressi is home, resting comfortably. he served as a Marine commendably while in Afghanistan and should be recognized for his service. I hope he got his steak dinner. It's unlikely he will face any charges in California for having loaded weapons in his vehicle while driving on California's roads, so he can stay in Florida, where he is receiving treatment for his PTSD.
But once he's fully rested it will be time for him to man up and tell the truth about what happened that night because the story he is telling now stinks and it does a disservice to everyone that has ever worn the uniform.

Tim Forkes started as a writer on a small alternative college newspaper in Milwaukee called the Crazy Shepherd. Writing about entertainment issues, he had the opportunity to speak with many people in show business, from the very famous to the people struggling to find an audience. In 1992 Tim moved to San Diego, CA and pursued other interests, but remained a freelance writer. Upon arrival in Southern California he was struck by how the business of government and business was so intertwined, far more so than he had witnessed in Wisconsin. His interest in entertainment began to wane and the business of politics took its place. He had always been interested in politics, his mother had been a Democratic Party official in Milwaukee, WI, so he sat down to dinner with many of Wisconsin's greatest political names of the 20th Century: William Proxmire and Clem Zablocki chief among them. As a Marine Corps veteran, Tim has a great interest in veteran affairs, primarily as they relate to the men and women serving and their families. As far as Tim is concerned, the military-industrial complex has enough support. How the men and women who serve are treated is reprehensible, while in the military and especially once they become veterans. Tim would like to help change that reality.