South Pacific: Tidal wave of talent hits beach at Olney Theatre
Jessica Bennett, Calvin McCullough, Jessica Lauren Ball, Chris Rudy, Amanda Kaplan, David Schlumpf, and Christina Kidd in "There is Nothin' Like A Dame" in SOUTH PACIFIC. (Photo: Stan Barouh)
Before I hike up my grass skirt and jump into this critique with both feet, two things must be firmly established. One: There is nothin' like a dame. Nothin' in the world. And two: There is nothin' quite the same as Olney Theatre's season-opening production of Rodgers & Hammerstein's melodic comedy/drama, South Pacific.
Flawlessly directed by Alan Muraoka, South Pacific is the 1949 musical based on James Michener's Pulitzer Prize-winning collection of short stories, Tales of the South Pacific. The musical revolves around several characters from Michener's book: Nellie Forbush (a Navy nurse), Frenchman Emile de Becque (a plantation owner), Joe Cable (a young Marine lieutenant), and Tonkinese expats "Bloody Mary" and her daughter, Liat. Stitching the stories together is Seabee Luther Billis, who acts as both comic relief and the conscience of several characters.
To say that the original production was a bonafide hit would be a gross understatement. The show (which starred Mary Martin and Enzio Pinza) won ten Tony Awards, a Pulitzer Prize for Drama, and ran on Broadway for 1,925 performances.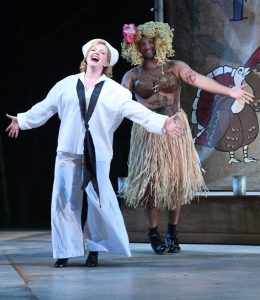 Olney's enjoyable effort is also victorious on several tactical fronts.
On the home front, South Pacific magically transports the audience halfway around the globe to the south sea islands and the workaday world of the U.S. Navy during WWII. From the simplicity, utility, and elegance of the sets, to the use of lighting to evoke the allure of Bali Hai, this production neatly navigates South Pacific's ever-changing tides without once rocking the boat.
Behind the lines, the choreography has a natural pace that is always in tune with the spirited numbers. This is especially true in the use of the reprise of Honey Bun to evoke the pathos of youth going off to battle. The show also features a live orchestra – an increasingly rare treat in musical theatre these days. And though the first few notes of the orchestra were a bit wobbly, the musicians quickly settled into a wonderful evening of mellifluous melody.
Manning the decks (and most important), it doesn't hurt that Muraoka has assembled a near-perfect cast. From the youngest members (who are really good at being children, not child actors, and yes, there is a difference) to the nurses, naval officers, seamen and Seabees who support the accomplished leads, the audience is treated to fluid movement, strong vocals and relaxed repartee in a plot which has comedy, drama, dangerous heroics, bawdy humor, and a sad/happy ending.
Cheryl J. Campo (as Bloody Mary) eschews what could be a tiresome characterization and delivers a performance with both heart and depth. Likewise, Alexandra Palting (Liat) pours a war's worth of emotion into her brief encounters with Lt. Cable (Alex Prakken). Eager, sweet, passionate, a somewhat stubborn child/woman, Palting's performance is impressive – especially for a character that is mostly conveyed through her face and actions, with very little dialogue.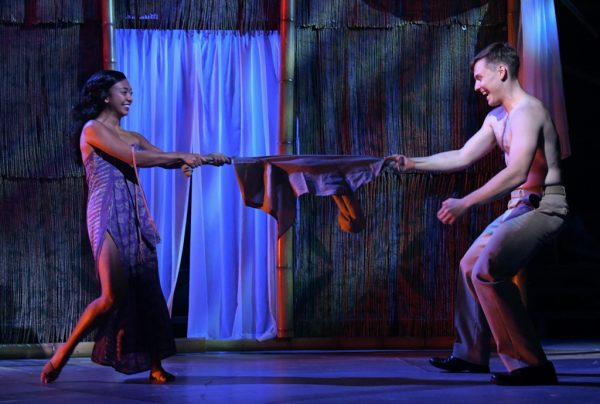 Prakken's speaking voice is not my particular cup of tea (a bit nasal for my tastes), but his acting plays well, and he shows a surprising singing power in Younger Than Springtime.
As down-home girl-next-door Nellie, Jessica Lauren Ball stays true to the tradition started by Mary Martin and washes that man right outta her hair onstage (kudos to the set designer/builder/Seabees for the military shower). Ball also adroitly handles the wide range of emotions Nellie experiences as her relationship with Emile unfolds.
If one silky voice stands out from amongst this capable cast, it is the that of William Michals as Emile. Admittedly, Emile gets what are usually recognized as the juiciest numbers in the show (Some Enchanted Evening and This Nearly Was Mine.) Michals effectively performs both, with the second (a song of remorse and longing for what might have been) powerfully performed in an operatic tone somewhat reminiscent of the Soliloquy in Carousel.
And then, there is David Schlumpf as Luther Billis.
Schlumpf's Billis delightfully carries the cast from engaging scene to scene. Everything he says has a silly go-for-broke edginess to it – less like Ray Walston (who played the part in the disappointing 1958 film version) and more like the immortal Paul Lynde (who never played the part but always had a snappy riposte). Were it not for the strength of the other players, Schlumpf might have easily stolen the show.
It should be noted that the theme of racial bigotry against Polynesian women may seem a little dated. That is unless you realize there are still people today who are blindly hating others but can't give a tenable reason as to why; and who hate themselves for their prejudice. The number, You've Got to be Carefully Taught, makes the point without pounding us over the head. Just one more reason why, seventy years on, South Pacific remains a crowd favorite.
The running time of South Pacific is a good two hours and forty-five minutes. Even so, we wanted to remain on that south sea island just a while longer. The audience was on its feet almost from the moment the show ended; not surprising, as many cheers and bravos were heard at the end of individual songs.
There were even some whistles when the nurses jogged across the stage.
The girly, womanly, female, feminine dames notwithstanding, this is a production I would like to see a second time.
Bali Hai-ly recommended.
* * * * *
South Pacific runs now through Oct. 7 on the Mainstage of Olney Theatre. Running time is 2 hours and 45 minutes with one 15 minute intermission. Olney Theatre Center is located at 2001 Olney-Sandy Spring Road in Olney, Maryland. Tickets and other information may be found by visiting Olney Theatre Center.

Anthony C. Hayes is an actor, author, raconteur, rapscallion and bon vivant. A one-time newsboy for the Evening Sun and professional presence at the Washington Herald, Tony's poetry, photography, humor, and prose have also been featured in Smile, Hon, You're in Baltimore!, Destination Maryland, Magic Octopus Magazine, Los Angeles Post-Examiner, Voice of Baltimore, SmartCEO, Alvarez Fiction, and Tales of Blood and Roses. If you notice that his work has been purloined, please let him know. As the Good Book says, "Thou shalt not steal."