It's that time of year: flowers begin to bloom, crazy teenagers fall in love, and theaters start to give us a sneak peek of what's in store for us.
Here's what's on the line-up so far:
The 2012-13 season is Artistic Director Kwame Kwei-Armah's first chance to put his own vision on stage for a full season, and CENTERSTAGE's 50th anniversary promises thought-provoking fare aimed at striking "conversation" via classics, new works and two world premieres (including one from Kwei-Armah). There's not a musical or straight comedy in-sight, but more darkly humorous fare. Kwei Armah, however, did promise the Baltimore Sun we'll see some lighthearted fare in future seasons.
An Enemy of the People by Henrik Ibsen and adapted by Arthur Miller.  Sept 19-Oct. 21
Miller adapted Ibsen's dramatic and darkly comedic examination of the morality of the masses in this riveting story pitting brother against brother as a community must decide whether to reveal the contamination of its highly commercially successful new public baths project.
The Completely Fictional—Utterly True—Final Strange Tale of Edgar Allan Poe by Stephen Thorne. Oct 17-Nov. 25
Thorne explores the mysterious final days of the enigmatic Edgar Allan Poe.
A Delicate Balance by Edward Albee.  Nov. 21-Dec. 23
Probing themes of loss, delusions and fear, Albee examines the lives of upper middle-class suburbanites whose world is thrown out of balance with the arrival of lifelong family friends escaping an unnamed terror and their own recently divorced daughter.
The Mountaintop by Katori Hall.  Jan.9-Feb. 24
The Baltimore premiere of the Broadway sensation about a chance encounter between Martin Luther King, Jr., and a hotel maid on his last night alive that challenges all previously held perspectives.
Mud Blue Sky – world premiere by Marisa Wegrzyn. March 6-April 14
Three flight attendants and their unlikely companion contemplate work, motherhood and missed connections in a nondescript airport near the O'Hare airport.
The Raisin Cycle (playing in rotating repertory)
Clybourne Park by Bruce Norris.  April 10-June 9
Picking up where the highly acclaimed Raisin in the Sun by Lorraine Hansberry left off, this Pulitzer-Prize winning drama examines racial tensions through the lens of gentrification in Chicago.
Beneathea's Place – world premiere by Kwei-Armah. May 8-June 9.
Kwei-Armah offers his own response to Hansberry for his first drama set in America.
Editor's picks:
Clybourne Park and The  Mountaintop
My America – Technically not part of the official season, CENTERSTAGE commissioned a series of 2-3 monologues from 50 of the greatest contemporary voices onstage today – including Lynn Nottage, Lee Blessing, Christopher Durang,  and Neil LaBute – with reflections on what America is today. It will premiere during the opening weekend for 12-13, just in time for the 2012 election.
THE HIPPODROME  See feature photo:  Wicked kicks off the 12-13 season.)
Just as CENTERSTAGE is deeply introspective, The Hippodrome promises more lighthearted fare by bringing some of the liveliest and most popular hits on Broadway to our own backyard, for all of those who don't have time to make it to New York.
Their multi-week engagements include:
Wicked.  Oct. 3-Nov. 4
The last time Wicked came through Baltimore, it was 2007. Thought-provoking, touching and funny, this magical show examines the world of Oz through the "other" witch's eyes, the Wicked Witch of the West, reminding us all stories have another perspective.
Billy Elliott Dec. 18-30.
From a working-class British family, young Billy must take on the world when he steps out of the boxing ring and into a ballet class, discovering a surprising talent that will transform him, his family and his community. Based on the popular film of the same name, Billy Elliott also features a score by the Elton John.
Beauty and the Beast. Jan. 22-Feb. 3.
Based on the Disney film of the same name, this work is strikingly similar to the movie as it delves into the fairytale of a simple village girl who falls in love with a cursed beast. You probably know the story, so the experience really lies in the magic of seeing some beloved characters come to life on stage.
Million Dollar Quartet. Nov. 27-Dec. 2.
Inspired by the true story of the legendary recoding session that brought together musical icons Elvis Presley, Johnny Cash, Jerry Lee Lewis and Carl Perkins for the first and only time at Sun Records in Memphis.
Flashdance. Feb. 12-17.
Again, based on the movie of the same title, Flashdance tells the story of a working-class girl from Pittsburgh trying to make her dreams of becoming a professional dancer come true.
American Idiot. May 7-12.
Three lifelong friends must choose between their dreams and the safety of suburbia. Based on and including Green Day's album of the same name, it includes orchestrations and arrangements from Next to Normal's Tom Kitt (huge fan).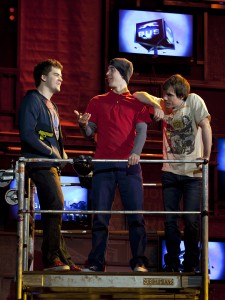 Editor's Picks:
Wicked and American Idiot.
I have a slight prejudice against musicals based on movies, and it's hard to beat Stephen Schwartz's passionate take on Oz.
OLNEY THEATRE CENTER 
Though not quite in Baltimore, it's well worth the drive to Olney to enjoy the consistent and substantial offerings of this leading regional theatre. Although the full 12-13 season isn't quite out, we do have a look through the end of 2012.
Over the Tavern by Tom Dudzick. Sept. 25-Oct. 21
This area premiere explores dysfunctional family life, faith, and sex through the eyes of the Pazinski family, who lives over their bar in Buffalo, New York, with their four children.
Cinderella. Nov. 14-Dec. 30.
A different type of holiday fare, Olney presents Rodgers and Hammerstein'sCinderella with a local cast of DC talent.
Editor's Pick:
Over the Tavern
 Subscriptions are also going on sale. In today's hectic society, most of us can't be bothered to commit to something a full year out. But for those write on their calendars in ink instead of pencil, subscribing offers decent financial savings, better seats and usually better customer service. It's also not as expensive as you might think. A 6 show package at The Hippodrome begins at $164.50, a fraction of what you would pay on Broadway, even minus the travel expenses.
And since some of the smaller theatres haven't yet announced their 12-13 line-ups, stay tuned for what's ahead with Everyman Theatre, Glass Mind Theatre, Iron Crow Theatre Company, Single Carrot Theatre , Spotlighters Theatre, Strand Theater Company,  and Theatre Project.

Stephanie Taylor moved to the Washington/Baltimore area straight out of journalism school more than a decade ago. Originally drawn to the bright lights and murky glamor of politics, she quickly discovered she'd rather be writing about stage lights. Theater became her first and most beloved beat. Throughout her career, she's covered everything from international affairs to pop culture for outlets such as The Washington Times, the Online NewsHour with Jim Lehrer, the Scotsman.com, the DCist, the LAist, and more.