Pumpkinpalooza: Sweet rolls, cookies, and pumpkin spice lattes!
There's a popular internet meme going around, that says if you look in a mirror and say "pumpkin spice latte" three times, a white girl in a hoodie and yoga pants will show up with one and tell you everything she loves about fall.  Well, hi. My name's Sally, and I drank your PSL on the way here.  It's a perfect fall day, and it seemed so perfect.  All of my recipes this week are pumpkin based, and delicious.
The first thing I'll show you I've been hanging onto since last fall.  I made these cookies for a Bible study, adn they disappeared pretty quickly.  The dough is made to be very soft and fluffy, almost a cake batter consistency; it really surprised me that they didn't spread all over the pan when I baked them.
The original source includes a recipe for cream cheese frosting, but I generally oppose frosting things, not for the sugar factor, but I find icing cookies and cupcakes tedious.  Between that and the fact that when my cookies get made, they promptly get stacked into a tupperware, where any frosting applied will inevitably stick to the bottom of the cookie on top of it. Anyway, these are pretty freaking tasty, soft, spicy, sweet.
I added a half cup of toffee chips for good measure, partly because they were hanging out in my panty, but also because I was afraid the dough would spread too much, and I wanted to give it something to stick to, if that makes any sense at all.
Pumpkin Cookies (From My Baking Addiction)
1 cup unsalted butter; softened
2 cups white sugar
2 cups canned pumpkin (solid; not pie mix)
2 eggs
2 teaspoons baking soda
3 teaspoons ground cinnamon
2 teaspoons pumpkin pie spice
1/2 teaspoon nutmeg
1 teaspoon salt
4 cups all-purpose flour
1. Cream shortening, butter, white sugar and pumpkin. Add eggs and mix well.
2. Sift together the baking soda, ground cinnamon, pumpkin pie spice, nutmeg, salt and flour. Add to pumpkin mixture and mix well.
3. Drop from spoon to cookie sheet. Bake 13-15 minutes at 350°F (175°C).
Why have pumpkin treats just as a snack?  The Pioneer Woman has steered me right again, and showed me how to have sweet pumpkiny goodness for breakfast, too.  I made a couple mistakes and a change making these, but they still turned out great.  For one, I didn't let the milk cool down enough before I added the yeast, so the dough didn't rise much at all.  None the less, I was still able to roll the dough out to a 12″ x 28″ sheet to spread the filling on.  They still didn't rise much on the second rise, which I expected, so mine came out smaller but no less delicious.  The thing I changed was that I'm not a fan of eating nuts (to me they taste mostly like wood chips) so I replaced them with raisins, though dried cranberries would be good, too.  Once I rolled them, cut them, and put them in a pan, I wrapped them in plastic and stuck them in the refrigerator overnight so bake off in the morning.
Pumpkin Cinnamon Rolls (from The Pioneer Woman)
Dough
1-1/2 cup Whole Milk

Mine turned out small (from the lack of rise, my bad) which totally justified eating five…

1/2 cup Vegetable Oil
1/2 cup Sugar
1 package (2 1/4 Teaspoons) Active Dry Yeast
1 cup Pumpkin Puree
4 cups All-purpose Flour
1/2 teaspoon Ground Cinnamon
1/4 teaspoon Ground Nutmeg
1/4 teaspoon Ground Ginger
1/2 cup (additional) All-purpose Flour
1/2 teaspoon Baking Soda
1/2 teaspoon (heaping) Baking Powder
1/2 teaspoon Salt
Filling
1 stick 1/2 Cup Butter, Melted
1/2 cup Sugar
1/2 cup Brown Sugar
1/2 teaspoon Cinnamon
1/4 teaspoon Ground Nutmeg
1/2 teaspoon Ground Ginger
1 cup Finely Chopped Pecans
Frosting
8 ounces, weight Cream Cheese, Softened
1/4 cup Whole Milk
2 Tablespoons Butter, Melted
 Dash Of Salt
 Extra Flour, For Rolling
 Extra Milk, For Thinning
 Extra Butter, For The Baking Pans
To make the dough:
In a large saucepan, combine 1 1/2 cups whole milk, 1/2 vegetable oil, and 1/2 cup sugar. Heat until hot but not boiling, then remove the pan from the stove and allow it to cool until the mixture is warm to the touch but not too hot. Sprinkle the yeast over the surface of the liquid and allow to sit for 5 minutes. Stir in pumpkin puree until combined.
Combine 4 cups of flour with 1/2 teaspoon cinnamon, 1/4 teaspoon nutmeg, and 1/4 teaspoon ginger. Sprinkle it into the saucepan and stir until it just comes together. Cover the saucepan with a dish towel and set in a warm, draft-free place for 1 hour.
After 1 hour, the mixture should be very puffy and at least doubled in size. Stir in 1/2 cup flour, baking soda, baking powder, and salt until totally combined.
Then make the rolls:
Preheat the oven to 375 degrees. Drizzle butter into 3 pie pans (or a larger baking dish) and smear it all over the bottom of the pans.
Turn out dough onto a floured surface and press it into a rectangular shape. If it is overly sticky, sprinkle generously with flour and handle it/flour it until it's easier to handle. Flour a rolling pin and roll the dough into a large rectangle about 10 inches by 30 inches.
Drizzle the melted 1 stick of butter over the dough and smear it all over the surface with your fingers. Mix together 1/2 cup sugar, 1/2 cup brown sugar, and the cinnamon, nutmeg, and ginger. Sprinkle this all over the surface of the dough, covering all the melted butter. Sprinkle with 1/2 cup to 3/4 cup chopped pecans.
Starting at the top, use a "typewriter" motion to roll the dough toward you into a large log. Roll it tightly as you go so the rolls with be nice and neat. When it's all rolled, pinch the seam closed and turn the roll over so that the seam is facing down.
Slice 1/2 to 3/4 inch slices and place them in the buttered pan(s). Allow them to rise for 20 minutes, then bake for 15-18 minutes or until nice and golden brown around the edges.
To make the frosting:
While the rolls are baking, making the frosting by combining all the frosting ingredients in the bowl of an electric mixer. Beat until fluffy, adding more milk if you'd like a thinner icing. Add maple flavoring if using and beat until combined.
And to finish:
Ice rolls the second they come out of the oven. Sprinkle extra nuts over the frosting, then allow them to sit for 15 minutes before serving.  Allowing them to sit a few minutes helps them retain all their gooey filling.
OK, I know I've thrown more at you than normal, but I've got one more thing for you.  I don't normally drink the straight black coffee that I once inhaled as an undergrad, it messes too much with my stomach.  So on the rare occasion that I grab a cup with a friend, I tend to drink more of what my dad would call "frou frou" drinks. Hands down, one of my favorite is a pumpkin spice latte.  Now, some of the more clean eaters I know have raised a bit of protest against the beloved pumpkin spice latte for all the added junk to them.  (Read more here.)  Also, I'd like to think of myself as frugal, so I have a hard time paying $5 for a cup of coffee, so I was excited when Food Network Magazine published a recipe to make it at home, I knew that for the rest of my dear PSL-addicted friends, I had to give it a whirl.  I was kind of surprised by how little coffee was in it, so I doubled how much of that I added in.  If you're more into the sweet milk thing, leave the recipe as it stands.  This makes two mugs.  For the sake of pictures, I used something that gave better visibility.  Also, stemware makes me feel fancy – and I knew my husband would be disappointed in me if I used one of his beer mugs instead.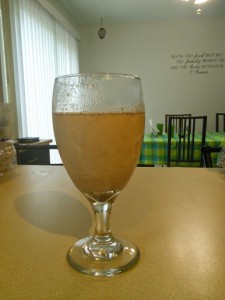 Pumpkin Spice Lattes (From Food Network Magazine)
3 Tbsp. sugar
2 1/2 Tbsp pumpkin puree
1/4 tsp. cinnamon
1/4 tsp. ginger
1/4 tsp. nutmeg
1 Tbsp. vanilla
2 1/4 Cups milk
1/4 espresso, or strongly brewed coffee.
Combine everything in a saucepan and bring to a simmer over high heat.  Let simmer 5 minutes, then serve.  Top with whipped cream and additional cinnamon if desired.
Tip of the week: I know I told you this last year, but it's worth repeating:  don't spend money on a bottle of pumpkin pie spice if you've got the ingredients in your pantry already.  3 Tbsp cinnamon, 1 tsp. ginger, 1 tsp. nutmeg, 1/2 tsp. cloves, 1/2 tsp. allspice (optional.) It's that easy!

Sally is a wife and domestic diva in Maryland. She approaches life with gusto, humor, and a passion that is unmatched. She is a classic woman, with a modern twist and is the kind of woman who will throw back a beer and watch Star Trek with her husband, and entertain the church croquette group with homemade cheese cake. Sally offers something for everyone, and is always experimenting and cooking up a storm in her kitchen.