President Luis Guillermo Solís outlines plans for Costa Rica
Costa Rica's new president, Luis Guillermo Solís, speaks Thursday morning at Washington's Inter-American Dialogue. (Larry Luxner)
WASHINGTON — Luis Guillermo Solís made his Washington debut as Costa Rica's 47th president this morning, speaking on an array of issues ranging from honesty in government to Central American integration and the fight against drug trafficking.
About 130 people packed a small conference room at the Inter-American Dialogue — a Washington-based think tank — to hear the hour-long speech by Solís, who is wrapping up his first trip abroad since his inauguration as president one month ago.
"We need to strengthen the internal market in order to level the economy, which has been running only on one engine," said the former history professor and Fulbright Scholar. "We are defining that market as not only Costa Rica — which is very small — but the Central American and Caribbean market as well. I'm paying a lot of attention to the Central American integration system and new opportunities in the Caribbean, and this is going to be one of the foreign policy priorities of my administration."
Solís, 56, is hoping to create jobs following announcements in April by Intel Corp. and Bank of America that they would dismiss 1,500 workers each. Intel, the world's largest computer chip maker, accounts for some 14 percent of Costa Rica's total exports, according to investment promotion agency CINDE.
"Prior to my swearing-in, Intel and Bank of America decided to partially leave the country. There was some question regarding Costa Rica's capacity to compete, so I committed myself to an early trip to the U.S. to talk to investors and assure them of our commitment," he said, adding that the California-based giant would, in fact, expand its San José testing facility, hiring 350 people in the process.
"This is a landmark decision that takes investments to Costa Rica, moving from the manufacturing of highly sophisticated products to R&D," said Solís, who met with top Intel officials in Santa Clara, Calif., before arriving in Washington.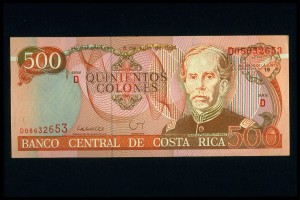 Accompanying Solís to the Inter-American Dialogue panel were several members  of his cabinet, including Foreign Minister Manuel González and Alex Mora, minister of foreign trade, as well as Muni Figueres, Costa Rica's ambassador to the United States, and Gonzalo Gallegos, deputy chief of mission at the U.S. Embassy in San José.
Solís, who was introduced by Inter-American Dialogue President Michael Shifter, was inaugurated May 8 after a runoff election in which he won 79 percent of the vote.
"I was given a very strong mandate, but was also given the responsibility to use it in the context of a very divided Congress, and that was not accidental," Solís told his audience, which included Fortune 500 executives, State Department officials, scholars and diplomats from 10 foreign embassies in Washington. "That's the way the people wanted it to be. I understand this to be a very strong call for social dialogue. I want to be out there. People want that from the president, and I'm convinced you can do that without being a populist in the traditional way."
Solís, a relative newcomer to politics, also vowed to fight corruption from within.
"Clearly there is a social challenge. Inequality has grown, and we need to take care of that," said the president, a member of the center-left Citizens' Action Party. "But most significant is the question of transparency, accountability and fighting corruption, which has special weight in the Costa Rican establishment. I was elected as a nonprofessional politician. This is the first time in 60 years Costa Rica is ruled by a party that doesn't belong to the two blocs that have traditionally governed the country."
He added: "We have to be careful administering ethics in politics. As we all know, not everything that's legal is ethical. You can get into a very complicated debate of where's the frontier between ethics and legality. Having said that, I'm convinced there's a lot to be done in terms of producing more transparency and accountability in the decision-making process."
During the Q&A that followed the president's speech, someone asked Solís what he would do differently than his precedessor, Laura Chinchilla, who ended her term of office with only a 16 percent approval rating — the lowest of any leader in the Americas.
"The first thing I'm going to do is provide Congress with a 'state of the nation' address, and tell them what I've found. It's necessary for the people to know. President Chinchilla didn't do that, and it was a political mistake," Solís responded.
"The second thing we'll do is stimulate social dialogues with different sectors of society — and I will continue doing so. We have not been able to dialogue with each other for a long time," he said. "There's a sensation which we have to break that everything in Costa Rica adds up to a zero-sum game, where one group gains and the other loses. That's the wrong approach. As a mature democracy, we should be able to look for win-win agreements."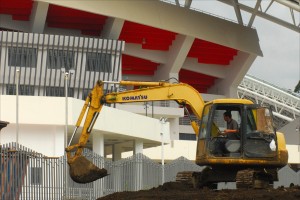 Asked about fiscal policy, Solís said he supports switching from a sales tax to a value-added tax.
"We have tried everything in the last 15 years," he said. "Some people think we have to do it the usual way, which is simply to tax more. But when a country has a 6 percent deficit, I think a VAT is the right approach. We're moving forward with a proposal which I hope will be ready by the second year."
Regarding foreign relations, Solís said he'd aggressively pursue Costa Rica's membership in the Organization for Economic Cooperation and Development while expanding its influence in South America through the Pacific Alliance (which already includes Mexico, Peru, Chile and Colombia).
"We also have a very intense agenda with China," he said. "Costa Rica is the only country in Central America that has diplomatic relations with the PRC, and there are a number of projects that are important for both them and us." The most important of those deals, he said, is a $465 million Chinese project to improve the highway that connects central Costa Rica to Puerto Limón, its main shipping port on the Caribbean.
In 2007, then-President Oscar Arias Sánchez broke relations with longtime ally Taiwan and switched diplomatic recognition to China, becoming the first and only Central American head of state to do so.
Nevertheless, China's various economic initiatives in Costa Rica have become bogged down in controversy, ranging from improprieties associated with San José's new soccer stadium to allegations of corruption involving a $583 million contract to Chinese firm Huawei to build a nationwide 3G cellular communications network.
"We are dealing with Chinese projects we inherited from previous governments," Solís noted. "My experience with China is limited, but I would like to say that in many ways, Costa Rica's relationship with China has been complicated by our lack of clarity in dealing in ways which may have been misinterpreted by the Chinese."
As the Q&A was wrapping up, we asked Solís if his administration would follow the example of Colorado, Washington state and Uruguay in legalizing — or at least decriminalizing — the smoking of pot.
"I don't see marijuana legalization happening in Costa Rica in the next few years. It's not one of the things I'd propose," he replied. "I want the issue discussed, because I don't want it to be a taboo in Costa Rican society. But the biggest problems we have with violent crime are not associated with marijuana, and I don't think it's a wise thing to do."

Larry Luxner is news editor of The Washington Diplomat and former editor of CubaNews. Born and raised in Miami and based in Bethesda, Md., since 1995, Larry has reported from every country in the Western Hemisphere. His specialty is Latin America and the Middle East, and he's written more than 2,000 articles for publications ranging from National Journal to Saudi Aramco World. Larry also runs an Internet-based stock photo agency at www.luxner.com.