Pasta Sauces for a summer: Fresh Tomato and Basil Sauce, Orange and Lemon Sauce.
Artichokes and asparagus added to chopped basil and tomatoes create a twist on a traditional fresh tomato and basil base, while the orange and lemon sauce relies on fresh citrus flavors. Oranges and lemons splashed with white wine, a knob of butter and fresh cream create an unexpected mix of flavors and texture. Serve both over bowls of hot pasta.
Pasta and sauce: a classic recycled recipe. This Italian-inspired dish appears in all of my recipe boxes and in my collection of 1900s vintage recipe books. Most versions combine spaghetti and a cooked tomato based sauce, but I've decided to share two unique sauces that you might enjoy with your favorite pasta.
Now with gluten free pastas available in stores, everyone can enjoy these bowls of pasta and sauce.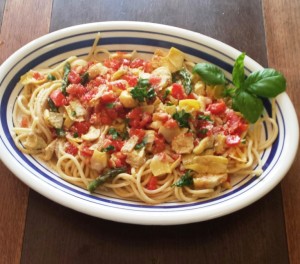 Fresh Tomato and Basil, by Andrew Makshanoff, Los Angeles City Firefighter
When it comes to food, firefighters are a hard crowd to please. This light sauce passes the test with its tasty combination of flavors and variety of textures. Need protein? Add chopped cooked chicken. Delicious. Enjoy!
Olive oil, approximately 4 tablespoons
10 Roma tomatoes, chopped
8 cloves garlic, chopped
1 can artichoke hearts in water, drained and quartered
1 bunch asparagus, just the tips (2")
Salt and pepper to taste
Parmigiana cheese, grated, if desired
Fresh basil, chopped
Your favorite pasta, angel hair, fettuccine, etc.
Heat pan and add olive oil; then add garlic and sauté. Once garlic is sautéed add asparagus and artichoke hearts, stirring until heated. Add tomatoes, salt and pepper and continue cooking 2-3 minutes. Add parmigiana cheese and basil. Pour over cooked pasta. Serves 3-4. Optional: add cooked and chopped chicken breast.
Cooking Pasta
Is it Done? Question: Following instructions from an old cookbook, I threw spaghetti against the wall to test for doneness. It stuck. Is it done?
Answer: Probably-but clean the wall and use this method instead. Fish a piece of pasta from the pot and run under cold water. Bite it: The pasta should be tender but firm, without a white core; mushy paste is not nice.
Two more often heard queries:  should I add oil to the cooking water to prevent pasta from sticking? Answer: Oil is for salads. Use plenty of boiling water and stir occasionally; nothing will stick. Oil in the water may coat pasta, causing sauce to slide right off. Do I rinse cooked pasta or not? Don't rinse! Starch on pasta helps sauce adhere. The exception: Do rinse if making cold pasta salad, so pieces stay separate. From the Cook's Answer Book, Family Circle, 1997
Tagliolini with Orange and Lemon Sauce.
The thin, smooth sauce has a thick soup-like consistency, and a surprising but refreshing taste. Adjust cream for thickness.
Tagliolini alle Scorzette Di Arancia E Limone, from Chef Damiano Miniera, from Settignano, near Florence, Italy. Helena Attlee's The Land Where Lemons Grow.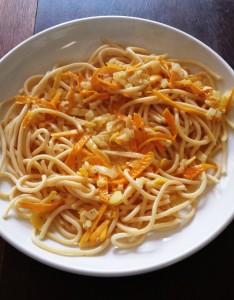 This recipe truly does come from where the lemons grow in Italy.
2 oranges (use two small oranges or one large orange)
1 lemon
A knob of butter
¼ onion, chopped
A big splash of white wine
100 ml single cream
Salt and freshly ground black pepper
Peel the fruit, being careful to exclude the pith. Cut the peel into razor-thin slivers and cook them in boiling water for 5 minutes or so to remove some of the bitterness, then drain them.
Melt the butter in a small frying pan and add the onion. When it's translucent, pour in the white wine. Add the drained peel, together with the juice of the oranges and the lemon and the cream.
Simmer for 5 minutes before seasoning with salt and black pepper and sloshing the sauce over a bowl of warm pasta.
About the Pasta: Tagliolini is made with egg pasta, with a long and cylindrical shape and somewhat thicker than spaghetti. Alternatives: Tagliatelle, taglierini and linguine pastas are suggested but spaghetti and fettuccini are close cousins. Of course, fresh pasta is best if you have time, but if you're like most people, store-bought choices present the best option.
Left-over orange juice? Fruit juices such as pineapple and orange, can be used as salad dressing by adding a little olive oil, nutmeg and honey. Lemon juice: perk up soggy lettuce by spritzing with a mixture of lemon juice and cold water. Elias Evangelical Lutheran Church, Emmitsburg, Maryland.

Ann Marie Bezayiff received her BA and MEd from the University of Washington in Seattle. She is an author, blogger, columnist and speaker. Her columns, "From the Olive Orchard" and "Recycled Recipes from Vintage Boxes", appear in newspapers, newsletters and on Internet sites. Ann Marie has also demonstrated her recipes on local television. Currently she divides her time between Western Maryland and Texas.