Outside Mullingar: Stereotypes, strange plot twists mar humorous love story
Beth Hylton and Tim Getman portray Rosemary and Anthony in Outside Mullingar. (Stan Barouh)
Sure look it — the Irish!
In a world where everyone seems to have a cultural chip on his or her shoulder, it's a joy to know there is still one tribe who can draw a pint of Gat and laugh at their collective selves. No wait. We're laughing at them, or at least the clichéd characters presented in playwright John Patrick Shanley's Outside Mullingar, this holiday season's offering at Everyman Theatre.
Directed by Donald Hicken, Outside Mullingar is billed as the unlikely love story of Anthony and Rosemary – two introverted, love-lost neighbors, whose families are in a bitter land dispute.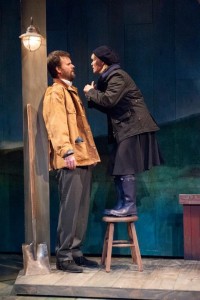 Where have we heard that before?
Oh – and the action is set against the rolling hills of Ireland – complete with a bothersome fence.
One can almost sense the ghosts of John Wayne and Maureen O'Hara, arguing in the glen – especially if the pair had ever appeared together on The Twilight Zone.
Mullingar is a puzzlement. The humor (and there are plenty of laughs) seems wholly contrived and out of step in this oversensitive era. There are also some Kafkaesque twists which do nothing to help sell the tale. (Spoiler alert: one character says he thinks he is a bee.)
Admittedly, the audience on press night appeared content with most of the action on stage; yet the players looked unsure – maybe even embarrassed – with the overall tack of the unfolding fable.
Good actors tend to rise above questionable material, but they can only do so much, and any blame for this meandering mess rests on the shoulders of director Donald Hicken and playwright John Patrick Shanley. Of course it must be noted that Shanley lampooned Italians in Moonstruck so at least he's consistent in gleaning what he can from previously plowed fields of parody.
As the tempestuous single farm girl, Rosemary, Everyman stock player Beth Hylton – one of the best actors in Baltimore – telegraphed her doubts about the arc of the play from the moment she stepped on stage. Every actor has been there at least once – simply wishing a production would just be over and they could move on to more palpable parts. Given the story at hand, if Hylton is looking ahead, one really cannot blame her distraction.
Tim Getman portrays Anthony – the object of Rosemary's anger and unrequited affection. Getman is solid with the straight stuff, but you can clearly see that he'd like to take a scythe to the extraneous silliness. Getman must also deliver (with conviction) lines like, "A man with feelings should be put down." Luckily, Rosemary has a shotgun and she knows how to use it.
As hard as it is to swallow some of the absurd dialogue between Rosemary and Anthony, Wil Love (as Anthony's unwilling benefactor Tony) could not die soon enough for this reporter. Love certainly looks the part of a crotchety old Irish farmer, but he is mostly indiscernible in that way that only an ingested bottle of Jameson can truly enhance. Too bad. Love is another one of Baltimore's usually dependable actors with many impressive credits over his decades long career. Helen Hedman is less tiresome, and actually has some nice moments as Aoife, but again, she is playing a stereotypical role.
On the creative side, Gary Logan is credited with coaching the dialects; accents which are unfortunately all over the map. Daniel Ettinger's scenic design and Ben Cress' costumes are far more convincing than the underlying plot of the play.
As a romantic/comedy, Outside Mullingar will certainly make you laugh. And it's light-hearted humor is enough to recommend – provided one suspends disbelief and tosses off the fact that the Irish are once again the butt of the joke. Just keep in mind it is one of those plays you'll probably forget by the time you hit the lobby. And if you do remember it, you may be embarrassed that you even grinned.
As Aoife opines, "The middle of anything is the heart of the thing" and at its core, Mullingar is an odd admixture of tired formula, trite fable and farce.
* * * * *
Everyman Theatre's production of Outside Mullingar runs now – January 10. Running time for the show is about 90 minutes with no intermission. Please note – Rosemary does a lot of justifiably nervous smoking on stage during this show. No farm animals were hurt in this production. Everyman Theatre is located at 315 W. Fayette Street in Baltimore, Maryland. More information may be found by visiting Everyman Theatre.

Anthony C. Hayes is an actor, author, raconteur, rapscallion and bon vivant. A one-time newsboy for the Evening Sun and professional presence at the Washington Herald, Tony's poetry, photography, humor, and prose have also been featured in Smile, Hon, You're in Baltimore!, Destination Maryland, Magic Octopus Magazine, Los Angeles Post-Examiner, Voice of Baltimore, SmartCEO, Alvarez Fiction, and Tales of Blood and Roses. If you notice that his work has been purloined, please let him know. As the Good Book says, "Thou shalt not steal."