Blithe Spirit: Noël Coward comedy to die for at Everyman Theatre
Beth Hylton as the ethereal Elvira in Everyman Theatre's Blithe Spirit. (ClintonBPhotography)
Writers will try almost anything to get the creative juices going. Booze is the favored lubricant of many a wordsmith. And mingling with friends can offer reams of ideas for the careful listener. But conjuring up black humor, while mining for material, could only occur to Noël Coward – the author of Blithe Spirit, the current production at Everyman Theatre.
Deftly directed by Vincent M. Lancisi, Blithe Spirit is a hit play that almost wasn't written.
When the idea first came to Coward, Britain was at war with Germany, and the notion of writing a play dealing with glib ghosts seemed a touch too macabre for the sensitive writer. Nonetheless, with the encouragement of his friend, actress Joyce Carey, Coward put the idea to paper; producing a comedy which set longstanding records for the London Stage.
All of the action takes place in the home of upper crust novelist Charles Condomine.
Looking for some fresh book-worthy ideas, Condomine invites an eccentric medium named Madame Arcati to his home to conduct a séance. Joining him, along with his second wife Ruth, are Dr. and Mrs. Bradman. It is all a lark for the two stuffy couples, until Arcati actually conjures up a spirit – Condomine's mischievous and moody late first wife, Elvira.
Only Charles can see and hear Elvira, though, leading Ruth to think he is losing his mind. What does the dead wife have to say after seven years on the other side?
Plenty.
Elvira ~ Well, I really am a little hurt. You called me back, and at great inconvenience I came…and you've been thouroughly churlish ever since I arrived!
Elvira ~ Nobody but a monumental bore would have thought of having a honeymoon in Budleigh Salterton. I was an eager young bride, Charles; I wanted glamour and music and romance. What I got was potted palms, seven hours of every day on a damp golf-course and a three piece orchestra playing "Merry England".
Elvira also gets her digs in on second wife Ruth.
Ruth ~ [to Charles] Now I want you to come upstairs with me and go to bed.
Elvira ~ [also to Charles] The way that woman harps on bed!
Charles may in fact be losing his mind, but not in the way Ruth thinks he is, and the frustrated novelist begins to see both wives in a less than heavenly light.
Like other Coward comedies (Hay Fever, Private Lives), Blithe Spirit is a witty, biting piece. The lines, though often droll, come fast and furious. Pulling it off takes talent and timing and once again, Everyman's stable of stock players and contract players turn in stellar performances.
The role of the peculiar medium Madame Arcati is pregnant with possibilities, and Nancy Robinette delivers one bizarre laugh after the other. An excellent performance.
Bruce Randolph Nelson is solid as Charles. His inflection is terrific, and he never misses a beat as he bats – almost ping-pong style – between conversations with the crazy clairvoyant and his two warring wives.
Megan Anderson makes a perfectly catty, society-conscious second wife, Ruth. There is an edge to Anderson's portrayal which wonderfully sets up Charles' early empressment at Elvira's return; the kind of edge one wouldn't want to see in a ghost who was haunting him.
With Beth Hylton playing the ethereal Elvira, death never looked so good. Hylton's childish Elvira is headstrong by design, and hysterical to boot. Add the flowing costume and alabaster makeup, and Hylton completely captures the senses whenever she is on stage.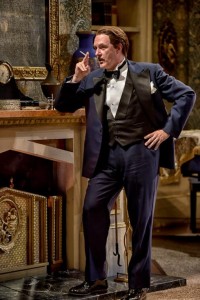 Julia Brandeberry brings a bit of slapstick to the part of Edith, the Condomines' maid. Her facial expressions are priceless, but even better, Brandeberry dashes around the home in ill-fitting heels like a mule running in the mud at Pimlico.
Carl Schurr and Helen Hedman ably round out the delightful cast in the roles of Dr. and Mrs. Bradman, with performances which are thoughtful and nicely nuanced.
On the creative side, Daniel Ettinger has designed a set which is both stylish and eerily practical – complete with grand entry doors and an interesting fireplace. Combined with Lewis Shaw's special effects, look for strange things to happen whenever Elvira has a mind to pout.
Jesse Belsky's dark lighting cues help set the mood for the spooky nights, as does the whimsical sound design by Stowe Nelson.
Kudos to David Burdick's costume design – not only for the look he provides for Elvira – but for the series of stylish dresses Ruth and Mrs. Bradman wear throughout the show.
Everyman has produced some fabulous shows this season (The Understudy, Grounded, Deathtrap), so closing the year with Blithe Spirit is truly icing on the cake. Forget the calories and indulge. You'll be glad you did.
*   *   *   *   *
Everyman Theatre's production of Blithe Spirit runs now – June 28. Running time is a little over two hours with one intermission. The theatre is located at 315 West Fayette Street in Baltimore, Maryland. More information may be found by visiting Everyman Theatre.

Anthony C. Hayes is an actor, author, raconteur, rapscallion and bon vivant. A one-time newsboy for the Evening Sun and professional presence at the Washington Herald, Tony's poetry, photography, humor, and prose have also been featured in Smile, Hon, You're in Baltimore!, Destination Maryland, Magic Octopus Magazine, Los Angeles Post-Examiner, Voice of Baltimore, SmartCEO, Alvarez Fiction, and Tales of Blood and Roses. If you notice that his work has been purloined, please let him know. As the Good Book says, "Thou shalt not steal."