Operation Warm wraps winter coats around local kids in need
"When I was your age, I had to walk ten miles in the snow just to get to school."
Funny right?
Perhaps if you're a geezer like this reporter.
But not so funny if you're a boy or girl who doesn't own a winter coat for those bitter walks to school.
Keeping children safe and healthy plays a paramount part in providing a quality education. Helping those less fortunate by providing a new winter coat is the mission of Operation Warm.
Operation Warm touched down in Baltimore this morning at Morrell Park Elementary and Middle School. Together with Baltimore City firefighters, police officers and a team of employees from heating contractor Horizon Services, Operation Warm distributed almost 500 coats to Baltimore children.
Since its inception in 1998, Operation Warm has provided new winter coats to more than 2 million children in need. In 2012, the organization was joined in its effort by The International Association of Firefighters (IAFF), forming a localized program: Firefighters for Operation Warm.
Tom Nosek, 2nd Vice President, IAFF Local 964, called the partnership, "a win-win situation".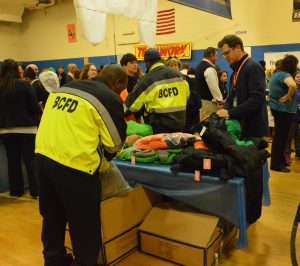 "We're here today with local firefighters and members of the Fraternal Order of Police. By distributing the coats in this manner, we'll help keep kids warm this winter while warming our own hearts as well. It's also a great outreach to the community. There have been times recently where police officers have not been seen in the greatest light, but they do a fantastic job.
"The great thing about these coats is they are all American made, so we're keeping the garment industry here busy while we do this."
(Operation Warm is currently procuring coats from SERKI — a nonprofit manufacturer which employs disabled workers at their plant in Corbin, Kentucky.)
Nosek said the allotment for children at Morrell Park is just one of several planned for this school year.
"We'll be doing this at a couple of schools on the east side of Baltimore in December, but we're still raising money. We get checks from the business community as well as private individuals. I buy five coats every year as my way of giving back to this community."
HORIZON HELPS
Joining local firefighters and police officers for the coat distribution were 45 employees of Horizon Services.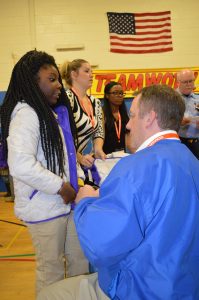 "This is the fourth time we've been involved with Operation Warm, but it's the very first time we've actually had volunteers here to give out the coats. Previously, we simply wrote a check to support the organization", said Mark Aiken, Senior Vice President of Horizon Services.
"Five years ago we launched a program called Horizon Helps. It's our philanthropic arm for reaching out into the community. Through Horizon Helps we have built a relationship with Dick Sanford – the president of Operation Warm. It's way more for us than just plumbing and air conditioning, and with the coat distribution, it's like Christmastime for these kids."
Principal Michele Johnson told the Baltimore Post-Examiner she is extremely thankful for Operation Warm, and is very pleased to have the Baltimore City Fire Department and Horizon Services on board.
"This is the second time we've hosted a winter coat distribution and the first time with our new partner – Horizon Services. The Weinberg Foundation recommended Operation Warm come back, which is great because every child will receive a coat. It helps with our attendance and keeps out colds and flus. The children are very excited, as you see from the smiles on their faces. We also had some parents come by to see their kids pick up their new coats."
IT'S A WARM FEELING
New Jersey native Garielle Harvey boarded a pre-dawn chartered bus in Wilmington, Delaware to help with the winter coat distribution.
"I am a dispatcher in the New Jersey office of Horizon Services. We were asked for volunteers so we drew straws to see who would come. I was actually a loser, but a co-worker who won the draw is 32 weeks pregnant, so instead of making such a long trip, she volunteered to work a shift for me so that I could make the trip today. It's a great opportunity to participate in a great cause, and I get to see the smiles on the kid's faces when they get their new coats."
Mike Heiner, another Horizon volunteer, also rode the bus from Delaware. Heiner was stationed at one of the tables, helping girls sized 4 – 6.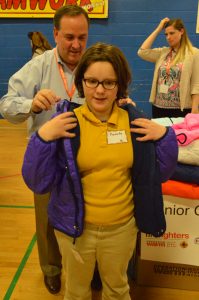 "This is my first time doing something like this, and the kids just love it. They are finding their favorite colors, trying them on to make sure they are fitting well, then taking them to the end of the line and writing their names on them. For the smaller kids, we have volunteers to write the child's name, but of course, the older kids want to write their own name because it belongs to them and they're proud of it."
Pride of ownership was only part of what this reporter observed as the exuberant children selected their new poly-filled nylon jackets.
Tyrell, an energetic sixth-grader, could be seen stretching his arms back and forth like a baseball player about to throw a pitch. Tyrell said, "I really like my new coat. I chose red because that's my favorite color."
Danasia, another sixth grader, was more subdued but just as happy. Danasia said she chose a light blue coat because blue is both her and her mom's favorite color. "I like this event because it will help people in need to stay safe and warm this winter."
We asked Aiken if he sees a pleasant irony in having heating professionals hand out winter coats?
"We love it when it's cold, but we want the kids to be warm, so for us, it's a perfect, perfect fit. You know, I've talked with some of my employees here today, and they are so emotional about giving these coats out to kids that they are crying. They really didn't have an understanding of how unfortunate some people are until they got down here where life is hard.
"But it can always be worse.
"When you're sending third and fourth graders to school without coats, that's something we don't think about on a regular basis. One of the things an event like this does is it allows my employees to see what an impact they can make in people's lives, and that's pretty important."
Important, too, in the stories these thankful young scholars will tell their grandchildren someday. Stories like, "When I was your age, I had to walk ten miles in the snow just to get to school. But luckily, I had a warm winter coat to wear."
You can contribute to helping children throughout Baltimore by donating to Baltimore City Fire Officers for Operation Warm at www.operationwarm.org/BaltimoreOfficers.

Anthony C. Hayes is an actor, author, raconteur, rapscallion and bon vivant. A one-time newsboy for the Evening Sun and professional presence at the Washington Herald, Tony's poetry, photography, humor, and prose have also been featured in Smile, Hon, You're in Baltimore!, Destination Maryland, Magic Octopus Magazine, Los Angeles Post-Examiner, Voice of Baltimore, SmartCEO, Alvarez Fiction, and Tales of Blood and Roses. If you notice that his work has been purloined, please let him know. As the Good Book says, "Thou shalt not steal."