One of the Best Music Weekends of the Year in the DMV: Greensky Bluegrass, Railroad Earth, Members of the Infamous Stringdusters, Daniel Donato's Cosmic Country, and More
When I moved to the Baltimore-DC region nearly a decade ago, the annual late-January or early-February multi-day Greensky Bluegrass concerts at the 9:30 Club—and now the Anthem—quickly became my favorite weekend of the year. My favorite band came to town for two or three days, playing unique setlists each night and bringing along some of their favorite musical friends to play as the opening act. These openers have featured future bluegrass superstars—like Billy Strings—or new grass legends—like Railroad Earth and the Infamous Stringdusters—or local favorites—like Cris Jacobs. 
The three set, two band shows frequently feature sit-ins where members of each band join the other for a few songs—which are always a highlight of the evening, and Greensky's lighting director, Andrew Lincoln, is one of the best in the business. This weekend was no exception, and it even began with extra shows at the Hamilton Live on Thursday evening and a late-night afterparty show at Pearl Street Warehouse to make it the best music weekend in the Baltimore-DC region in 2023.
Falco and Book Play Garciaat the Hamilton Live – January 26, 2023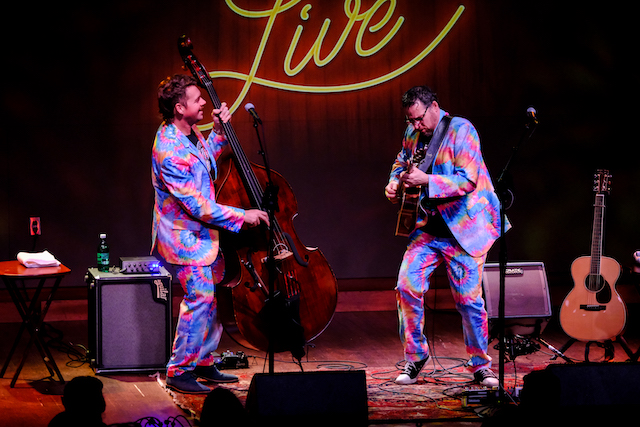 Known for their roles in the Grammy-winning bluegrass band, the Infamous Stringdusters, guitar player Andy Falco and bass player Travis Book performed an incredible set of music written by the legendary Jerry Garcia—in Falco and Book's signature vocal harmony-rich sound. Donning tie dyed suits, the duo performed Grateful Dead and Jerry Garcia Band hits such as, "Scarlet Begonias," "Uncle John's Band," "Mission in the Rain," "China Doll," and "Ripple" as a large photo portrait of Jerry looked on from the back of the venue. Falco and Book said they hoped this tour could become an annual event.
Railroad Earth at the Anthem – January 27, 2023
Starting Friday night at the Anthem, Railroad Earth—a bluegrass-influenced band from New Jersey—began their set with a euphoric and triumphant crowd favorite "Like a Buddha," filled with soaring mandolin and fiddle solos by John Skehan and Tim Carbone. Lead singer and guitar player Todd Sheaffer and the rest of the band kept the crowd dancing with a bevy of the band's biggest songs, including "Mighty River," "Bird in a House," "Runnin' Wild," and "Cold Water." Railroad Earth is a headlining band most evenings, so fans were lucky to be able to see these two jamgrass greats join forces for an evening.
Greensky Bluegrass Night One – January 27, 2023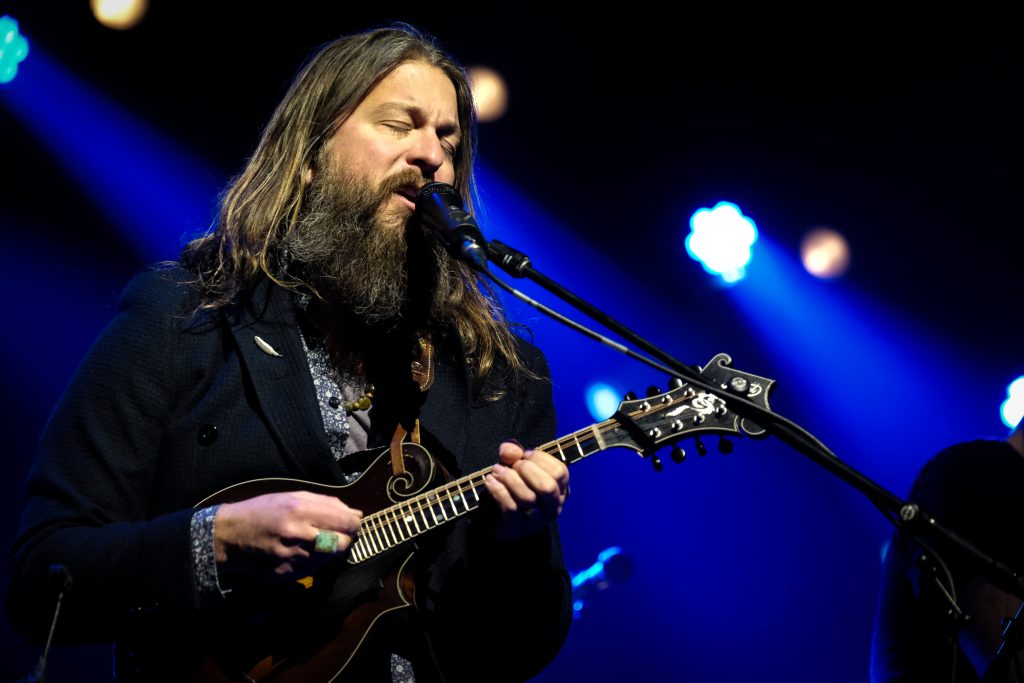 Greensky Bluegrass, hailing from Kalamazoo, MI, kicked off their first set of the weekend with a steaming 15 minute version of their classic "All Four." Mandolin player and singer Paul Hoffman's sorrowful vocals and joyful mandolin solo rippled throughout the song as Andrew Lincoln fired up Greensky's towering lighting rig. The set continued with the band diving into another extended jam of "Tarpology>One Slip>Tarpology>One Slip>Tarpology" lasting a blistering 20 minutes. Greensky ended the first set by inviting Railroad Earth members John Skehan and Tim Carbone on stage for another extended version of the Grateful Dead's "Let It Grow." This song was the highlight of the evening, with each person on stage taking an extensive solo and Lincoln's superb lightwork brightening the Anthem in a glowing psychedelic rainbow.
The second set opened with another Greensky classic, "Jaywalking"—which was followed by "Reasons to Stay" and "Murder of Crows." Railroad Earth returned to the stage with the band's frontman coming out to lead Greensky in a rendition of his own band's "The Hunting Song"—another highlight of the evening and Railroad Earth's catalog.Greensky followed that up with a trio of their most powerful jams: "Burn Them," "The Four," and "Train Junkie". After "Burn Them," the band celebrated a fan's 100th show, showing how Greensky's combination of improvisational new grass sound and exciting stage presence keep fans coming back year after year. They closed out the second set with a mellow "Room Without a Roof"—led by the band's guitar player, Dave Bruzza—and a triumphant "Courage For The Road". The band encored with "Tonight I'll Be Here With You" and a promise to return Saturday with more awesome music.
Daniel Donato's Cosmic Country at the Anthem – January 28, 2023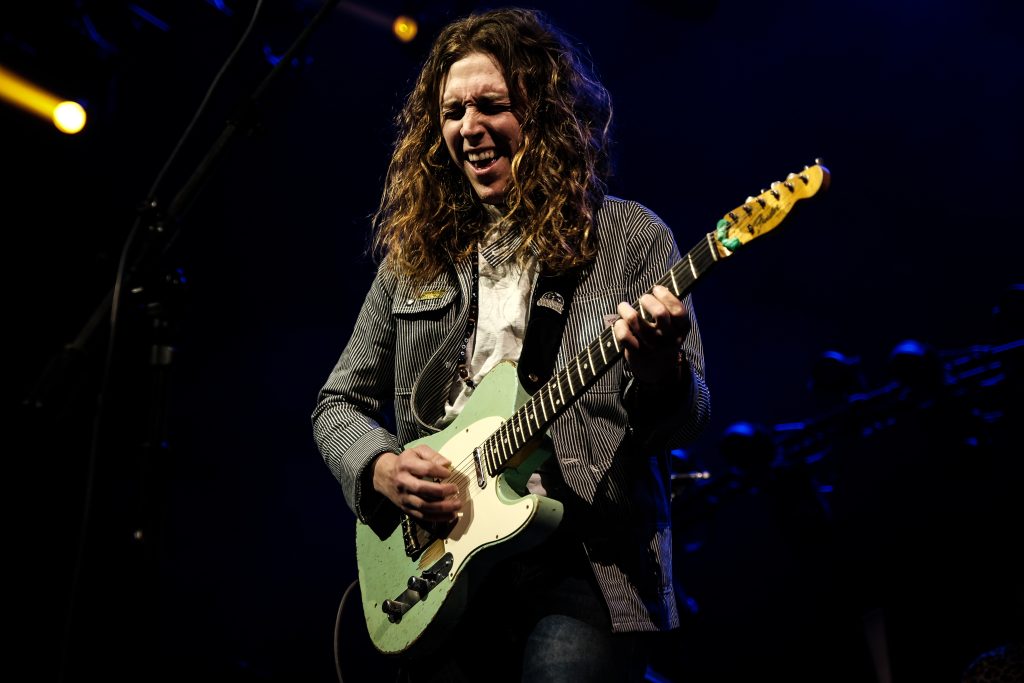 Night two began with relative newcomer but fast-rising Daniel Donato's Cosmic Country, an extremely talented psychedelic country band out of Nashville, TN. Donato is a true country guitar virtuoso with a trippy, Grateful Dead twist that reminiscent of a modern take on live Grateful Dead performances of the early 1970s. His bandmates are equally talented, with each of them having a few moments to shine during their set. Performing in small venues with capacities of only a couple hundred people just last year, Donato has quickly exploded on the jam scene after a stellar weekend as the 2022 Peach Festival's artist at large and opening for the Kitchen Dwellers on the nearly sold out Galaxy Grass x Cosmic Country Tour last fall. Daniel Donato's performance and rise reminds me of Billy Strings opening for Greensky Bluegrass in 2018 before his meteoric rise in the last two years. Keep an eye on Donato for when he comes back to the Baltimore-DC area, because he has officially joined Greensky Bluegrass, Railroad Earth, and the Infamous Stringdusters on my do-not-miss concert list.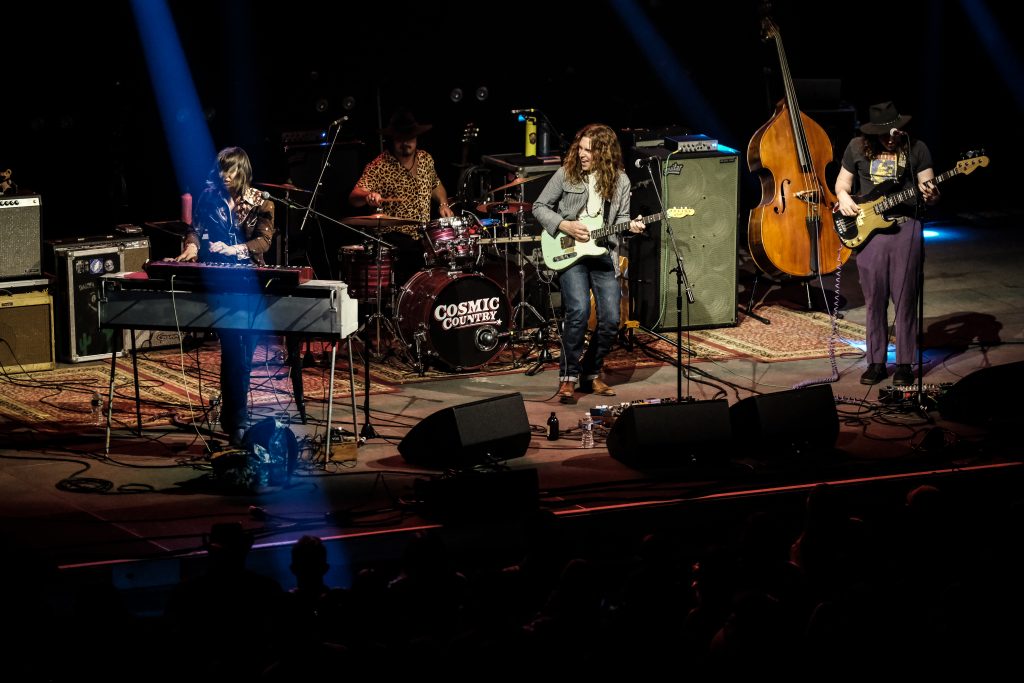 Greensky Bluegrass Night Two – January 28, 2023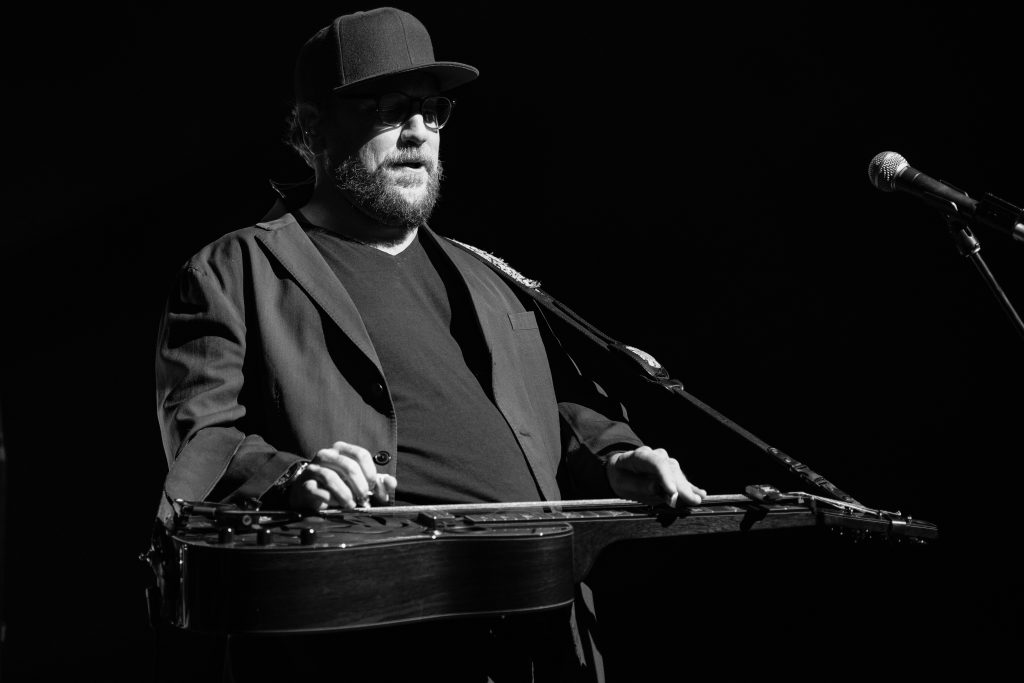 Night two of Greensky Bluegrass at the Anthem was an absolute heater from start to finish, with Andrew Lincoln brilliantly lighting the way once again. Highlights of the first set included an epic "In Control", a fiery "Letter to Seymour", and an incredible sit-in from Daniel Donato on "For Sure Uh Huh", "Give a Shit", and "Ain't Wastin' Time No More." The trio of songs with Donato were filled with his signature trippy chicken pickin' guitar solos, bringing an extra bit of southern rock to the Allman Brothers Band classic tune that closed out the set.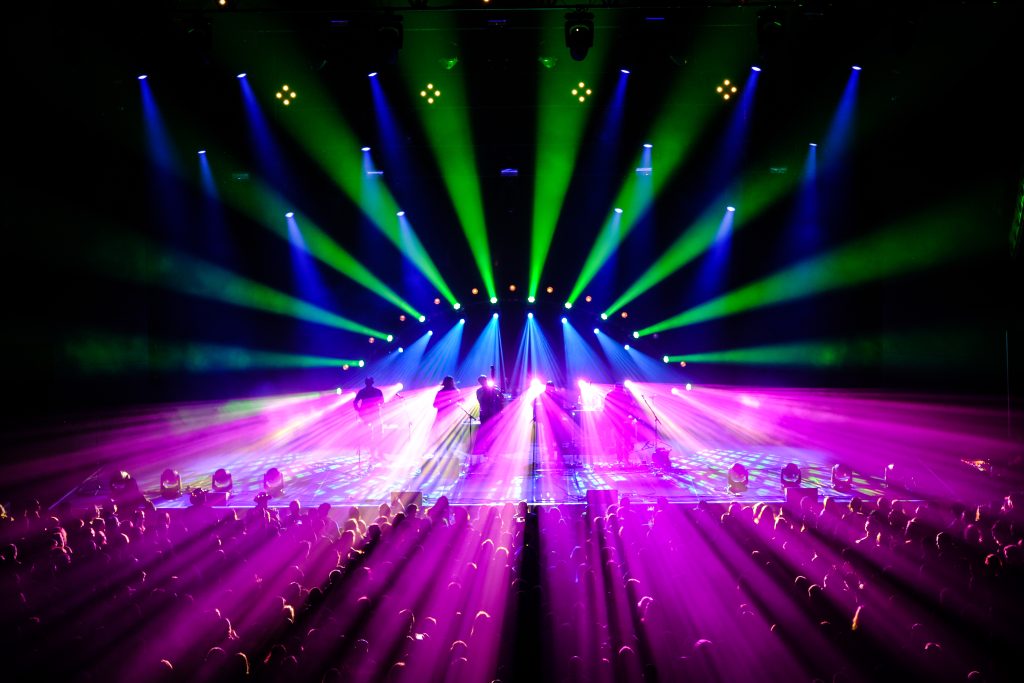 The second set kept the momentum going with an explosive "Kerosine" led by Bruzza's twangy vocals and guitar playing, which was followed by "What You Need," and then the crowd and band danced along in unison "Demons" with the famous Demon Dip. The second set ended with an incredible version of "Don't Lie" featuring an extended psychedelic dobro solo Greensky's Anders Beck. The band encored with "Monument," an appropriate song to close out a weekend in Washington, DC. 
Armchair Boogie at Pearl Street Warehouse – January 28, 2023
Madison, WI-based Armchair Boogie closed out the weekend with a late-night show at Pearl Street Warehouse—just a few doors down from the Anthem. This was the band's first time playing in Washington, DC, and they came ready to impress the bluegrass-hungry crowd with their combination of bluegrass and funk. They took their funk-grass to the next level by inviting Baltimore-local and member of the Dirty Grass Players Ryan Rogers to join them on stage for a few songs on mandolin. They closed the set by inviting Daniel Donato on stage for a song to trade licks with Armchair Boogie's Augie Dougherty (banjo) and Ben Majeska (guitar.) Definitely keep an eye out for when Armchair Boogie comes back to the east coast.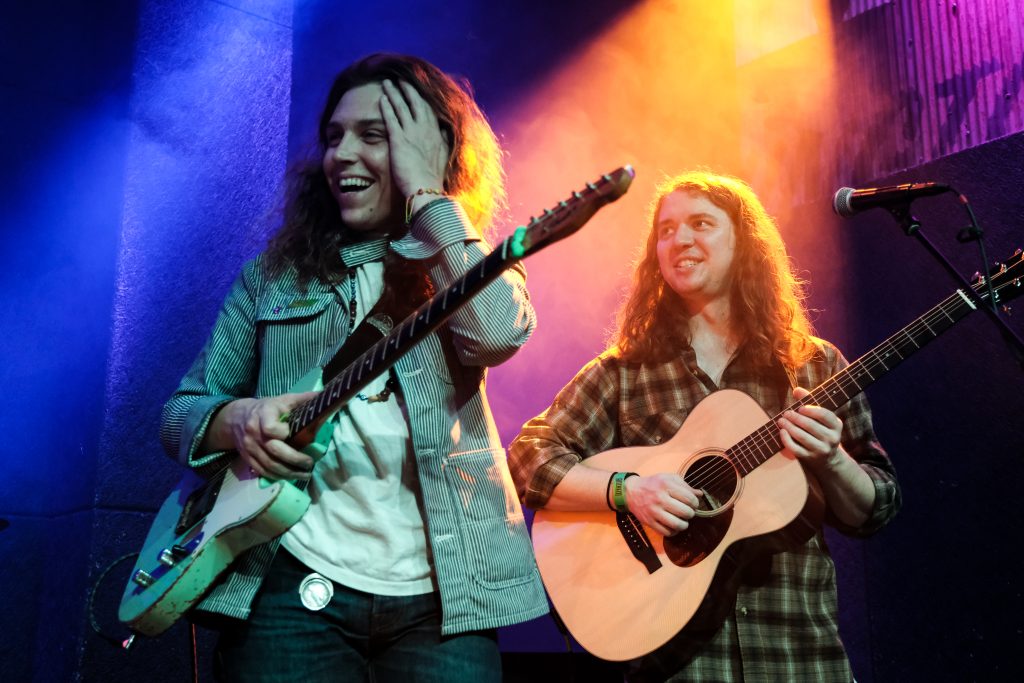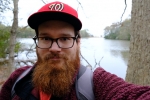 Gary Jared is a DC-based photographer and lifelong fan of live music who loves seeing his favorite bands in as many music venues in the DMV area as possible. His favorite venues are the 9:30 Club and the 8×10. Gary earned two Bachelor's degrees in History and Professional Writing and a Masters in Public Administration from the University of North Carolina Wilmington.