Nemacolin Woodlands Resort: Worth a weekend trip
 Recently I made my fifth trip to Nemacolin Woodlands Resort in Farmington Pennsylvania in an area known as Laurel Highlands.  But since it was at least six years since my last visit I thought it was time to return to see what was new.  Actually any excuse will do when it comes to going to Nemacolin.  It is without doubt one of the premier destinations in this part of the country.  It is about three hours from Baltimore and most of it on main highways like 70 and 68.
The resort is owned and operated by the Hardy family of 84 Lumber fame. They took it over in 1987 and today it is run by Mr. Hardy's daughter. She is assisted by a very large staff (about 1200 in season) operating all facets of the resort, and believe me, there is plenty to do.
The resort is undergoing a $30 million renovation.  There are 318 rooms in various locations throughout their 2000 acres. The main part of the resort is known as the Chateau and next to that is The Lodge.  I have stayed both places and have no complaints.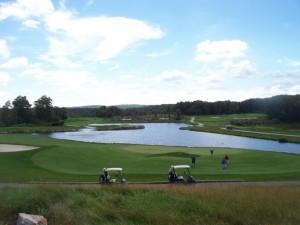 For dining options there are 16 outlets, which includes eight restaurants (some seasonal).  I dined in the Caddy Shack for lunch, in Autumn for breakfast and in Aqueous, the steakhouse, for dinner. By the way, Aqueous is a 5 star 4 Diamond restaurant, one of only four in the country.  It takes a lot of hands to feed all the guests.  Upwards of 400 people are in food and beverage.
Menus in the restaurants vary with the season, so now they're in the fall mode.  Chef Brent Wertz also has gluten free menus, menus for vegetarians and for vegans.  Many of the food items comes from four local farms and from Amish gardens.
No doubt you will work up an appetite by taking part in any one of the many activities available.  The truth is, you wont have time to do them all unless you stay at least a week.  One of my favorite things to do was visit the zoo, yes the zoo.  I'm not talking about squirrels, deers and ground hogs.  This zoo has lions, tigers, bears and lots more.
I don't play golf but many people do.  Actually this is a golf destination.  I'm told the links are magnificent.  Many tournaments are played here.
Other activities to keep you busy include zip lining (not a chance of me getting on it), tennis, swimming, bike rentals, bowling, an arcade, shopping. fishing, trail rides, a casino on property, a golf academy, a terrific full service spa and nearby attractions like Falling Water, Ohiopyle State Park and Fort Necessity.  Oh, by the way, there's even an airfield located behind the chateau.  I left my plane home that day.
I can't adequately describe here how much I enjoy going to Nemacolin.  It is certainly worth an overnight or weekend.  Even the ride up, through the Maryland mountains is quite nice.  Especially so in the fall.
For more information go to nemacolin.com.

Eddie Applefeld is a Baltimore native and a graduate of Towson University. He has been in the broadcasting profession for over 30 years. Currently he is the Promotions Director of WCBM radio. Before that, he was part of the Rouse & Company show on WQSR, host of a cable TV show called Dining Out and adjunct instructor at Towson.
His past accomplishments include being named a finalist in Baltimore Tourism's Employee of the Year Program and winner of Toastmaster's Speaker of the Year contest. He was also twice a heartthrob for the American Heart Association's gala fund raiser.